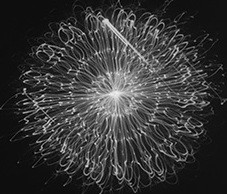 Tempo 2014
Documentary Festival
7.3 2014
Stockholm
Film screening: Spindrift Revisited
Date: 7 March 2014
Time: at 18.00–20.00
Introduction by Mika Taanila. Moderna Bar is open at 19.00–23.00.
Jan Bark & Erkki Kurenniemi: Spindrift, 1966
14 min, b&w
Abstract computer animation, original format: 16 mm film, screened as digital reconstruction The whereabouts of the original film are unknown. The version is a reconstruction edited by Mika Taanila
The short film Spindrift is collaboration between Erkki Kurenniemi and the Swedish composer Jan Bark. It is possibly Finland's first computer animation and a very early experiment even by international standards. The piece combines Bark's music with Kurenniemi's "analogue-programmed" computer animation shot on 16 mm film.
Jan Bark recalls how it came about: "The year was 1965. My old friend Erkki Kurenniemi was working with computers at the university, so we got to use them at night." Commissioned by Swedish TV, the piece debuted at a computer music event held at the Dipoli Conference Centre in Espoo in 1967.
Mika Taanila: The Future Is Not What It Used To Be, 2002
52 min, 35 mm film
Is the merging of man and machine really possible? Or has it already happened? This is a film about 1960s avant-garde music and film, the early history of microcomputers and the open questions of 21st century science. It is also a portrait of the nuclear physicist/artist Erkki Kurenniemi (b. 1941), one of the unsung pioneers of early electronic art. Kurenniemi has been exploring the potential of virtual reality and interactive computer art in diverse projects since the early 1960s. The film is structured around Kurenniemi's "manic collection project", in which he constantly and feverishly recorded his thoughts, everyday observations, objects and images, with the ultimate aim of merging man and machine – thereby reconstructing the human soul.
Cinematography: Jussi Eerola, Sound Design: Olli Huhtanen, Music: Erkki Kurenniemi, Jukka Ruohomäki, Sähkökvartetti, György Ligeti, Production: Kinotar / Ulla Simonen, Lasse Saarinen. With English subtitles.
Moderna Museet in collaboration with Tempo documentary festival and Finlandsinstitutet.