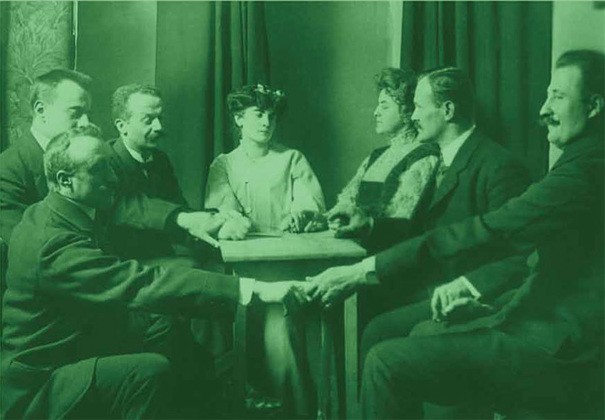 The Studio: While we are asleep here
26.4 2013 – 25.8 2013
Stockholm
The project While we are asleep here (…) is inspired by the figure of Hilma af Klint and the way she is represented by Italian artist Meris Angioletti. Af Klint's working process translating spiritual and supernatural voices into works of art is echoed by Angioletti's investigation of actual and virtual spaces through inner reconstructions of images and narratives.
While we are asleep here, we are awake somewhere else, and thus every man is two men
The project also presents new works by the Swedish artist Henning Lundkvist, manipulating a Collection of Sound Effects from an archive intended for film, radio and TV productions, as well as analyzing a Collection of Myths (High and Low, Real and Possible). The work of Lundkvist, Angioletti as well as af Klint reflect and explore this project's focal point of investigation: participation as a result of an imaginative engagement. Drawing from Morgan Quaintance's argument for imaginative involvement as a form of participation, While we are asleep here (…) aims at building a flexible framework where different entry points allow and stimulate the audience to engage with its themes and subjects.
While we are asleep here (…) develops in three parallel and interconnected presentations: a project at Moderna Museet presenting works by Meris Angioletti and Henning Lundkvist; a series of screenings of the feature film Snow White (2000) by João César Monteiro at Filmhuset and a publication designed by Ziga Testen with texts and contributions by Meris Angioletti, Tom Cheetham, Raimundas Malasauskas, Morgan Quaintance, Jean-Paul Sartre and a newly commissioned piece by Sanna Marander & Niklas Tafra.
While we are asleep here, we are awake somewhere else, and thus every man is two men is João Laia's final project at CuratorLab / Konstfack University College of Arts, Crafts and Design in Stockholm and was made possible through the collaborations with the pedagogical project Museum Museum and Filmhuset/Svenska Filminstitutet as well as the support of CuratorLab / Konstfack, the Italian Cultural Institute, Instituto Camões, University of Stockholm and Högskolan Dalarna.