Sculpture, for me, is not a beautiful object but a way to try to understand a little bit better what I see, to try to understand a little bit better what attracts me and enthrals […]. If it's a little bit successful, a sculpture will simply be a way to say to others, to communicate to others what I see." – Alberto Giacometti
The Art of Transgression
At the end of the 1920s, Giacometti moved in Surrealist circles where he met Georges Bataille. Bataille's avant-garde journal "Documents", which was published between 1929 and 1930, became an important source of inspiration for Giacometti. Bataille's transgressive philosophy glorified the low and the base, with violence and eroticism forming central themes. In 1947 Giacometti illustrated Bataille's book "Histoire de rats".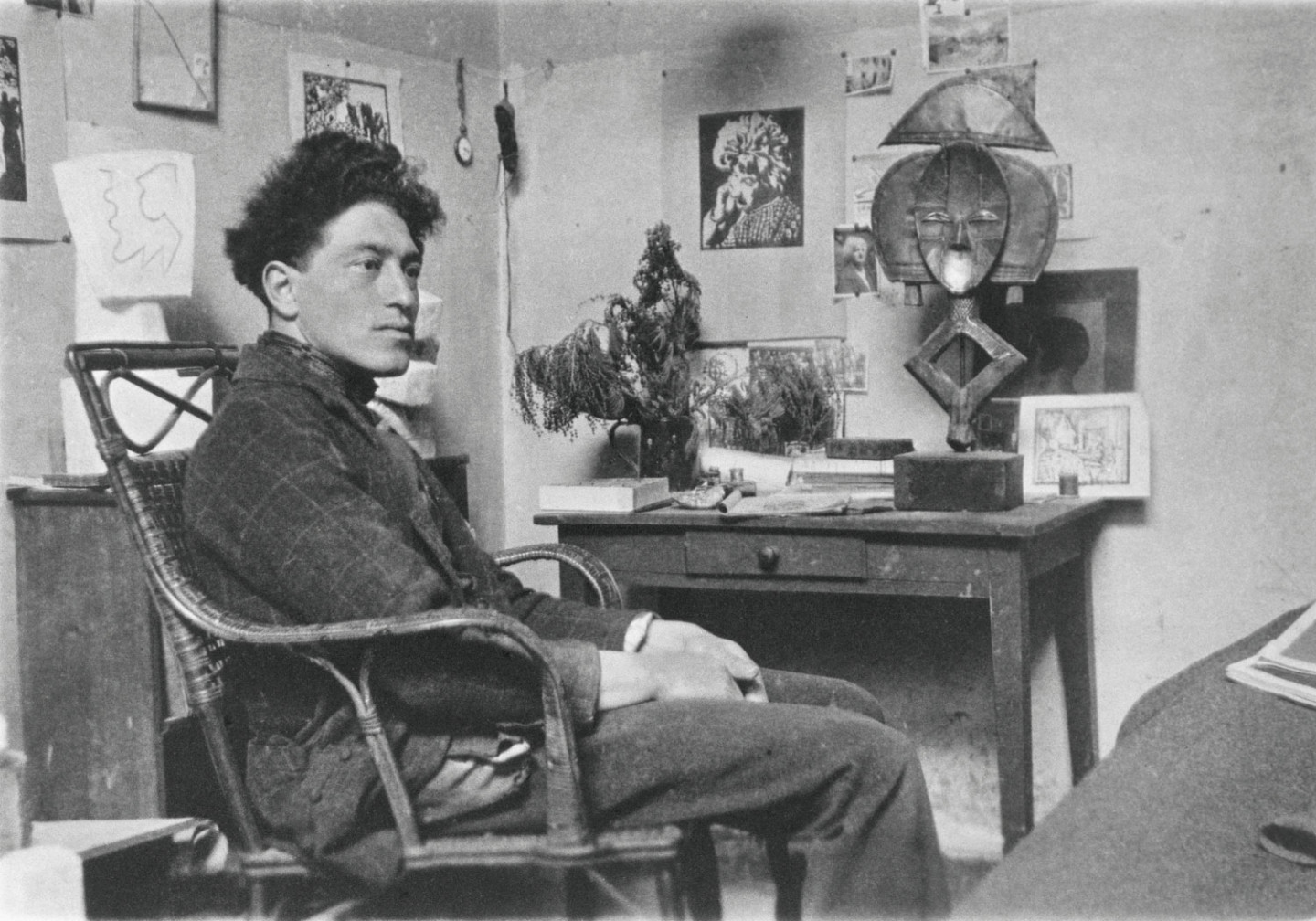 Rue Hippolyte-Maindron
In 1926, after a few years in Paris, Giacometti got the opportunity to rent a studio on rue Hippolyte-Maindron. It was 23 square meters, had an earthen floor and the only source of warmth was a little iron stove. A tap and a toilet were located in the courtyard. His brother Diego often slept on the inner balcony, while Alberto himself slept in the actual studio or at the nearby Hôtel Primavera. It was only after the war that he also rented the adjacent rooms and had running water, electricity and a telephone installed.
Ousted from the Surrealist Group!
Giacometti joined André Breton's Surrealist circle in 1930, but never submitted to Breton's strict guidelines. Over the years, significant differences of opinion emerged within Surrealism and several new groups were formed. Politically Giacometti was attracted to the writer Louis Aragon's leftist ideas and he also sympathised with Georges Bataille's anti-materialist version of Surrealism. At the end of 1934, Giacometti was ejected from Breton's Surrealist circle. He did, however, revisit Surrealist imagery and aesthetics later on in his career.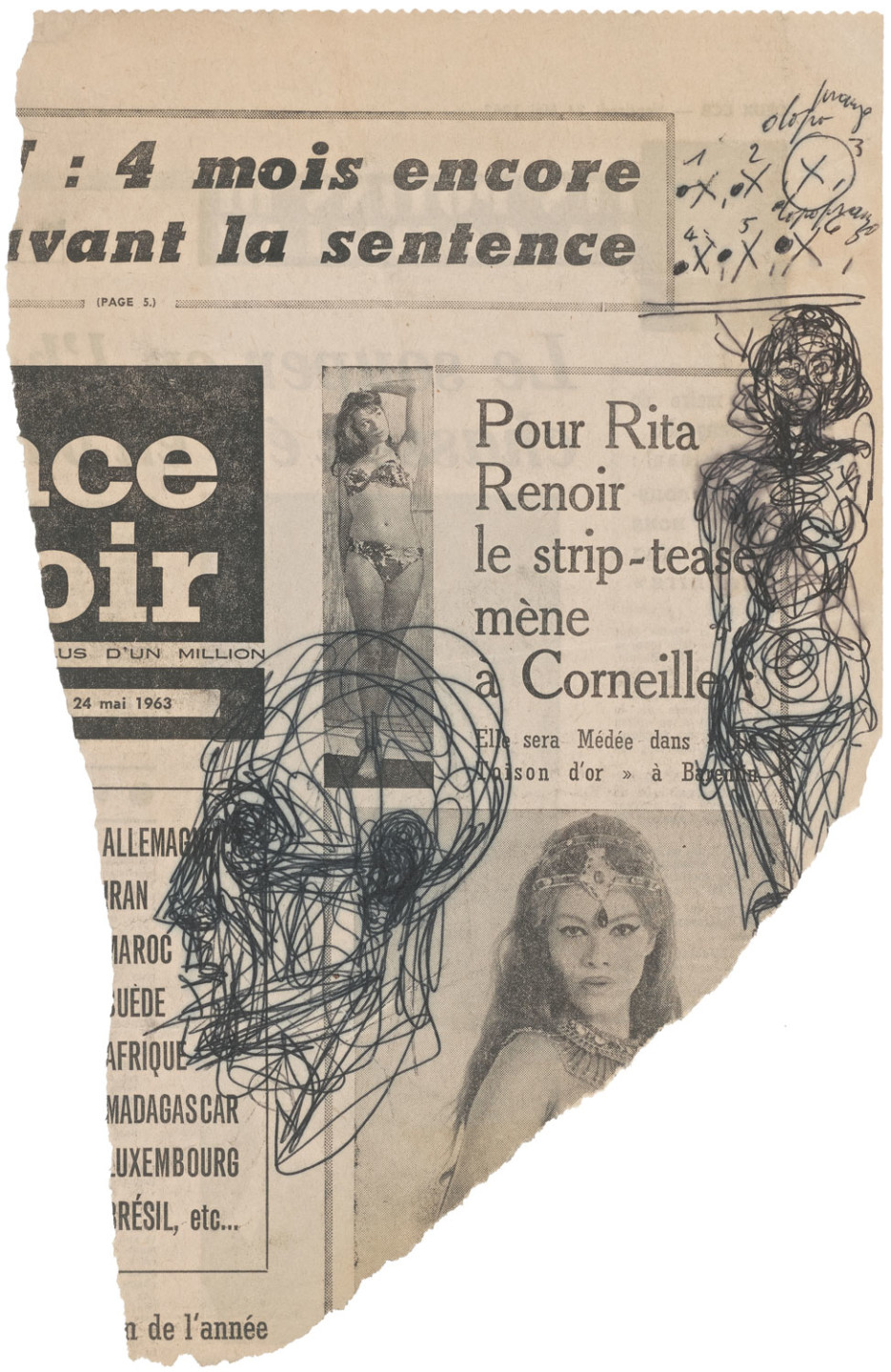 Poetry and Hardboiled Crime Novels
Giacometti's bookshelves were crammed with around 1,500 titles. He loved to read, but he wasn't very fastidious about his books, frequently drawing and making notes in the margins. He was interested in poetry and politics, as well as art history and crime novels. Of particular interest to him was Gallimard's "Série Noire", a collection of hardboiled French and American detective thrillers. His library contained more than 60 books in the series, including Ian Fleming's 007.
Fashion Collaborations: Elsa Schiaparelli, Coco Chanel, Jean-Michel Frank
In the 1930s, Giacometti designed jewellery, lamps and vases for the likes of the fashion designer Elsa Schiaparelli and the designer Jean-Michel Frank. It became an important form of income at a time when his art did not sell particularly well. At that time, Giacometti found art and design equally interesting. His brother Diego also both sculpted and worked as a designer.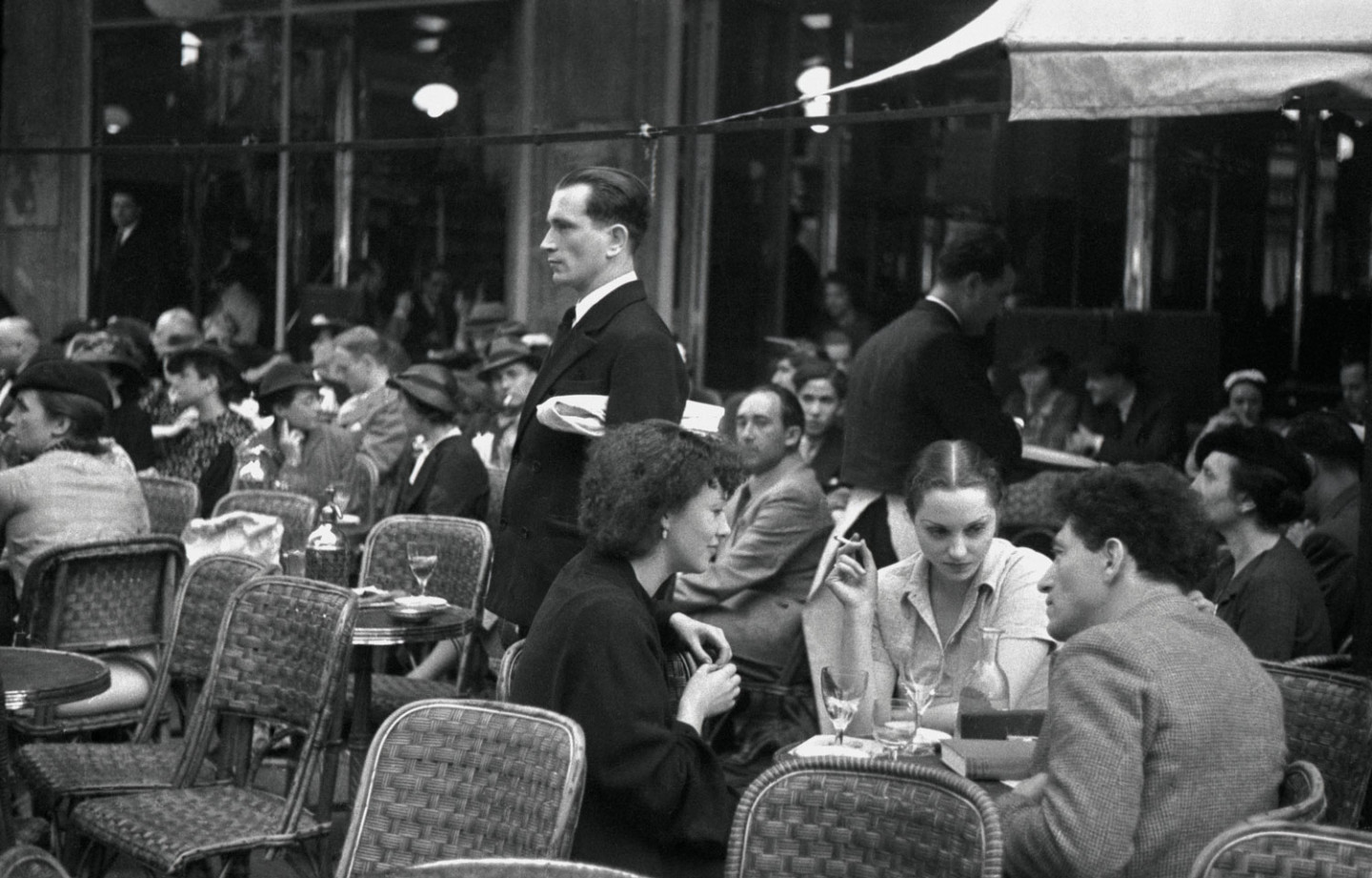 Café Life — Paris — La Rotonde, Le Dôme, La Coupole
When Giacometti came to Paris in 1922, the cafés Le Dôme, La Coupole and La Rotonde in Montparnasse were the sites of innumerable intellectual conversations. Giacometti's circle of friends included many of the time's foremost writers, philosophers and artists. The sculptor Germaine Richier was his fellow student during his first years in Paris, and after her death he wrote a loving text about her work. The artists Georges Braque, Meret Oppenheim, Balthus and André Derain were also among his friends, as well as the philosophers Simone de Beauvoir, Jean-Paul Sartre and Isaku Yanaihara.
Actually, something terrible happened to me in the Louvre. In the past, I used to find the things I like in the Louvre more beautiful than reality itself. As if they were an exaltation of reality. Today, the people who look at the paintings astonish me more than the paintings" – Alberto Giacometti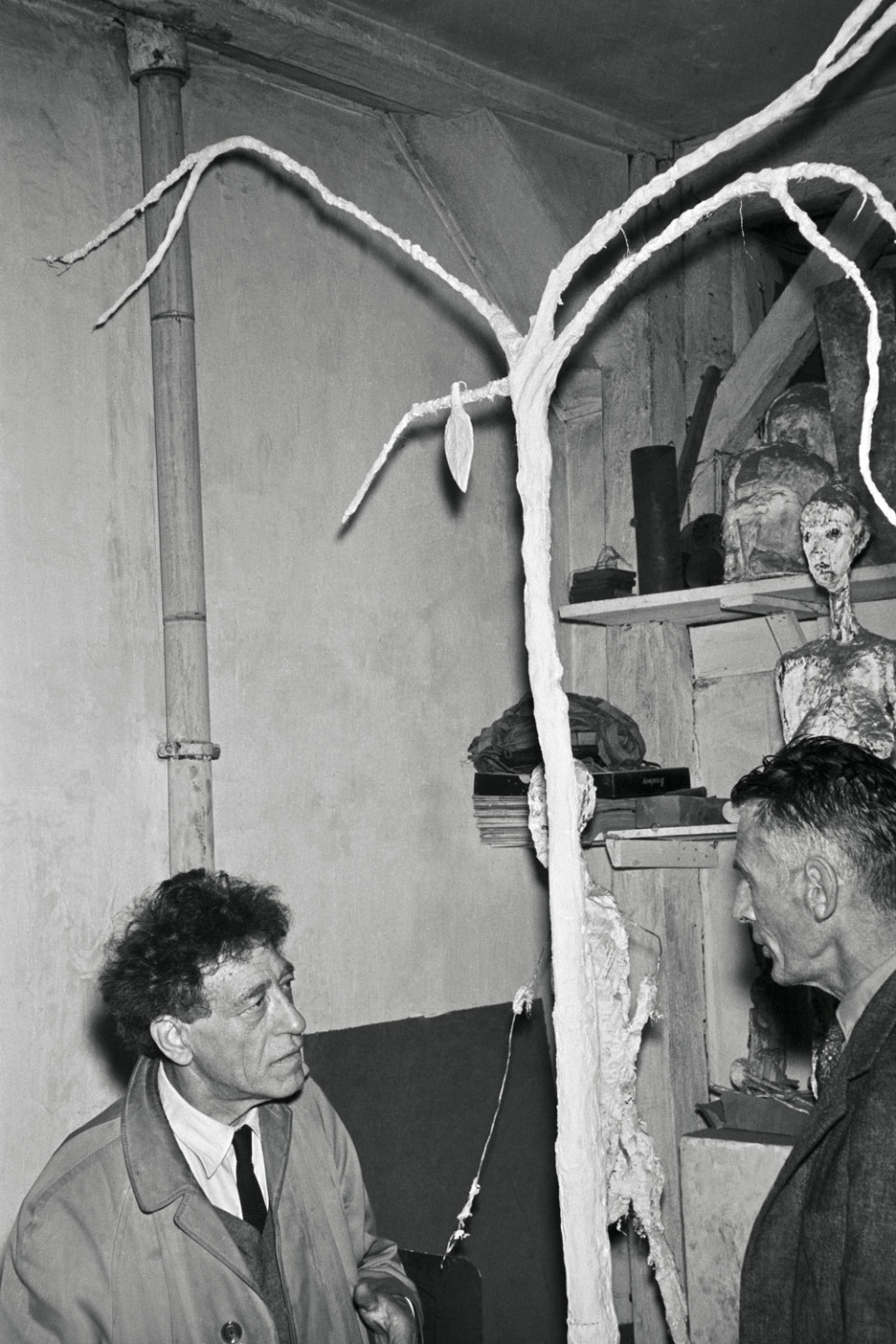 Waiting for Godot
Samuel Beckett and Giacometti met around 1937 and often went on long rambling walks through Paris at night. Their only professional collaboration occurred when Beckett's absurdist play "Waiting for Godot" was performed at the Théâtre de l'Odéon in Paris in 1961. Giacometti was responsible for the pared-down stage design: a lonely, scraggy tree made of plaster.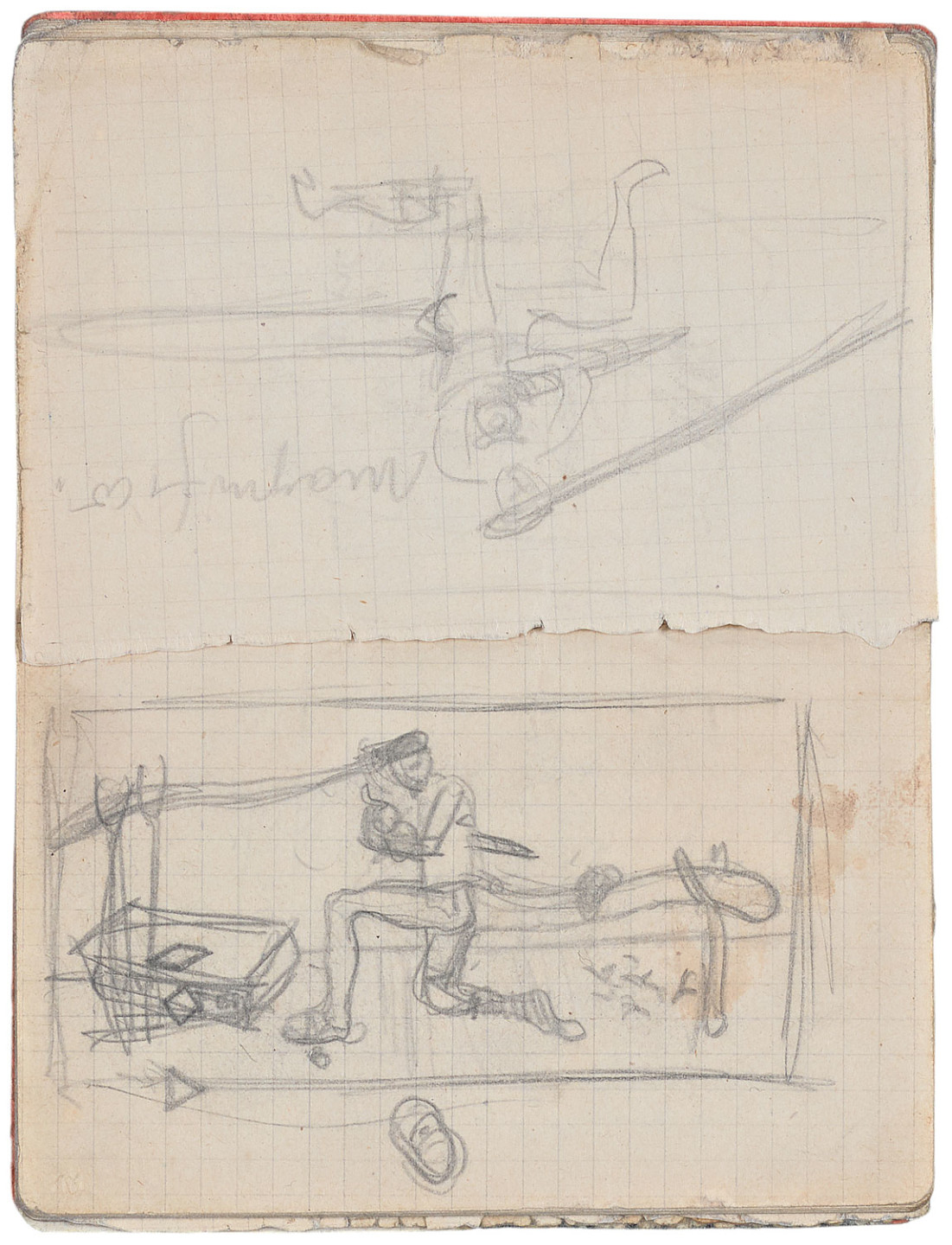 Copies, copies, copies…
Ever since his childhood, Giacometti copied pictures from newspapers and magazines, and reproductions of artworks. Notes and drawings filled the margins of the books in his library. More than half of all his drawings are copies, often of older artworks that caught his interest, but there are also examples of sketches of the work of his contemporaries. One of these sketches depicts Salvador Dalí's painting "The Enigma of Wilhelm Tell" from 1933, which is in Moderna Museet's collection.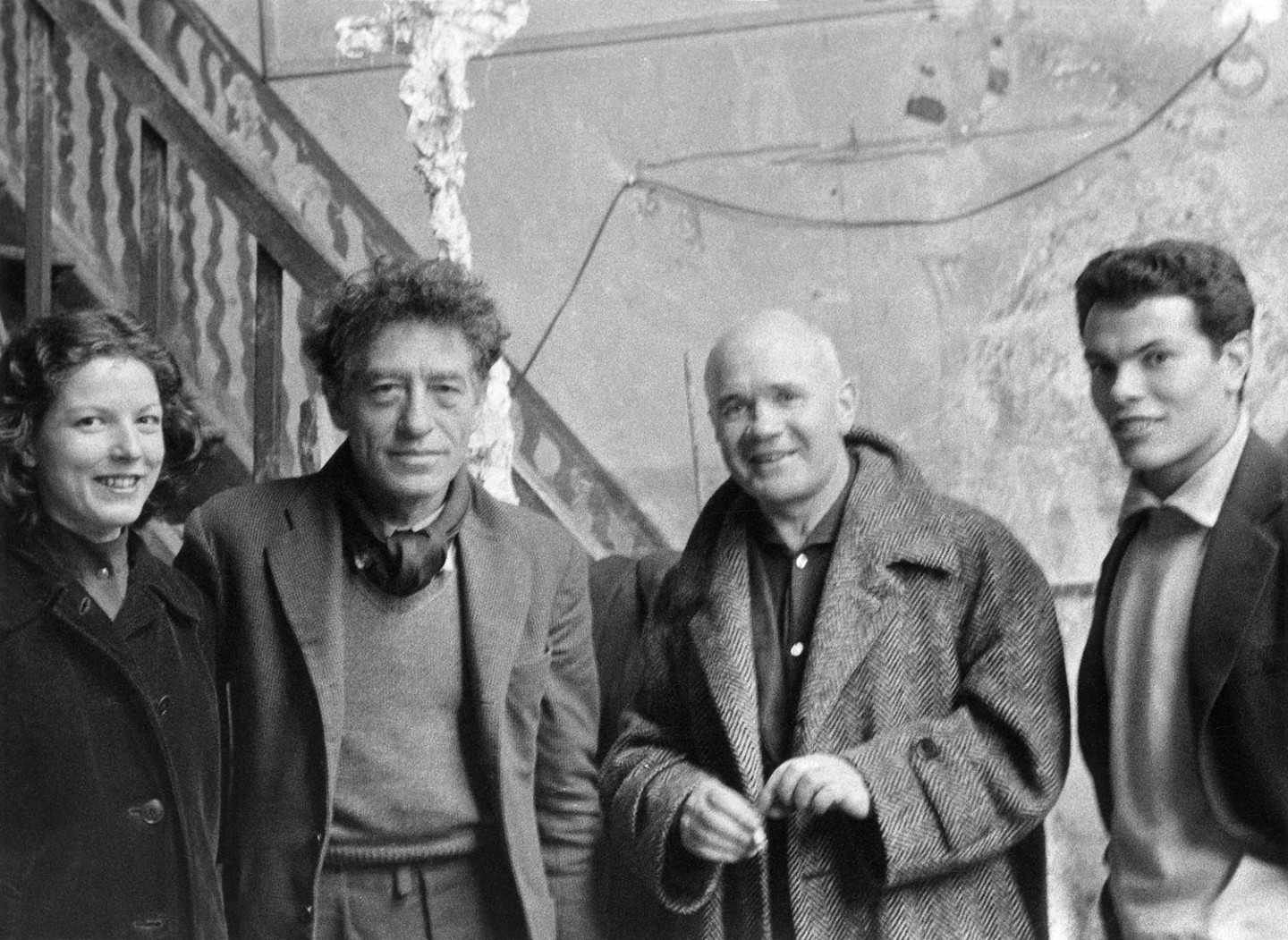 Giacometti's Studio
Giacometti and Jean Genet first met in 1954. The openly homosexual Genet lived as a petty criminal and prostitute vagabond in his youth. In the 1960s he became a left-wing political activist who supported the Black Panthers in the USA, demonstrated against police violence against Algerians in Paris and late in his life he spent half a year in a Palestinian refugee camp in Jordan. Giacometti illustrated the cover of Genet's play "The Balcony", which is set in a bordello. Genet was also one of Giacometti's models and wrote "The Studio of Giacometti" (1956) about his conversations with the artist during their long sessions.
I do not know whether I work in order to make something or in order to know why I cannot make what I would like to make" – Alberto Giacometti
Giacometti Hit by Drunk Driver
On 11 October 1938 at Place des Pyramides Giacometti was hit by a drunk driver. The American woman who drove the car left Giacometti unconscious with a crushed foot and drove on, straight into a shop window. The accident gave Giacometti a limp for the rest of his life. He told the story uncountable times to his friends and acquaintances and made it an important part of the mythology that he delighted in creating around himself.
Tintoretto, Tutankhamun & Jazz
During a trip to Italy in 1920, Giacometti became captivated with Tintoretto's, Giotto's and Cimabue's centuries-old church painting. In Paris he encountered Cycladic, Egyptian and African art at the Louvre and the Trocadéro Museum of Ethnography. Due to the discovery of Tutankhamun's tomb in Egypt in 1922 and the opening to the public of the prehistoric cave paintings in Lascaux, France, in 1948, these ancient cultural manifestations were fresh in the public consciousness. These ancient cultures had a decisive impact on Giacometti and modern art in general. Jazz was another important non-European influence and the so-called Négritude movement created a critical consciousness of colonial oppression among the intellectuals of Paris.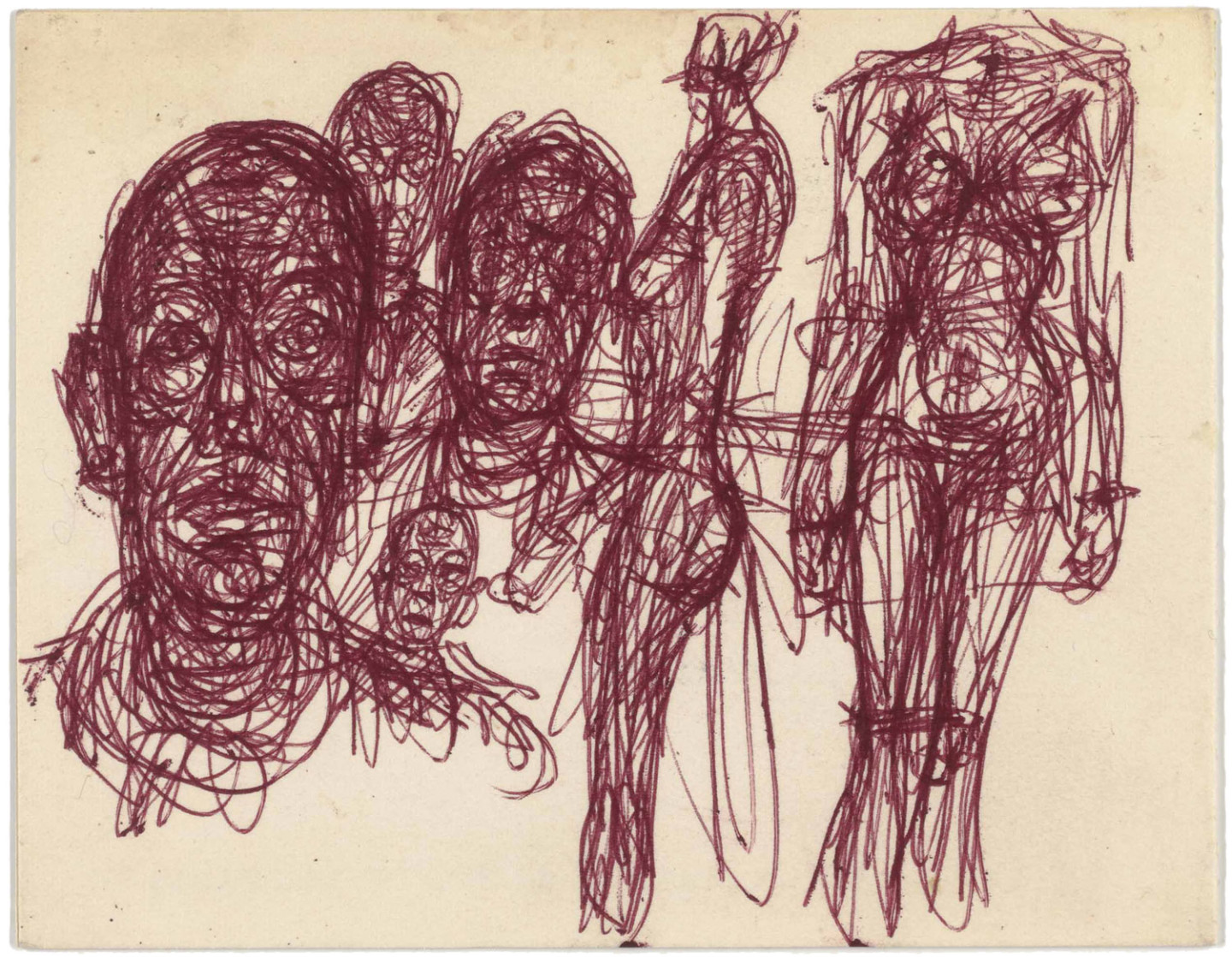 The ballpoint pen!
After the BIC pen was introduced on the French market in 1950 it rapidly became one of Giacometti's favourite drawing tools. This type of ballpoint pen is looked down upon nowadays, but Giacometti appreciated the fact that it was cheap, easy to carry around and that its ink adhered to different kinds of surfaces. He constantly drew on anything available: newspapers, receipts and serviettes. The ink was red, green, black or blue, and Giacometti preferred the latter two.