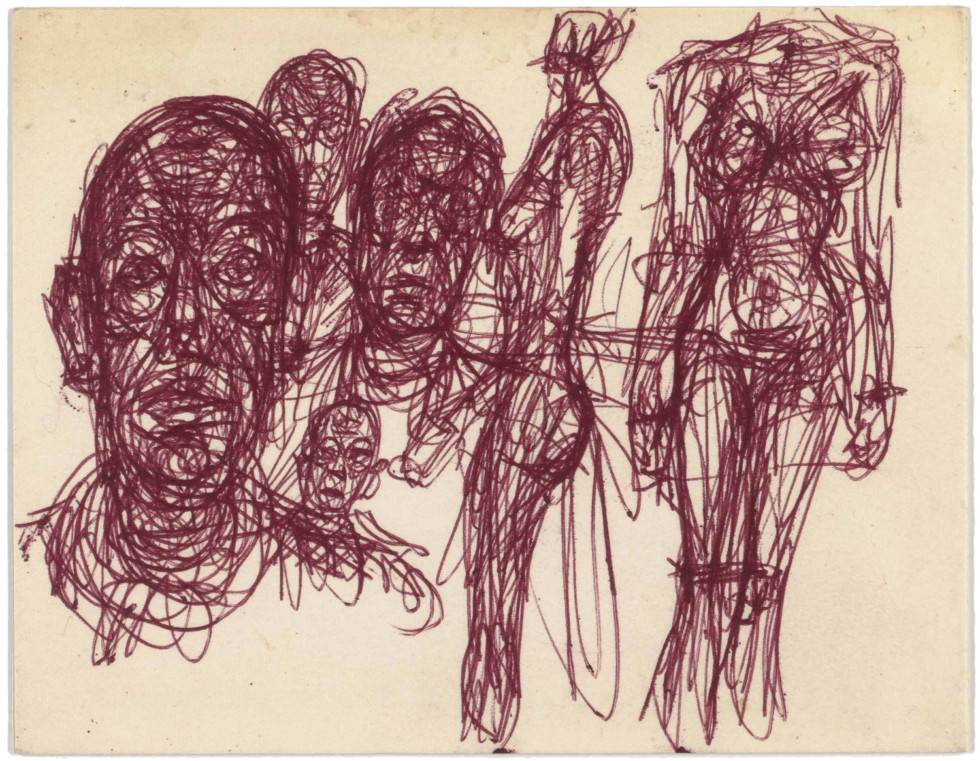 Be creative at home with Alberto Giacometti
Do-it-yourself videos
When Alberto Giacometti was a child, he would copy pictures from books. Let's look at photographs of Giacometti's works and be creative at home. Look, feel, redesign and try again. Find a way where your hands and eyes can explore and create something together. We experiment with materials such as pens, clay, instant coffee and so on.
You need
wax (cheese wax from crafts shop, or use modelling clay instead)
wire
a staple gun
a base (wood or cardboard)
a carving tool
pliers
How to do it
Staple the wire to the base. Plan the shape of your sculpture. Giacometti's figures were tall and thin with big feet.
Bend the wire into a wire figure. Can you capture movement in your figure? What would it look like if it took a giant step?
Cut thin slices of wax and warm them with your fingers.
Now, start sticking the wax to the wire to create your sculpture. The wax will harden but goes soft quickly if you warm it with your hands.
Cover the wire with wax or clay until you're happy with your sculpture!
You need
aluminium foil
plaster and water
a paperclip or string to hang it up with
a pencil
something sharp, like a table knife, wire or scissors
How to do it
Shape two sheets of foil into an oval, fold up the edges to make a mould.
Prepare the plaster (available from crafts shops, mix as instructed on the package).
Pour the plaster into the foil mould and allow to set. You can fasten a string or paperclip in the plaster as a hanger.
When the plaster has set, remove it from the mould and start creating!
Draw on the plaster with a pencil. Use something sharp to carve. It's easy if the plaster is still damp. Use scissors, a knife, a paperclip, the tip of a pencil or something else to make the shape you want. Remember that the shape is what is left after you have carved and scraped away material.
You decide when your work is finished!
You need
a ballpoint pen
newspapers, magazines or advertising
scissors
glue
tape
paper
How to do it
Allow your pen to move in circles across the paper and see what happens.
You can cut out pictures or part of a picture and glue it onto a coloured sheet of paper.
From childhood, Alberto Giacometti copied images and artworks from books
It soon became an obsession and his large library of frayed art books is full of notes and drawings in the margins.
Every scrap of paper, envelope, or receipt he had at hand was made to double as drawing paper.
Giacometti copied art for the same reason he tried to copy reality: to try to understand what he saw.
Read more about it in the exhibition catalogue: Essay by the curators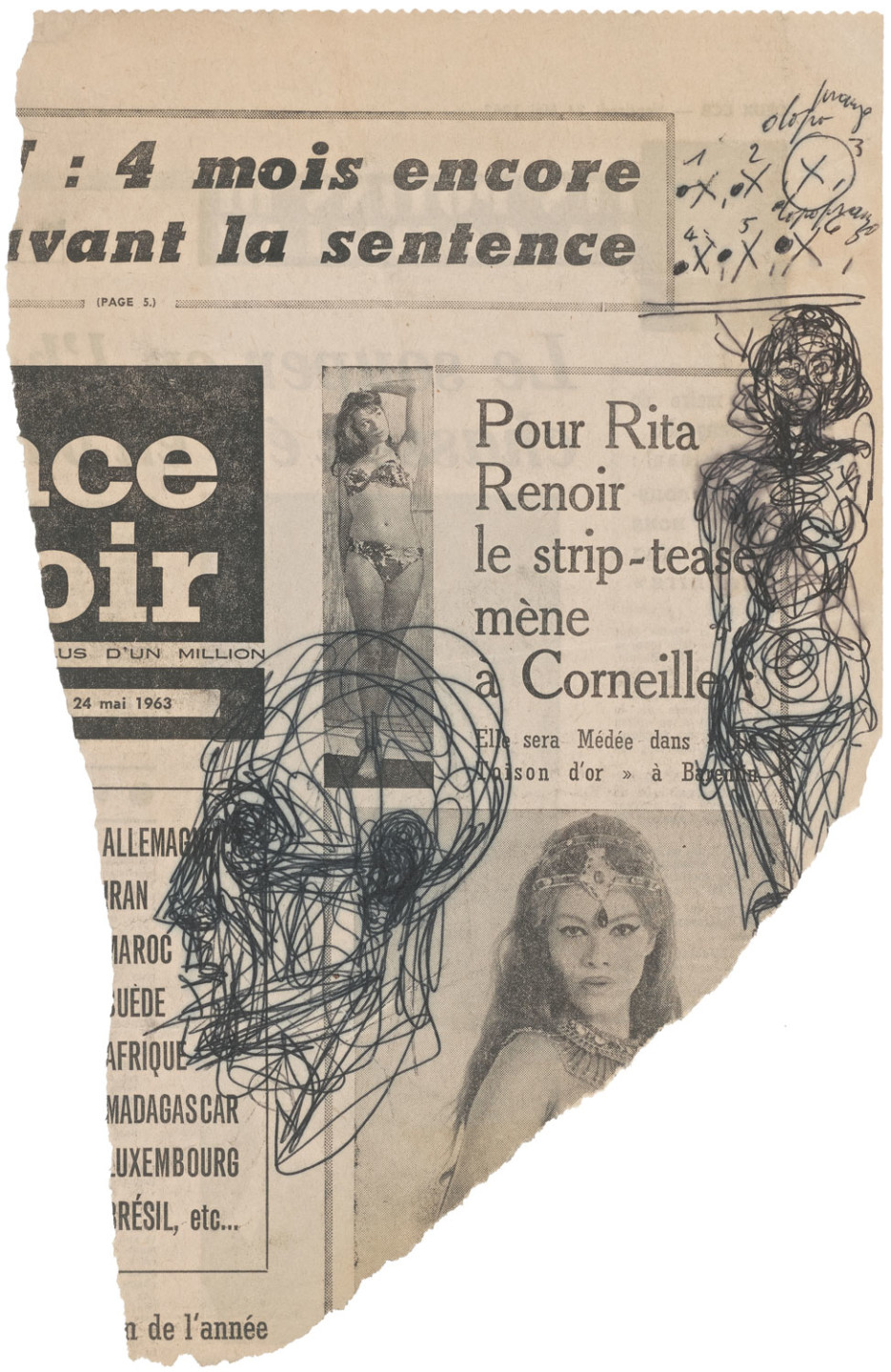 You need
different-coloured ballpoint pens
a posable mannequin or live model (or you can sketch people moving on TV or outside your window)
pencils
paper
How to do it
Feel your pen or pencil move across the paper. To explore what a body looks like, use a mannequin to get a clearer picture of the anatomy and let your pen or pencil make circular movements.
Look and draw at the same time, change colours and fill in your lines. Observe the shadows and the relation between arms, head and legs.
Try filling a whole sheet of paper with your sketches!
GIacometti and the ballpoint pen
After the BIC pen was introduced on the French market in 1950 it rapidly became one of Giacometti's favourite drawing tools. This type of ballpoint pen is looked down upon nowadays, but Giacometti appreciated the fact that it was cheap, easy to carry around and that its ink adhered to different kinds of surfaces. He constantly drew on anything available: newspapers, receipts and serviettes. The ink was red, green, black or blue, and Giacometti preferred the latter two.
You need
a tablet
a stylus for a touchscreen (if you don't have one, try using your finger)
How to do it
Take a picture of yourself with the tablet.
Import the picture to a drawing program.
Draw lines on the picture of your face to find its geometric structure.
Erase the background.
Now, draw again and again, don't erase anything. Just continue with a different colour, making layer upon layer of lines, until you can't see the original picture. Giacometti then went back to depicting the eyes and the gaze.
Giacometti was convinced that life's essential presence is found in the gaze
Bit by bit he gave up the whole to become lost in the details, to concentrate all his efforts on the head and, toward the end of his life, to capture gazes themselves.
Perhaps there and then a wholeness could finally emerge.
Read more about it in the exhibition catalogue: Essay by the curators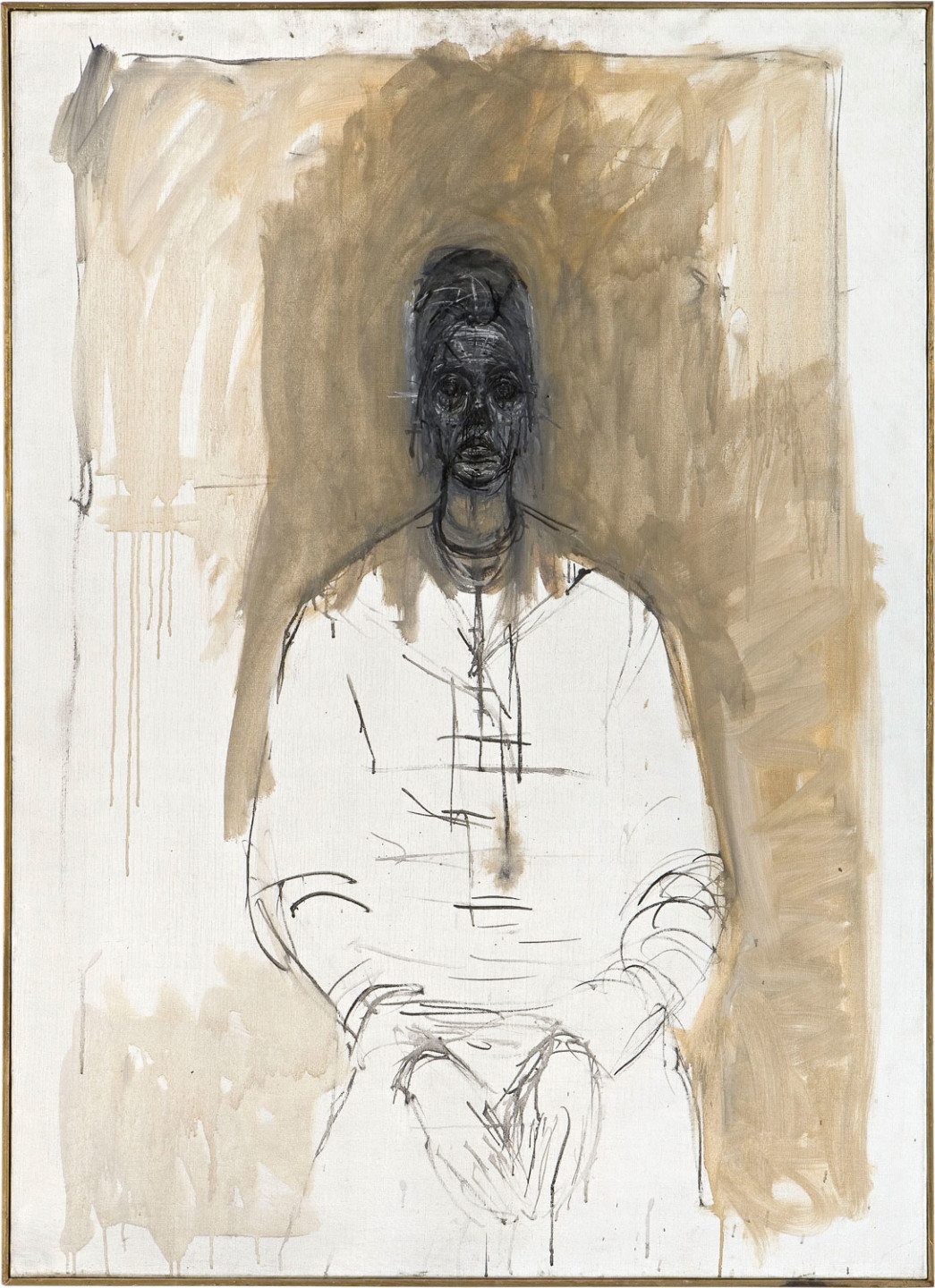 You need
clay (white, air-dry clay)
sculpting tools (a table knife or spoon will do)
water
a surface, preferably one that you can turn (a rotating cheese board from IKEA)
a cloth
How to do it
Knead the clay with your hands into a solid lump. You can throw it on the table to get rid of bubbles.
Shape it into an upper body, using your thumbs to make a head and shoulders.
When you have a shape that you're happy with, start working on the face. Where are the eyes, nose and mouth? Try different looks. Use wire or some other sharp object to draw a face in the clay.
Dip your fingers in water if the clay feels dry. The clay dries in the air. If you want to continue working on the sculpture later, wrap it in a wet cloth and keep it in a plastic bag.
Sculpture, for me, is not a beautiful object but a way to try to understand a little bit better what I see, to try to understand a little bit better what attracts me and enthrals […]. If it's a little bit successful, a sculpture will simply be a way to say to others, to communicate to others what I see." – Alberto Giacometti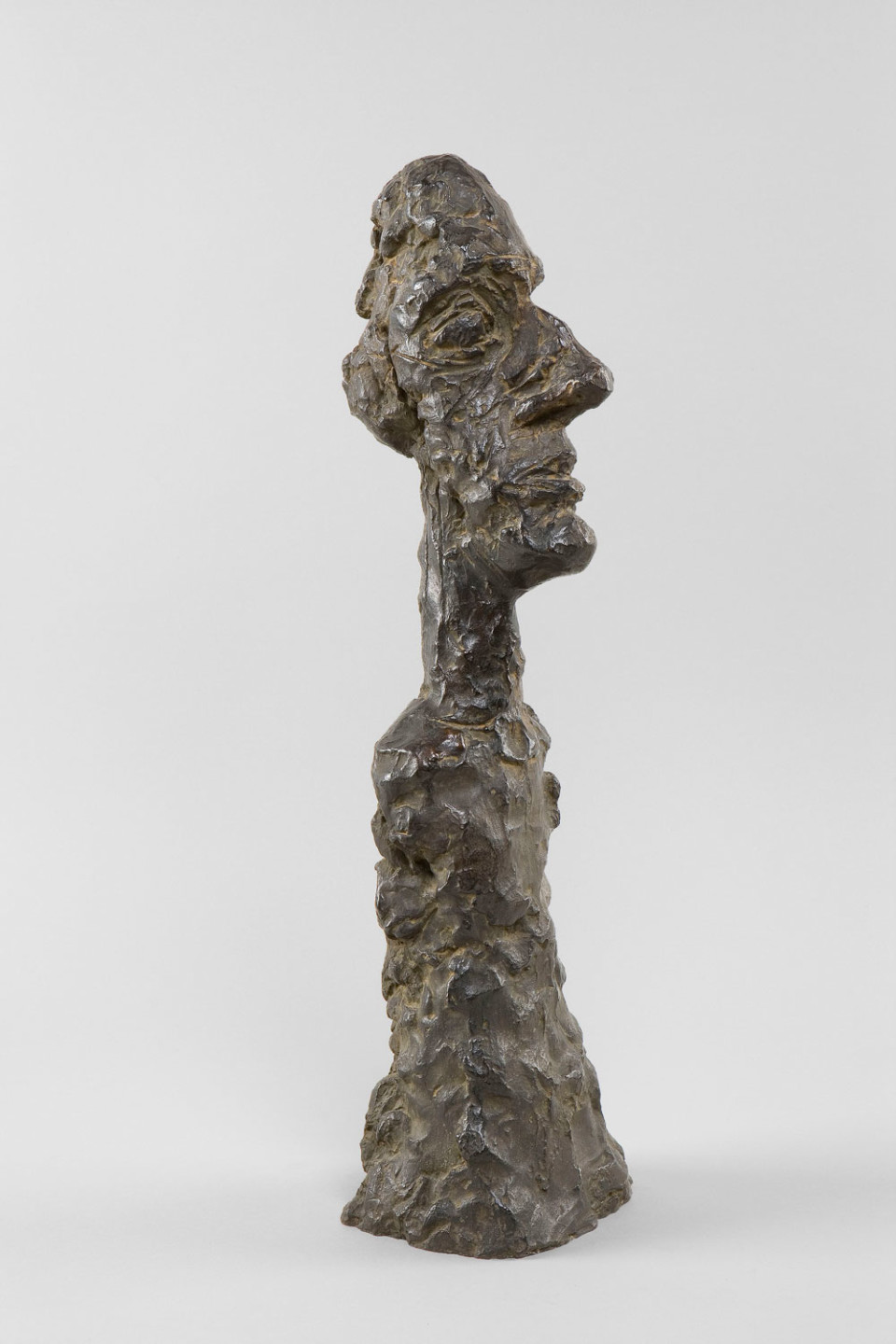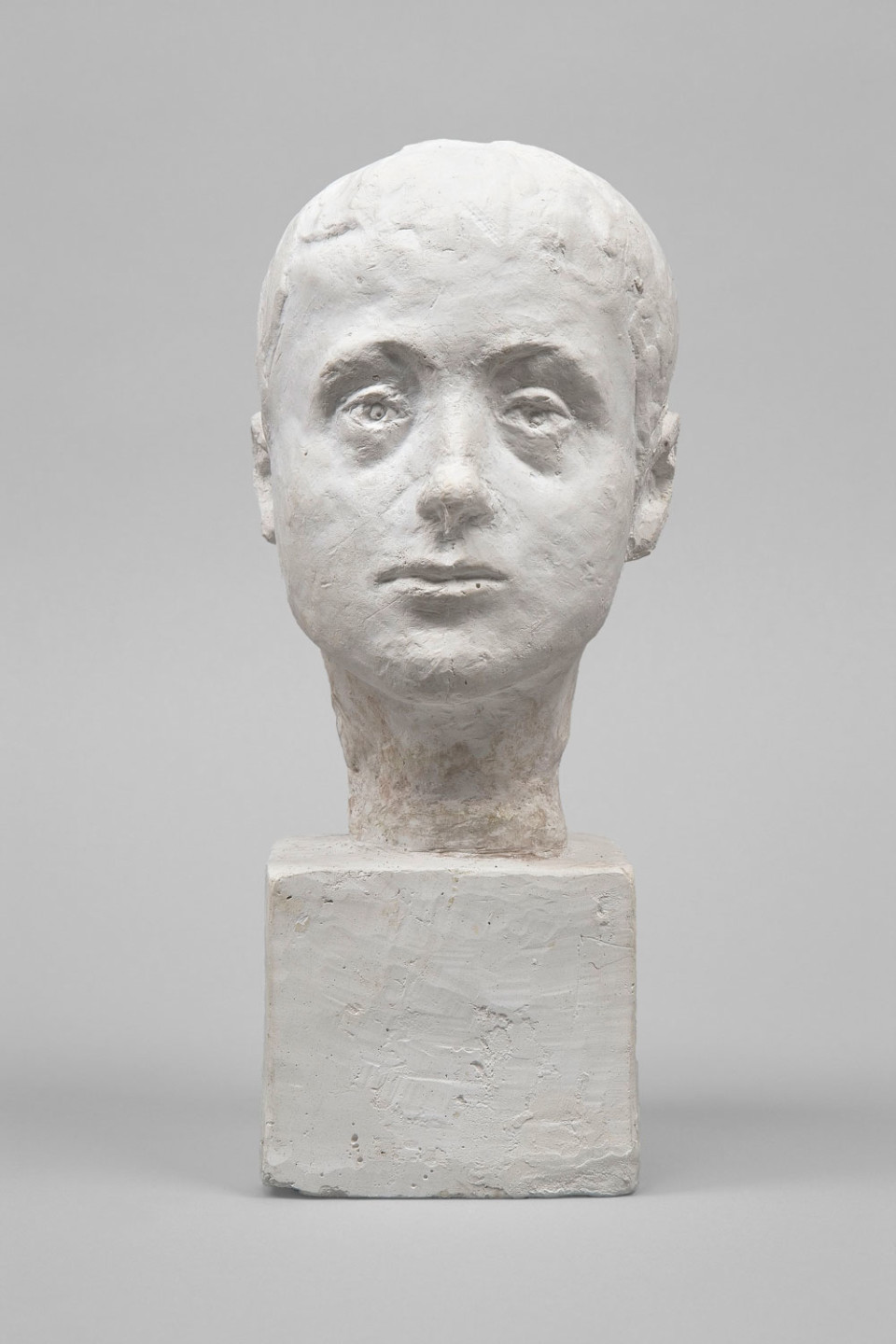 You need
watercolour paper 300 g
a paint brush
water (cold)
instant coffee
masking tape
kitchen roll
How to do it
Make a rectangle with masking tape on a sheet of paper.
Wet the paper inside the masking tape.
Mix water and instant coffee.Try adding more or less water to the coffee to get different nuances!
Make little squares at the top of the paper to test what shades you can achieve.
Use kitchen roll to absorb excess water, experiment and dab.
Leave the picture to dry, then remove the masking tape.
Fold the edges and tear them off to get a nice finish.