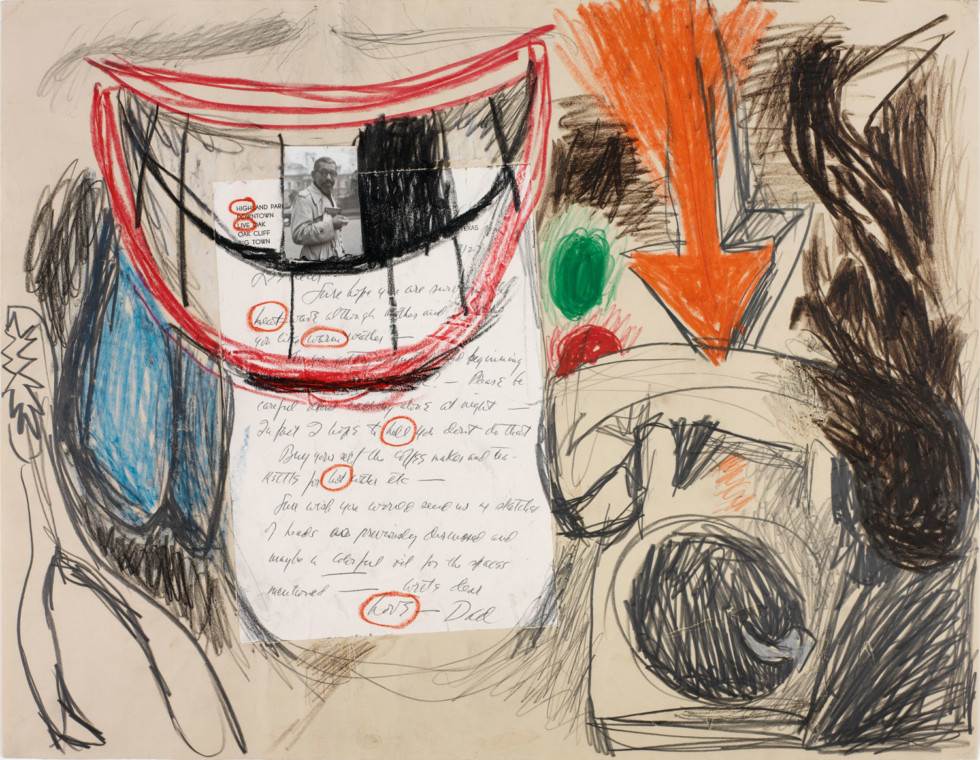 Lee Lozano, 1930–1999, the American artist whose original and challenging work is still largely unknown, especially in Europe. Lozano was part of the 1960s art scene in New York, an artists' artist in the midst of the avant-garde of the time. On the border between minimalism and conceptual art, she created a powerful and individualistic body of work in a completely male-dominated environment.
1930
Lenore Knaster is born in Newark, New Jersey, the only child of Rosemond and Sidney Knaster, non-practicing Jews. Her father works as a furniture buyer.
1944
Growing up in a middle-class American home, at fourteen Lenore chooses to be referred to as Lee.
1948–51
Studies natural science and philosophy at the University of Chicago, where she receives a BA in 1951.
1952–55
Starts work in the design department of the Container Corporation of America (CCA) in 1952. Under Walter Paepcke, CCA would collaborate with well-known architects, artists, and designers such as Herbert Bayer, Walter Gropius, and Henry Moore on the creation of successful advertising campaigns. It is here that she meets her future husband, the Mexican-American architect Adrian Lozano.
1956
Knastner begins studying art at the Art Institute of Chicago. In August of the same year she and Lozano marry. The couple move into a building designed by Mies van der Rohe at 900 Lake Shore Drive in Chicago.
1957
She enters psychoanalysis, which extends over the next two years.
1959
The student exhibition School of the Art Institute 80th Annual, is visited by Queen Elizabeth II. Local newspapers report how the Queen stopped to admire Lozano's painting Seated Figure.
1960
On completing her studies, she travels with her husband to Europe, where they visit Spain, France, and Italy. Adrian Lozano then continues on to England, while Lee remains in Florence. When it is time to return home, she travels instead to New York, and the couple divorce after four years of marriage. At this point she is painting Expressionist still lifes with aggressive undertones.
1961
Lee moves to a studio at 53 West 24th Street in New York. She looks up Richard Bellamy, whom she had met previously in Chicago. The year before, Bellamy had launched the Green Gallery in downtown New York at 15 West 57th Street, with the financial support of the businessman Robert Sculls. The Green Gallery quickly becomes celebrated for introducing the work of young and unknown artists to the public. Among the artists on show there in 1961 and 1962 are Claes Oldenburg, Tom Wesselman, Lucas Samaras, and James Rosenquist. Richard Bellamy and Lozano become close friends and subsequently collaborate throughout the period she lived spent in New York.
Through Bellamy she meets Hollis Frampton and Carl Andre, who by then were good friends. She sees a lot of Frampton and Andre, as well as Sol LeWitt, Robert Morris, Vito Acconci, and Stephen Kaltenbach. She does a great deal of drawing, the motifs frequently taken from the studio.
1962–63
Lee shares an interest in ready-mades with Carl Andre, with whom she searches the streets of New York for objects. Her Surrealist drawings and paintings contain a sexual charge and elements of violence. In 1963 she starts her large-scale paintings of tools.
1964
In February, she is one of the few women participating in the exhibition Contemporary Erotica at the Van Bovenkamp Gallery in New York. Other artists represented include Lucas Samaras, Tom Wesselman, Jean Cocteau, Marisol, and Salvador Dalí. Later that year she moves into a loft at 60 Grand Street, near Canal Street and the Bowery. At the end of October she shows a number of paintings at the Green Gallery in conjunction with Richard Smith, Donald Judd, Mark Di Suvero, Neil Williams, Dan Flavin, and Miles Forst. Judd has just begun showing his "specific objects," while Lozano exhibits the large-scale, abstract paintings of tools she began the previous year.
1965
Lozano includes her tool paintings in another group show at the Green Gallery. Bellamy plans to mount Lozano's first solo exhibition in September ,but this is cancelled when the gallery is forced to close for financial reasons. She is now living with Hollis Frampton. She begins work on a series of abstract paintings, divided into several panels on which geometric and stereometric shapes suggest movement.
1966
On November 5, her thirty-sixth birthday, her first solo exhibition opens at the Bianchini Gallery run by Dorothy Herzka in uptown New York. On show are the abstract paintings she started in 1965, and the exhibition receives good reviews in the periodical Art News. Work by Lozano is included in Normal Art, the inaugural exhibition of The Lannis Museum of Normal Art, together with that of several artists who were working conceptually at the time, including Carl Andre, Jo Baer, Walter De Maria, Dan Flavin, Dan Graham, Eva Hesse, Donald Judd, On Kawara, Robert Morris, Claes Oldenburg, Robert Ryman, Robert Smithson, Frank Stella, and Sol LeWitt. The Lannis Museum of Normal Art was founded at the instigation of Joseph Kosuth, who also acted as chairman of the foundation.
1967
Lozano begins working on her series Wave Paintings. Toward the end of the year she meets the artist Dan Graham, who is twelve years her junior. It is now that she starts recording and documenting everyday events and personal experiences parallel to her painting. She will eventually refer to these studies as Pieces.
1968
In May she takes part in a group show at The Contemporary Art Center in Cincinnati, Ohio, that also includes Bob Gordon, Robert Ryman, and Robert Stanley. In December she is awarded a grant of two thousand dollars from the Cassandra Foundation; she uses the money to fund her project Investment Piece.
1969
February sees her first exhibition in Europe at the Galerie Ricke in Cologne, and in the fall her work is also included in a group show at the gallery Rolf Ricke founded in 1968. He rapidly became known for introducing American contemporary artists working within Minimalism, Post-Minimalism, and Process Art. In March, Lucy Lippard invites Lozano to participate in Art/Peace Event, an exhibition at the New York Shakespeare Festival Public Theatre. It is here that one of her text-based instructional works is first shown: Piece, dated February 28, 1969. In April she starts work on Dialogue Piece, which in July is published by Vito Acconci in the periodical 0–9.
Lozano also takes part in Number 7 at Paula Cooper Gallery, a conceptually-orientated exhibition curated by Lucy Lippard and Bob Huot. She shows the text-based works Grass Piece and No Grass Piece. Also participating in the exhibition are Sol LeWitt, Richard Serra, Bruce Nauman, and Joseph Kosuth. Art & Language, Walter De Maria, Dan Graham, and Ed Ruscha contribute printed material to the show.
On April 10th, she takes part in the Art Workers Coalition's (AWC) first (and last) public hearing at the New York School of Visual Arts to discuss the social and political responsibilities of the art world. The aim was to introduce reform to the art museums in New York, in particular the Museum of Modern Art. Chief among the demands being made was the greater representation of female, black, and homosexual artists in the museums. Nearly three hundred people were present. In addition to Lozano, the speakers included Carl Andre, Dan Graham, Hans Haacke, Lucy Lippard, and John Perrault. AWC was dissolved at the end of 1971, although Lozano ended her involvement after the hearing in April as a continuation of the conceptual work General Strike Piece, which she had begun earlier.
She takes part in 8 Painters at the Watson Gallery at Wheaton College in Norton, Massachusetts. The participating artists are asked to write a text for the exhibition, and Lozano, who was moving away from painting at that time, writes: "What is the relevance of painting I am asked. . . . Each time I ask myself which is often recently it gets answered by me producing a painting. Questions are for speaking. Answers are for doing. (Terseness is for writing)."
1970
Lozano's work is shown in a number of exhibitions in Germany, including one at the Suermondt-Ludwig-Museum in Aachen. Dan Graham reproduces Dialogue Piece in the publication End Moments. She completes work on her series Wave Paintings and, in December, exhibits her paintings in a solo show at the Whitney Museum of American Art in New York. She conceptualizes a number of existing abstract paintings by perforating them and then ceases to paint altogether.
1971
In January she is invited by Charlotte Townsend to take part in the exhibition Infofiction at the Nova Scotia College of Art & Design, Halifax. This was the only occasion on which Language Pieces was shown on its own. The title Infofiction alludes to MoMA's exhibition Information curated by Kynaston McShine six months previously. The latter exhibition, which focused on Conceptual and Process Art only, presented only few women artists, and Lozano was not invited to take part. In August she starts work on her study Boycott Piece. The aim was to avoid all conversations with women for roughly a month in order to subsequently "Make communication better than ever." The project became a lengthy one, and for the rest of her life Lozano would avoid speaking with women where possible.
Lozano lectures in July at the Nova Scotia College of Art & Design. At the end of the year she is evicted from the loft on Grand Street.
1972
The Lisson Gallery in London postpones Dan Graham's first one-man show in order to exhibit Lozano instead in Infofiction II. She is expected to present the Language Pieces that formed part of Infofiction the year before, but chooses instead to show as her sole work a square meter of sand that has been swept flat by an industrial brush. Visitors to the show are invited to write in the sand, but no one dares do so. She edits her notebooks and probably leaves New York later in the year.
1973–81
She now calls herself Leefler. She travels to Belgium and London. Little is known about what she does during these years, and she is rarely in contact with any of her existing friends. She appears to lose her way, after leaving New York, and becomes increasingly immersed in a world of astrology and natural science.
1982
She moves to Dallas at the age of fifty-two to live with her parents. She now calls herself simply E. The same year, P.S.1 in New York shows her work in Abstract Art of the Sixties. This exhibition serves as a stepping stone toward the art world's rediscovery of her work.
1988
Her father, Sidney Knaster, dies.
1990
Death of her mother, Rosemond Knaster. Lozano now has no income apart from the money sent to her when one of her paintings is sold in New York, and she is eventually evicted from her apartment.
1994–98
Her work is shown in a number of exhibitions in the United States, although she takes no part in them herself. The Wadsworth Atheneum in Connecticut mounts the show Lee Lozano/Matrix:135, in which the series Wave Paintings and a large number of Language Pieces are on display together for the first time. At the end of 1998, she creates a questionnaire as a Language Piece, made out to the art dealers Jaap van Liere and Barry Rosen, concerning how the sale of her works is to be regulated.
1999
Lee Lozano dies of cancer on October 2. She is buried, according to her explicit instructions, beneath an unmarked gravestone at Southland Memorial Park in Dallas.