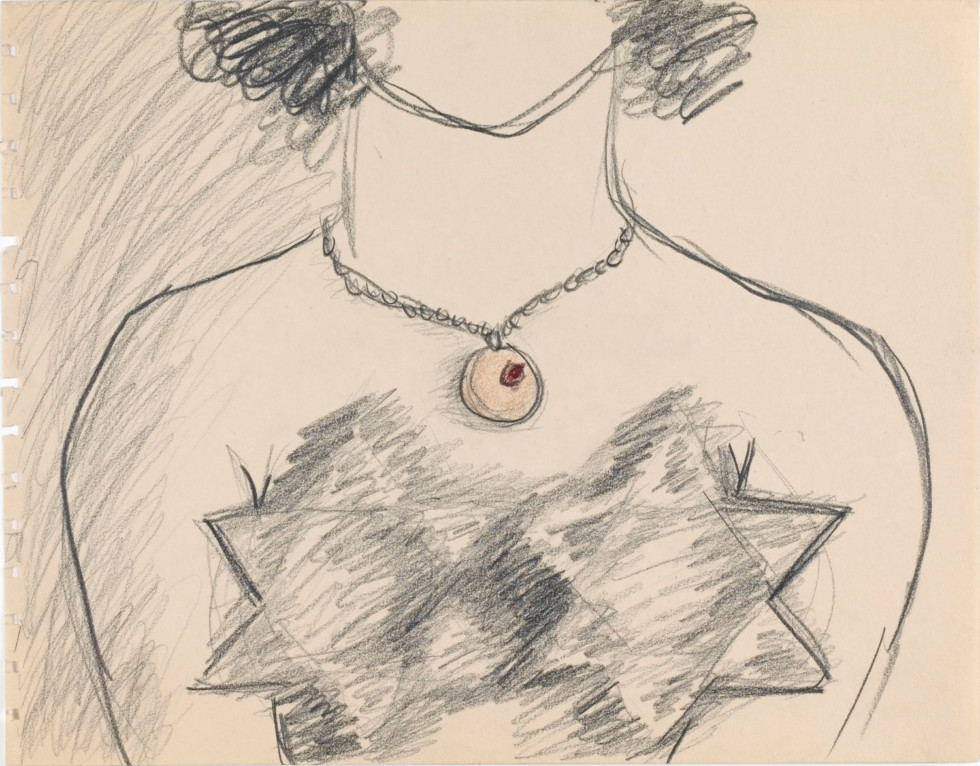 Early works and the first beginnings in New York
A nervous restlessness and an element of threat and unpredictability appears to emanate from Lee Lozano's early still lifes. She sketches in her studio with steady, strong lines, but depicting a fragmented, nightmarish world, reflecting a feeling of alienation in the unknown metropolis of New York.
The Airplane series
In 1962, airplanes began to swish past in Lee Lozano's surrealistic pictorial world, flying into ears, emanating from mouths and circling heads. The airplanes seem to be metaphors for an eternal cycle of energy that is absorbed only to be regurgitated and re-circulated. The images illustrate the actual process for all forms of creative activity. Everything begins with an idea, including art.
A phallic world
Phalluses seem to appear everywhere in Lozano's images from this period. They pop up like mushrooms from the palm of a hand or take the form of a telescope through which the world can be looked at. Penises light up the darkness or fight for supremacy. They represent power and not-yet realised potential, or potency in the true sense of the word, rather than sexuality or eroticism. When realised, this potency is a restricting force.
Tools
From 1963 and for some time onwards, Lee Lozano mainly painted tools. These tools represent a world of possibilities. They can be used to construct reality. The format is monumental, and they are as overwhelming and fascinating as they are intimidating. Above all, they can be interpreted as a sarcastic commentary on the male-dominated world where she sought recognition as an artist.
Abstract paintings
Little by little, Lozano took abstraction toward an experience oscillating between space and surface. Around 1965, she was painting geometric and stereometric shapes, triangles and cylinders that meet or crash into one another in an extended space that can be likened to a macrocosm. Elements of movement, colliding forces and violence reappear. But these forces no longer stem from the urban space but instead act in a universal macrocosm.
Wave Series
This series was begun in 1967 and completed in 1970. It consists of eleven abstract paintings exploring wave phenomena, installed in a black-painted room. Lee Lozano wanted to conceptualise painting by defining certain rules. Her idea was to conduct a scientific experiment based on an artist's approach. "The metaphor upon which the image of the paintings is based is that of [the] extended electromagnetic spectrum," Lee Lozano wrote. "I wanted to give the people a fantasy of being in space."
The end of painting
While working on the Wave Series, Lee Lozano pondered the direction her artistic work could take, and whether there was any potential to develop painting further. As part of this quest, she perforated a few of her abstract paintings.

Lee Lozano, February 1970
Text-based conceptual works
In 1969, Lee Lozano embarked on her text-based works, the Language Pieces, in which she inflicted certain rules on herself that structured her life. Art and existence were merged. These works counteracted the commercial side of art, since there were no longer any objects to buy. General Strike Piece marks the start of her gradual retreat from the New York art scene. In Dialogue Piece she invited people to a dialogue that eradicated the relationship between the artist as sender and the onlooker as receiver. In this way, the work is about dialogue as an exchange of ideas. After "a decade of competition", deeply disillusioned by the art market and the New York art scene, she decided to make her final departure. At the height of her career, in 1972, Lee Lozano made her exit from the NY scene with Dropout Piece. She pursued her artistic explorations to the point where nothing remained to be done.