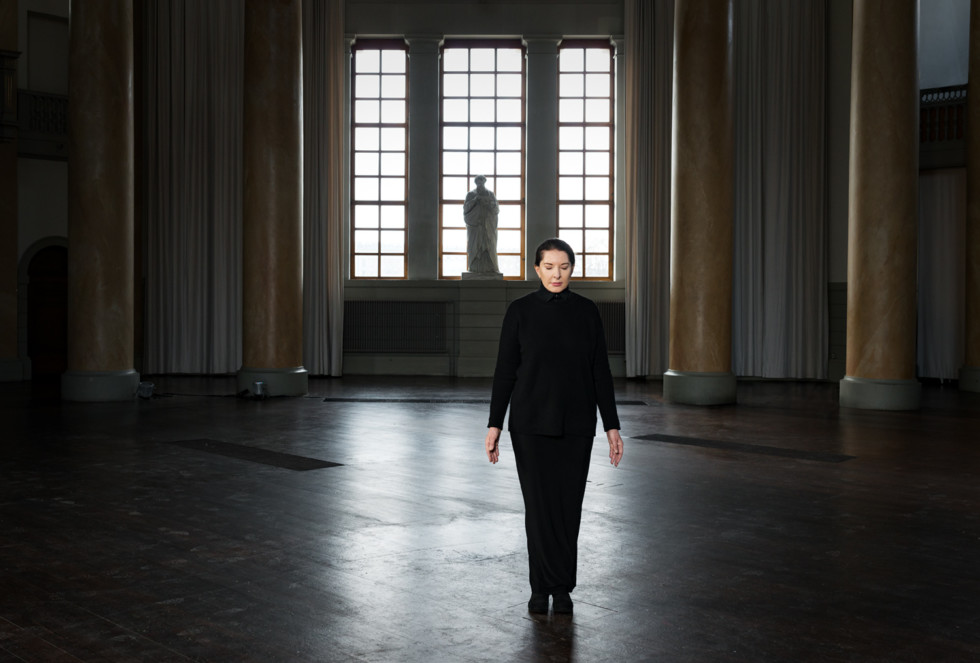 You are invited to take part in a completely new, week-long public participatory experience by Marina Abramović, choirs, singers and performers at the Eric Ericson Hall. You will be asked to leave all of your belongings including phones, watches, cameras, coats and bags at the door. Together, we will create a shared experience.
The Cleaner (2017)
Date: 27 February–5 March, 2017
Hours: 14.00–22.00 (performance during all opening hours) Last admission approximately 21.15.
Place: The Eric Ericson Hall (Skeppsholmskyrkan), Stockholm
Admission: Admission free
Ticket: No tickets needed. No pre-booking.
Minimum age: 12
Leave your mobile at home
Watches, mobiles, cameras, computers, bags, outdoor wear and shoes are not allowed in the space. Leave them in the guarded wardrobe at the entrance to the Eric Ericsonhallen.
Filming
By entering the performance space, you agree to be photographed and filmed. The performance will be filmed during the entire week.
Toilets are outside the Eric Ericson Hall
Use the toilet before entering the performance piece. No toilet facilities are available inside the church.
Video documentation from The Cleaner in The Eric Ericson Hall

Marina Abramović is a pioneer in performance art. Her new collective performance piece explores how we create community through shared experiences and basic human contact.
The participants are Marina Abramović, Lynsey Peisinger, 30 performers, a large number of singers and choirs – and you. For the first time ever, Abramović uses choral singing as an integral part of a collective performance. The singing forms a non-stop soundscape, which lasts throughout the opening hours, seven days in a row.
Make sure to visit the exhibition Marina Abramović – The Cleaner in conjunction with the performance work. The opening hours for the Museum and the exhibition are: Tuesday 10.00–20.00, Wednesday–Thursday 10.00–18.00, Friday 10.00–20.00 and Saturday–Sunday, 11.00–18.00.
About the performance work The Cleaner
Artist: Marina Abramović
Collaborator: Lynsey Peisinger
Performers: Marina Abramović, Sara Andrén, Emma Bengtsson, Lyn Bentschik, Elinor Tollertz Bratteby, Joanna Asia Domanska, Lisen Ellard, Bambam Frost, Elias Girod, Mariana Suikkanen Gomes, Tea Harrysson, Emelie Johansson, Mattias Lech, Tiina Lehtimäki, Indra Linderoth, Paloma Madrid, Afrang Nordlöf Malekian, Ester Olofsson, Lynsey Peisinger, Rebecka Pershagen, Benjamin Quigley, Pauline Reibell, Héctor del Rio, Rebecca Rosier, Anne Rönkkö, Yari Stilo, Malin Ståhl, Alexandra Tveit, Shirley Harthey Ubilla, Nathalie Wahlberg, Tyra Wigg.
Singers: Girilal Baars, Katarina Henrysson, Lindha Kallerdahl, Peder Karlsson, Morten Mosgaard, Helle Axel Nilsson, Kristine Nowlain, Soila Sariola, Janis Sipkevics, Josef Sjöblom, Kristian Skårhöj, Morten Vinther Sörensen and members of Songs of the Moment Nordic.
Participating voices: Annas kör with Anna Skagersten, Birgit Midden, Cornelia Sojdelius & Eric Gadd, Choralena with Lena Björk Franzén, Dörrens Qöhr with Cecilia Öhrwall, Emil Lautauru & Mures Stanescu, Five Live, Format, Gabriel Kelley Zorbanos, Gatans röster with Marcus Berglund, Good Enough Foulkes singers, choral director Rosie Bjärskog, Guldfittorna, artistic directors Maria Sveland and Lo Kauppi, choral arrangements Ceca Wadstein, Isidoro Abramowicz, Jenny Wilson, Katarina Nova, Kompiskören with Elin Jonsson, Kristinakören with Annika Hudak, Kuriosakören with Karin Bjurvald, Lidingö manskör with Anna Skagersten, Margareta Westerlind, Maria Magdalena kammarkör with Mats Gunnar Nilsson, Perunika, Rainbow Gospel with Ida Hammarbacken, Rösten Från Det Stora Blå with Sara Brannäs, Selen Özan, Skeppsholmens folkhögskolas kör with Isak Hed, Stockholms Amnestykör with Emma Berglund, Stockholms Folkmusikkör with Maria Misgeld, Stockholms Jiddishkör with Lena Björn Franzén, Teaterkörens fredagsgrupp with Maria Peters, Teaterkörens onsdagsgrupp with Maria Peters, Tigris fåglar with Mukiryan Evubekir, Tora Pleie, Ulrika Nilsson, Valentine.
Curators: Catrin Lundqvist and Lena Essling, Moderna Museet
Producer: Bo Nilsson, Eric Ericson International Choral Centre (EIC)
Coordinator: Sofia Jonsson, Moderna Museet
Singing coordinator: Katarina Henryson, The Real Group Academy, and Songs of the Moment Nordic
Stage manager: Ulrika Wedin, Moderna Museet
Sound recording: Eric Ericsonhallen and Audiorama
Light: Stage Art
Video recording: Moderna Museet/Eric Ericsonhallen
The performance work The Cleaner is a collaboration between the Eric Ericson International Choral Centre and Moderna Museet.
Many thanks to Stiftelsen Ekskäret for making it possible for us to do the preparatory training of the performers in the workshop Cleaning the House in a spectacular setting in the archipelago north of Stockholm.
Thank you, MDT and the Carpe Vitam foundation.
Our warm thanks to Postkodskodlotteriets Kulturstiftelse for their support to the performance work and the subsequent choir project, which will tour to several locations in Sweden during 2017, with leaders from the Real Group Academy and members from Songs of the Moment Nordic.
Thank you, all Stockholm choirs who volunteered for this project. Without your contribution this piece would not have been possible to perform!
Our warm thanks to the donors: Per and Lena Josefsson, Pontus Bonnier, Åke Bonnier, Oscar Engelbert, Johannes Falk, Paul McCabe, Martin Bjäringer, Erika Hellman, Svante and Sophie Påhlson-Möller.
The exhibition is sponsored by Mannheimer Swartling and Panasonic Business.