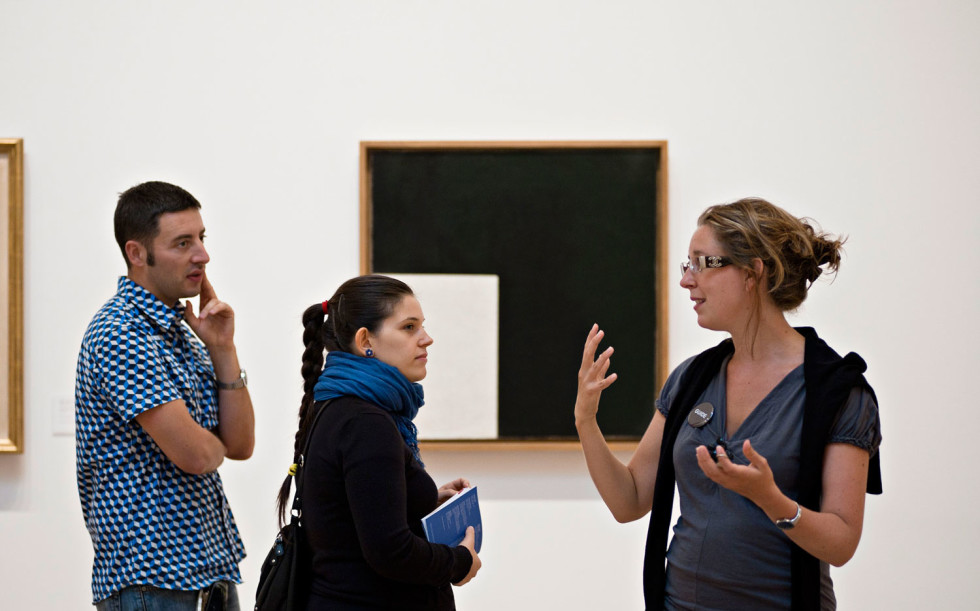 Learn more about art! Book a guided tour for your students, friends, colleagues or club. Experience an inspiring and dynamic environment, discover new perspectives and new angles.
Online lecture on Giacometti
Due to the covid-19 pandemic, we are unable to offer guided tours of the exhibition. Instead, you can book a presentation in the form of an online lecture with one of our art educators who will talk about Giacometti and his art, with photos of his works in a Powerpoint presentation. The lecture is livestreamed exclusively for your group on Zoom.
All group tours in the museum are cancelled and cannot be booked.

Processing of personal data
In order to receive our e-mails, we need to store your personal data (such as your name and e-mail address). We process your personal data in accordance with the General Data Protection Regulation (GDPR). Read more about how we process personal data here: Moderna Museet's integrity policy
Prices
Guided tours adults
In Swedish
Weekdays (at 10–16.30)
1–15 people: 1750 SEK
Evenings/weekends (at 16.30–18.30)
1–15 people: 2250 SEK
Admission to exhibitions with admission fee will be added. Free admission to the Moderna Museet collection.
Additional fee of 500 SEK for guided tour in English, Spanish, French or Finnish.
Baby tour
Weekdays (at 10–16.30)
Baby tour (1 hour): 1 250 SEK
Baby tour with workshop (2 hours): 2 500 SEK
Evenings/weekends (at 16.30–18.30)
Baby tour with workshop (2 hours): 2 890 SEK
Up to 10 adults and 10 babies/group.
Price Guided Tours Schools
Guided tour & workshop, all ages
Weekdays (at 9–11.30, 10.30–13, 13–15.30)
1 750 SEK
15 children/group
2,5 hours
Evenings/weekends (at 16.30–18.30)
2 075 SEK
15 children/group
2,5 hours
Guided tour, all ages
Weekdays (at 10–16.30)
1 000 SEK
Evenings/weekends (at 16.30–18.30)
1 875 SEK
15 children/group
1 hour
Contact Booking
+46 8 5202 3501 (Tue–Fri 10–12)
Please contact the booking via e-mail:
bokavisning@modernamuseet.se