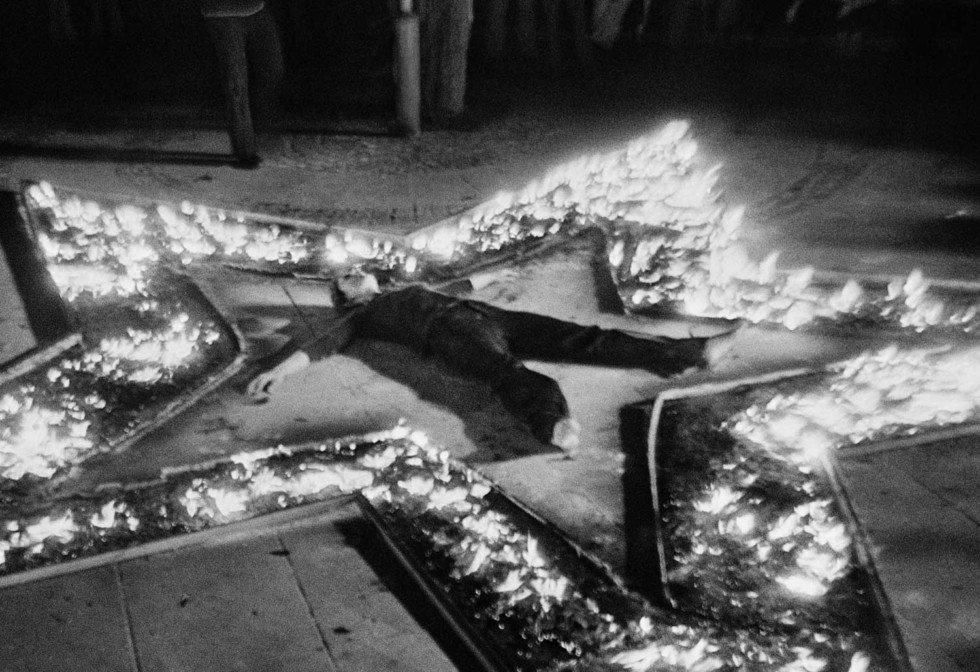 Performance art can be described as the presentation of an action intended to be experienced here and now. In the 1950s and 1960s, performance art was used to challenge the notion of art as material objects, such as paintings and sculptures. In this way, artists could prevent their art from being purchased and then used for purposes that they had not intended.
Neither dance nor drama
Performance art originated in the visual arts but is also linked to physical forms of expression, such as drama and dance. The difference between them can be minimal. A performance is more like an implementation or an event than theatre, which often has a beginning and an end; dance is more about rhythm, movement and choreography. Many of the early performance artists were not just visual artists but also dancers and musicians; few were actors.
What is a re-performance?
A re-performance is a performance that is re-enacted. This can be done by the artist who originally created and performed it, or by other artists. In the exhibition The Cleaner, a number of works by Marina Abramović will be re-performed by other so-called performers or performance artists, who have been specially trained in Abramović's method.
Marina Abramović and performance art
In the early 1970s, when Marina Abramović encountered performance art, she gave up other artistic media. She was inspired by performance artists such as Chris Burden and Hermann Nitsch, who, like her, exposed themselves to hazards or ritual pain to open up their senses. Like body art, her works feature nudity and shock effects.
Abramović created several works together with her then partner, the German artist Ulay, under the collective title of Relation Works. They wrote a manifesto, Art Vital, formulating the guidelines for their joint practice.
The Artist is Present, at the Museum of Modern Art (MoMA) in New York in 2010 is her most famous work to date. Every day from when the museum opened until it closed, and without ever leaving her post, Marina Abramović met the eyes of every new visitor who sat down opposite her. This mutual encounter, which she developed for a few years together with Ulay, was expanded here and presented for a large audience beyond the traditional art scene.
The Abramović method
The Marina Abramović Institute (MAI) was founded in 2010 for the preservation of performance works by herself and others. Abramović has developed methods for how works can be performed by other artists, as re-performances. The Abramović method focuses on endurance, re-assessment of time, and a readiness to let go of preconceived notions of one's own abilities and values, to engage fully in physically and mentally demanding works.
Performance art – a brief history
Since the early 20th century, performance art has developed in a variety of directions. Here are a few historic hightlights.
Early 20th-century performance art
What we call performance art today originated among the dada artists, constructivists and futurists in the early 1900s. An early example is when Hugo Ball on 28 July, 1916, performed a dramatic recital of the Dada Manifesto, dressed in geometric shapes.
The term "performance" was coined in the 1950s
In the 1950s, more and more artists in the USA and Europe were beginning to experiment with artistic forms of expression beyond the art object. In 1952, John Cage presented his performance The First Be-In, together with students and teachers at Black Mountain College in the USA.
In the 1960s-70s and onwards, many artists used their own bodies uncompromisingly in their performance works. A few examples are Carolee Schneemann, Barbara T. Smith, Chris Burden, Vito Acconci, and Hermann Nitsch, who addressed political issues by exposing themselves to violent pain or exposure. Yoko Ono, Joan Jonas, and Joseph Beuys highlighted existential issues in performances around the same time, focusing on gender and politics. Artists such as Wolf Vostell and Allan Kaprow were also among the pioneers.
Body art, multi-media montages and happenings
The concept of performance art includes "body art", where the body is the only means of expression. Performance has also been developed into a form of "multi-media montage", mixing various media within the performance format. In Sweden, experimental composers from the organisation Fylkingen spearheaded the development multi-media performances in the 1950s.
The concept of "happening" is sometimes hard to distinguish from performance. However, unlike a performance, a happening is an apparently unprepared series of events, often aimed at getting the audience to participate. When the artist Kjartan Slettermark turned up dressed as a poodle in the 1970s, he was operating on the boundary between happening and performance. Elin Wikström made a site-specific performance-like project in 1993, where she bedded down among the food shelves in an ICA supermarket in Malmö for three weeks. "What if everybody did that?" She asked in the title of her work. Elin Wikström does not see herself solely as a performance artist. Instead, she sees her art as a way of questioning values in the encounter between people.
Malmö now has Sweden's only venue dedicated to performance art: the Lilith Performance Studio.