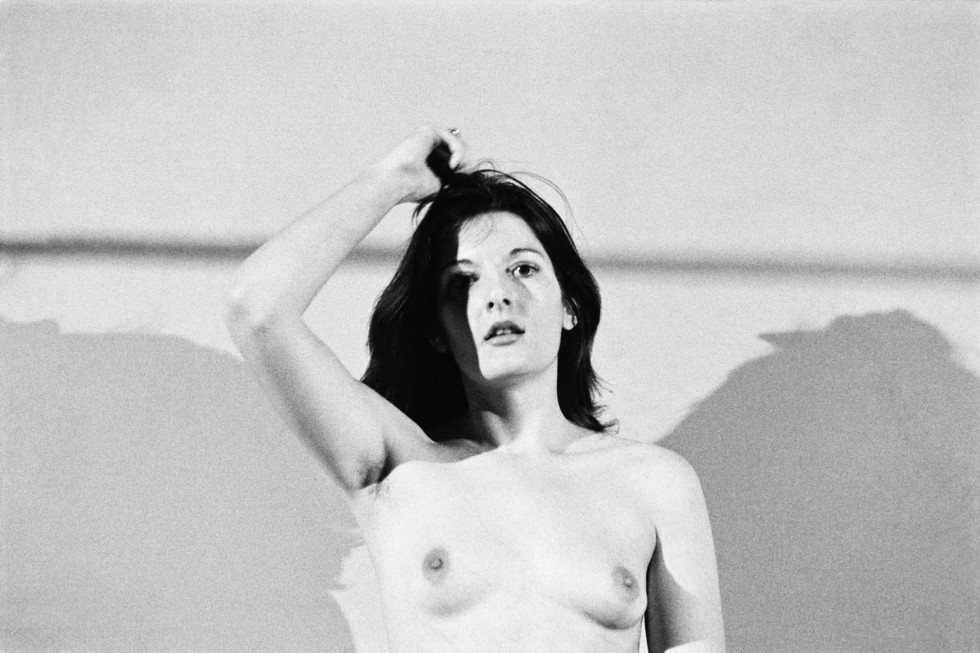 Reperformances in the exhibition
Works that Marina Abramović previously performed herself will be reperformed daily by performance artists who have been specially-trained by the artist's partner Lynsey Peisinger. A ticket to the exhibition is required to see these reperformances.
Cleaning the Mirror (1995)
Daily throughout the exhibition period 18 Feb – 21 May, 2017:
Tuesdays and Fridays 2.00 – 8.00 pm
Wednesdays and Thursdays 12.00 – 6.00 pm
Saturdays and Sundays 12.00 – 6.00 pm
In the original version, Abramović is seated with a human skeleton in her arms. Next to her is a bucket of soapy water and a brush. For hours, she tenderly and meticulously scrubs at the skeleton to clean it. This is the second reperformance of the work since the original version in 1995, when it was performed for a video recording.
Performance artists: Lyn Bentschik, Bambam Frost, Elias Girod, Mariana Suikkanen Gomes, Emelie Johansson, Tiina Lehtimäki, Pauline Reibell, Hector Del Rio, Malin Ståhl, Alexandra Tveit
Art Must Be Beautiful, Artist Must Be Beautiful (1975)
Saturdays: 18 February, 11 march, 8 April and 13 May at 12.00 – 6.00 pm
Sundays: 26 February, 19 march, 16 April and 21 May at 12.00 – 6.00 pm
This work was first performed at the Charlottenborg Art Festival in Copenhagen in 1975. In the original version, Abramović is seated with a brush in one hand and a comb in the other. For nearly an hour, she brushes her hair violently, tearing, pulling and tugging at it while repeating the mantra: "Art must be beautiful, artist must be beautiful." The work has been reperformed twice before.
Performance artists: Emma Bengtsson, Lisen Ellard, Shirley Harthey Ubilla, Ester Olofsson, Rebecca Rosier, Pauline Reibell, Héctor del Rio, Tea Harryson
Freeing series (1975)
Freeing the Voice: Fridays: 17 March, 7 April, and 5 May at 3.00 pm
Freeing the Memory: Fridays: 24 March, 14 April, and 12 May at 3.00 pm
Freeing the Body: Fridays: 31 March, 21 April and 19 May at 3.00 pm
Marina Abramović said goodbye to her background with a series of performance works, when she had decided to leave Belgrade. In Freeing the Voice, she shouts until she loses her voice. In Freeing the Memory, she reels off all the words that come to mind in Serbian, until she can't think of any more. In Freeing the Body, she dances to a drum beat with a shawl covering her face until she collapses from exhaustion. The work has been reperformed twice before.
Performance artists: Elias Girod, Shirley Harthey Ubilla, Tyra Wigg, Benjamin Quigley