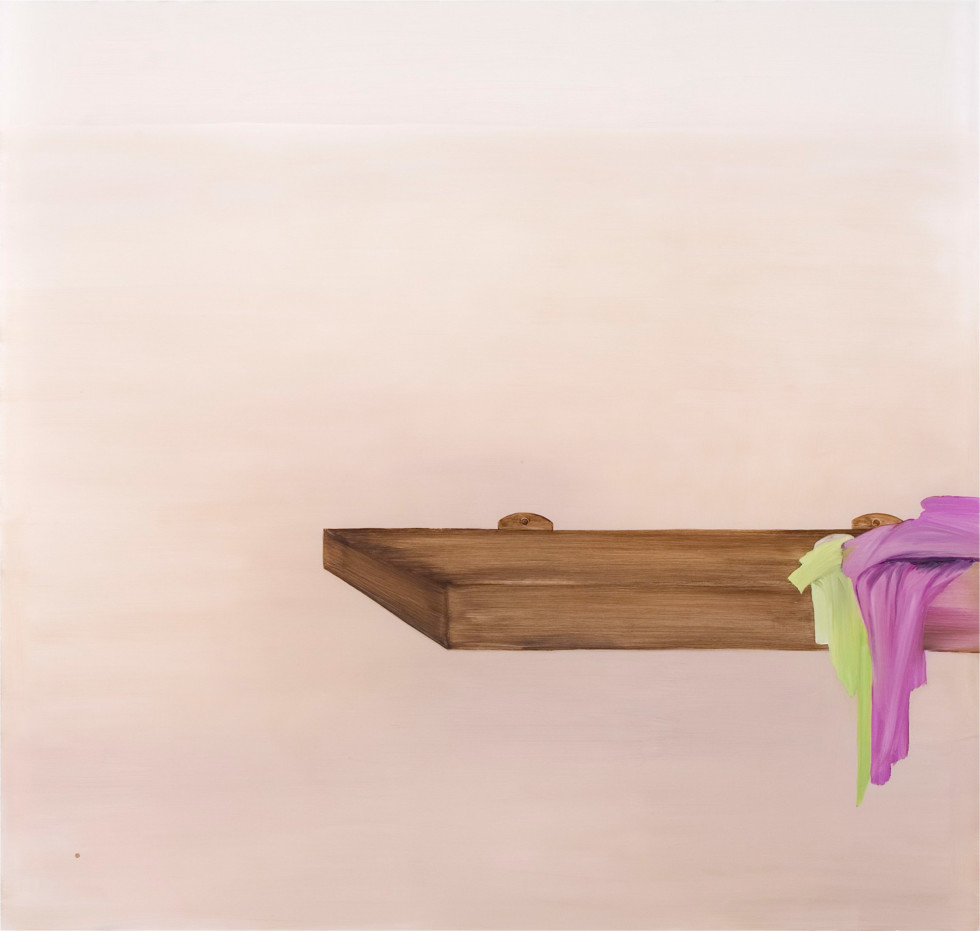 Nina Roos
28.8 2009 – 25.10 2009
Stockholm
Nina Roos has filled a large, well-lit room at Moderna Museet with almost a dozen paintings. During the period of Nina Roos's exhibition, summer will give way to the darkness of autumn and artificial light will become increasingly important to the life of the paintings.
The layers of colour will emerge and withdraw as the light changes while the materiality of the acrylic sheet will shift from background to foreground and back. The paintings are installed in a room and they depend upon the shifting moods of the day as well as the eye of the beholder. Time and place are decisive factors in the art of Nina Roos, perhaps more so than for most other artists.
Nina Roos has long experience of both the theory and practice of painting. As a very young woman she started studying art history in Helsinki and she financed her studies by making pasties in a large bakery. Precision was needed to press the edges of the pasty together using one's thumbs and this precision and dedication were later to become hallmarks of her craft as a painter.
Nina Roos trained at the Academy of Fine Arts in Helsinki. She was later appointed professor there and has held a similar post at the Malmö Art Academy. As an artist she is extremely knowledgeable and responsive to all aspects of the art of painting. Early in her career she painted on zinc, covering the metal with paint and expressing herself by reducing and rubbing the paint and exposing the metal. At the beginning of the 1990s she started using acrylic sheet to paint on, a material which she has continued to use ever since. When she exhibited at the Nordic Pavilion in Venice in 1995 she showed works that were almost immaterial in character: a suite of works in three sizes in which she seemed to be striving to reach beyond the visual image, away from narrative and to be seeking a way of painting that is entirely subject to her own terms.
Nina Roos has since pursued the independence of painting even further. She has held a retrospective exhibition at the Kiasma gallery in Helsinki and at Malmö Konsthall and has had numerous solo exhibitions as well as taking part in group shows. It is a long time since she exhibited in Stockholm which makes it all the more important to show this suite of more recent paintings, many of which have not previously left her studio. In these paintings she returns to the radical abstraction of her early works with the difference that she structures the new paintings by means of an image. Though there is still no question of a narrative and, as in the past, the event remains entirely within the painting.
What is immediately visible in her work is colour. Colour, light, rhythmical repetitions, layer upon layer rises and falls like breathing. Some of the motifs can be decoded: a bag leans in any direction, a stool, a chair, the fur of a tiger. And then? Many have testified to the difficulty, not to say impossibility, of verbalizing Nina Roos's paintings. There is a visual ambivalence that eludes linguistic explanations, a sensuality that requires time and presence in order to experience the work rather than talking about it. This is naturally a challenge to the critics but it invites the beholder to participate. The paintings are palpable in one sense but, at the same time, they testify to a painterly process whose continuation lies in the eye and experience of the beholder. In Nina Roos's latest suite of four paintings, which she produced after visiting an extremely isolated Finno-Ugric village somewhere in Russia beyond the Ural Mountains, a board makes itself felt. The board is more real than illusory – while it is not really identical with a board but more of a marker that leads the eye onwards, into and beyond, as though it was a trampoline for the mind. A skein of coloured yarn has been applied to the raw wood, colours taken from the floral shawls that, despite all other indications of poverty, continue to adorn Russian peasant women. A "then" in a village far away transferred to a "now" painted on acrylic sheet. Nina Roos secures the exceptional moments so that the painting starts to exist in itself. The presence of a past and the intimation of a future are found here as parallel traces.
It took a long time for Nina Roos to decide to get a driving licence; for she is reluctant to subject herself to visual controls. Her twin sister Rita Roos once observed that painting, in point of fact, is the very opposite of driving a motorcar. In painting one is concerned, rather, with finding one's way in a spatiality in which there is no given point that one starts from or travels towards. Volume and flatness co-exist, different levels are joined together and the same phenomenon is viewed from different angles. The physical extent, the surface, creates limits; beyond which the painting is the anchorage point for the immediate vision which can then be turned into "a really special, modulated form of instability".1)
Nina Roos has a true artistic sensibility. She combines profound intuition with a precise consciousness of her own means. The glossy horse's back in At the Zoo I acts like a punctuation mark between the room's dimensions and the parameters of time. It is just a matter of returning to look again and yet again.

1) Nina Roos in a discussion with Anders Kreuger, Through Images, Kiasma 2001.