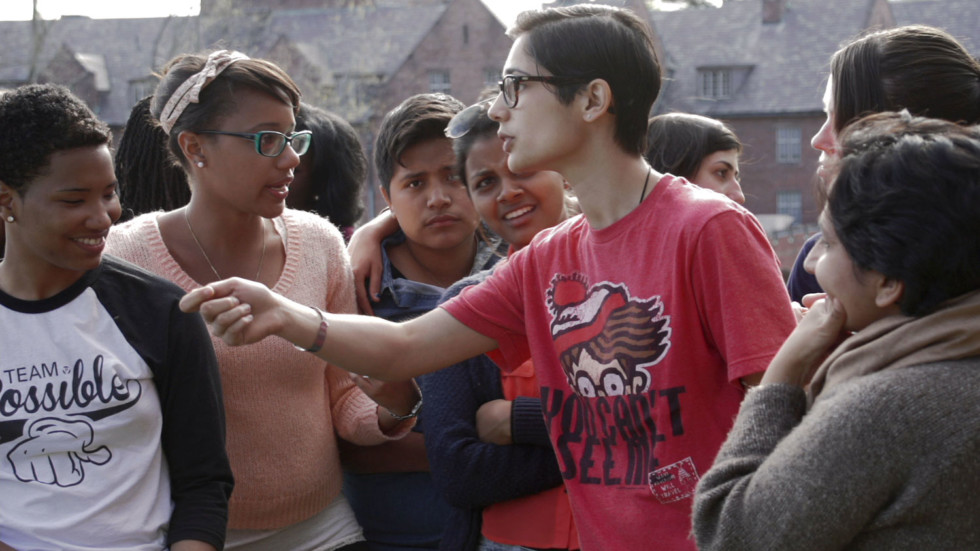 Born in Baltimore in 1970, Sharon Hayes studied anthropology at Bowdoin College in Brunswick, Maine, and performance art at Trinity/LaMama Performing Arts Program in New York in the early 1990s.
Although she later pursued her studies at the Whitney Independent Study Program, New York, from 1999 to 2000, and received an MFA in interdisciplinary studies from the University of California Los Angeles in 2003, her early education had a pivotal influence on her later work. Hayes is an artist who engages multiple media – video, performance, and installation – in ongoing investigation into specific intersections between history, politics and speech.
Hayes's work is concerned with developing new representational strategies that interrogate the present political moment as a moment that reaches simultaneously backward and forward; a moment that is never wholly its own but rather one that is full of multiple past moments and the speculations of multiple futures.
From this ground, Hayes addresses political events or movements from the 1960s through the 1990s. Her focus on the sphere of the near-past is influenced by the potent imbrication of private and public urgencies that she experienced in her foundational encounters with feminism and AIDS activism. Hayes is the recipient of a Pew Fellowship (2016), a Guggenheim Fellowship (2014), the Alpert Award in Visual Arts (2013), an Anonymous Was a Woman Award (2013) and a Louis Comfort Tiffany Foundation Fellowship (2007). Hayes teaches in the University of Pennsylvania's Department of Fine Arts.
Exhibitions and performances
Among Hayes's solo exhibitions and performances are:
"If They Should Ask", Rittenhouse Square, Philadelphia (2017)
"In My Little Corner of the World", The Common Guild, Glasgow and Studio Voltaire, London (2016)
"Black Box: Sharon Hayes", Baltimore Museum of Art, Maryland (2015)
"Sharon Hayes: Loudspeakers and Other Forms of Listening", Carleton University Art Gallery, Ottawa (2014)
"Public Appearances", Tanya Leighton, Berlin (2013)
"Sharon Hayes: There's So Much I Want To Say To You" at Whitney Museum of American Art, New York and "Habla" at Museo Nacional Centro de Arte Reina Sofia, Madrid (2012)
"Focus: Sharon Hayes", The Art Institute of Chicago, Chicago and "In The Near Future", Contemporary Art Gallery, Vancouver (2011)
"Andrea Geyer | Sharon Hayes", Kunstmuseum St. Gallen, St. Gallen, Schweiz and Göteborgs Konsthall, Gothenburg; "Sharon Hayes: The Future is Unthinkable", Objectif Exhibitions, Antwerpen and "We The People", Context Gallery, Derry, Northern Ireland (2009)
"In the Near Future", Museum of Modern Art, Warszaw; Tanya Leighton, Berlin (2008)
"I March In The Parade of Liberty, But As Long As I Love You I'm Not Free", New Museum for Contemporary Art, New York (2007)
"Everything Else Has Failed! Don't You Think It's Time for Love?" at Art in General, New York, and at Room Gallery, University of California, Irvine (2005)
She has participated in a large number of group exhibitions including:
"Trigger: Gender as a Tool and a Weapon", New Museum, New York (2018)
"I can call this progress to halt", LACE, Los Angeles and "Reconstitution", LAXArt, Los Angeles (2017)
"The Revolution Will Not Be Gray", Aspen Art Museum, Colorado and "Curators' Series #9. Way of Living", David Roberts Art Foundation, London (2016)
Biennale, Gwangju, Korea (2014)
"Greater New York", MoMA PS1, New York and The Whitney Biennial, Whitney Museum of American Art, New York (2010)
"100 Years (version 2)", P.S.1 Contemporary Art Center, New York; Istanbul Biennial and "Talk Show", Institute of Contemporary Arts, London (2009)
Yokohama Triennale; Guangzhou Triennial, Guangdong, China and "Not Quite How I Remember It", The Power Plant, Toronto (2008)