10.11 2014
14 November: ACT II. Ugnius Gelguda, Neringa Černiauskaitė, Anna Lundh
17 NOVEMBER, 5-8 PM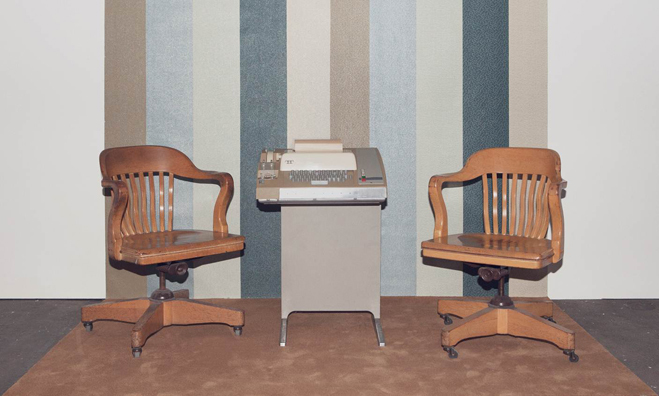 Anna Lundh, Q&Q – 2022, 2012 © Courtesy of the artist
In the second part of this autumn's specially curated evenings with performance and artist presentations that emanates from The Moderna Exhibition 2014 – Society Acts, Act II, we will meet Ugnius Gelguda, Neringa Černiauskaitė and Anna Lundh.
Under the title Shapeshifter, Heartbreaker. On the Ecology of Algorithms, the Lithuanian artist duo Ugnius Gelguda and Neringa Černiauskaitė (aka Pakui Hardware) will give a performance lecture that spans around the relationship between materiality, technology, and economy. How is technology shaping current economy and the physical reality itself, including the human body?  In relation to the velocity of technological development, the matter becomes both an obstacle and a vehicle. These questions are analyzed through such examples as High Frequency Trading, technological prosthesis and digital materiality.
During Act II Anna Lundh (SE) will perform Q&Q – 2022 from the year 2012. The first Q in the title references a project called Telex: Q&A, originally devised by New York based E.A.T. (Experiments in Art and Technology) in 1971, as part of the exhibition Utopia & Visions 1971-1981, held at Moderna Museet in Stockholm. Visitors were instructed to fomulate questions and answers about 1981 – ten years from then – using Telex machines set up in Stockholm, Tokyo, Ahmedabad and New York). The second Q in the title stands for the new questions that we will produce now (2012 about 2022).
Installed as a week-long experiment in March, 2012, in the exhibition series COLLECTIVE/PERFORMATIVE at Exit Art in New York City, the audience were invited to ask questions, individually or together with other participants. The incoming questions were also displayed, to inspire and generate new questions. The week included workshops, where the participants not only were invited to fomulate questions but also to attempt specululations. The week concluded with a "Q&Q" session with Anna Lundh and Julie Martin – a performative reading of the old and the new questions.
Moderna Museet Malmö 14 November, 5-8 pm. Act II is included in the entrance fee. All presentations will be held in English.
Published 10 November 2014 · Updated 20 November 2015