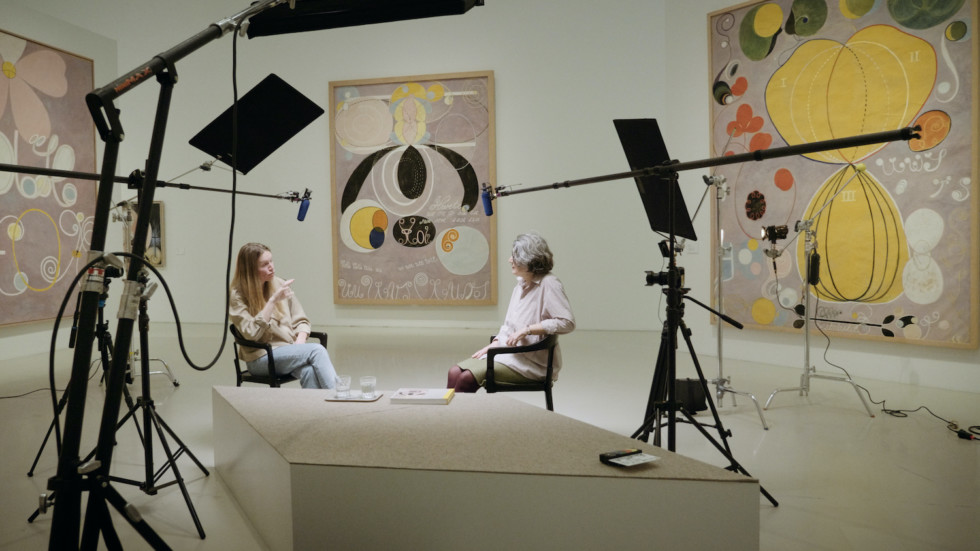 1.7 2021
The image world of Hilma af Klint – digitally
We showed the exhibition Hilma af Klint – Artist, Researcher, Medium at Moderna Museet Malmö 4.4 2020–11.4 2021. Despite periods of pandemic closedown, the exhibition had an enormous impact and was seen and loved by many.
We could not welcome the large audience we had hoped for, and also had to cancel our planned programme. To compensate you to some extent, we have produced a whole series of films for inspiration.
Filmed guided tours and talks
You can already enjoy short 2-minute introductions of selected works. You can also watch a number of shorter introductions in different languages. Or why not immerse yourself in the thoughts behind the exhibition in a filmed talk between the exhibition's two curators; Milena Høgsberg and Iris Müller-Westermann?
If you want to relive the exhibition or if you missed it; we have a filmed tour through all the exhibition rooms, where you can experience Hilma af Klint's work on your own!
Musical improvisation
We also present "Musical journeys in Hilma af Klint's image worlds" – four filmed sound works. The musicians Katarina Henrysson and Torbjörn Zetterberg, inspired by Hilma af Klint's work, create improvisations with song and double bass in the middle of the exhibition. Music improvisations with elements of Dala chorale, "I raise my hands", and "Waiting" by Sheila Chandra.
Meditations
During the summer, we successively publish three filmed meditations that were recorded in the middle of the series "The Ten Largest" in the Turbine Hall. The meditations are led by Viveka Pasquier, yoga teacher, mentor and educator at yogamedviveka.se. They are meant to be a guide for your own meditation and have different themes; "Meditation for a calm heart", "Meditation for inner peace" and "Meditation for a clear mind".
Thanks to
This extensive film production has been realized with the support of the Veronica&Lars Bane Foundation.
We hope and believe that the opportunity for us to be able to produce all these films, will be a partial compensation for those of you who could not experience Hilma af Klint – Artist, Researcher, Medium on site.
The films are gradually published on our Youtube channel, here on our website and in social media.
Published 1 July 2021 · Updated 1 July 2021