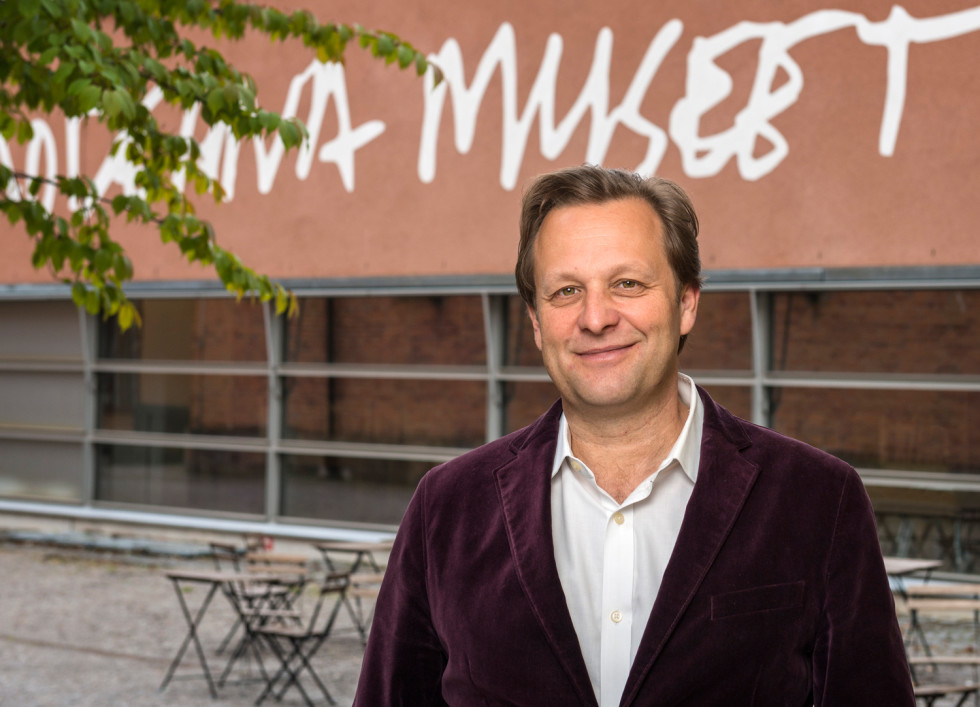 20.5 2016
Three more years with Daniel Birnbaum
Congratulations, Daniel! You've been offered three more years as director of Moderna Museet. How does it feel?
It feels great. I'm happy that the government continues to have confidence in me, and for being asked to stay on. And I'm equally pleased that Ann-Sofi Noring, our co-director, wants to go on leading the Museum with me.
What will you be doing next?
Tomorrow, we open The New Human, an exhibition about what happens to us in a politically volatile world that is entirely permeated with new technology. Some of the works are rather gloomy, by a few of the world's most famous young artists who use digital technology and moving images. In a few weeks, we'll be opening a more upbeat show, Yayoi Kusama: In Infinity, the first presentation in Sweden of an enormously popular artist from Japan. This will be the biggest exhibition event of the year.
What is the most urgent issue for the Swedish art scene over the coming years?
The most crucial issue, as always, is the opportunity for artists in Sweden to develop their artistic practices. And for the public, the important thing, of course, is to show the most urgently relevant art. We are here to make that possible, and we will continue to do our best. It's also important for art in Sweden to get impulses from abroad. Moderna Museet has always been a forum for international art, and it would be virtually impossible for any other institution to bring some oeuvres to Sweden.
Is there anything you would like to say to those who don't get round to experiencing art?
Yes, this is what I would like to say: Give art a chance! I think it will make your lives more exciting. Richer, and more enjoyable!
You've said that art expands our perspective on the world – could you explain?
Recently, a wise person said, science helps us to understand the world. Art, on the other hand, helps us to understand ourselves. That sounded good to me. Still, it's not just about understanding things. Art can sometimes be confusing. You don't understand it at all, but you like it anyway.
Why does Moderna Museet have so many exhibitions of old American men?
In recent years, we've actually produced more exhibitions with women artists than men. And not that many were Americans. But, of course, we did show Cindy Sherman not too long ago. And Louise Bourgeois did eventually become a US citizen. Our collection includes many works by fantastic American artists who are not only old but regrettably dead: Robert Rauschenberg, Andy Warhol, and many others. Yes, now that you mention it: it's probably high time to exhibit a really old American man. I would be delighted to invite John Baldessari from Los Angeles to Sweden. He's not just old but also brilliant.
What do you mean by "Art in a Larger World"?
For many years, museums in Europe have limited their exhibitions to Western artists. But things have changed, and we now show artists who build bridges between traditions and continents. Last summer, we exhibited artists from countries such as Argentina, Lebanon and South Africa, and last summer's exhibition After Babel was about the many languages in contemporary art. An observant visitor will also discover that a lot of great art is created by artists who live in Sweden but have roots in traditions beyond the Nordic region. Recently, we featured the Kurdish painter Madhat Kakei, along with Meriç Algün-Ringborg from Turkey, who both live in Sweden.
What makes Moderna Museet one of the best art museums in the world?
A good museum is a place that engages in both the present and the past. Our collection is an incredible resource, and Moderna Museet truly continues to expand it in a very dynamic way.  The last few years have been sensational with regard to the addition of new works by key Swedish artists, as well as by Louise Bourgeois and Sigmar Polke, Cindy Sherman and Gabriel Orozco, Rosemarie Trockel and Jeff Wall, and hundreds of other artists. Yes, even modernists like Paul Klee and Pablo Picasso. I doubt that any other publicly financed museum in Europe has been collecting at our level in recent years. All this has been made possible with support from the Friends of Moderna Museet, who understand that by donating a masterpiece to Moderna Museet you are giving it to yourself and to everyone else. The works in our collection belong to us all. And the fact that so many people have understood this, has made Moderna Museet one of the most dynamic museums in the world.
Published 20 May 2016 · Updated 20 May 2016