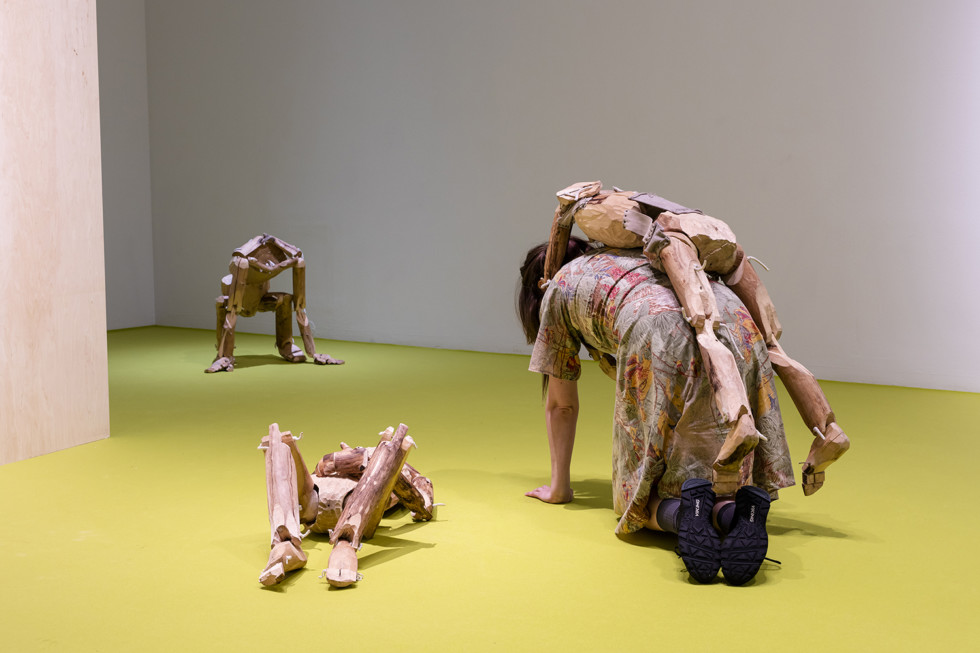 For a Fragile Moment
Performance
4.6 2021 – 30.1 2022
Malmö
Moderna Museet Malmö presents a performance trilogy featuring Julia Bondesson, Lukas Hofmann and Barbora Vilkaitytė. "For a Fragile Moment" is an exhibition spread over time, in the form of three performance works featuring the three artists.
Their works combine performance and dance with installation and objects, creating relationships between the performers, the viewers and the site.
Loosely inspired by the concept of "The Otherworld", which the anthropologist and shamanic practitioner Susan Greenwood describes as "a place of total absorption, where otherworldly beings have a life of their own in an alternative reality that is closely linked with dreams". This place exists in parallel to the physical reality and can be directed and opened up by various means. For a fragile moment the artists challenge and maybe even destabilise the viewer's attention and curiosity. The reality as we know it expands when other perspectives emerge.
With support from the Nordic-Baltic Mobility Programme for Culture.
In collaboration with the Cultural Attaché of the Republic of Lithuania in Sweden, Finland and Denmark, with support from the Lithuanian Culture Institute.
Thanks to Inter Arts Center.
The project is supported by the Ministry of Culture Czech Republic.
Barbora Vilkaitytė
Artist Barbora Vilkaitytė navigates in the fields of dance, choreography and performance. Her focus is new forms of physical expression through reactivating and resensing movements and dance phrases and creating site-specifically. She considers 'place' to be a phenomenon and a container of energies, a history to be communicated with. In her practice, Vilkaitytė approaches post-Soviet identity, feminism, personal archive, as well as today's consumerism from the perspectives of the ancient, emotional, and expressionistic.
Barbora Vilkaitytė will on 26 and 28 August present the performances "Against articulation" and "NICE" from her ongoing project ATVANGA.  Atvanga is an old Lithuanian word, meaning rest, stop, pause, respite and shelter.
Lukas Hofmann
The Czech artist Lukas Hofmann uses performance as a means of creating situations with an intense presence, where the participants – who often act as a group of individuals rather than a uniform collective – follow unstable and uncertain rules. Hofmann's works often result in emotional abstract situations similar to a ritual game, where the non-spectacular is transformed into something spectacular and intriguing, and identities and collectivities both dissolve and interlace.
Lukas Hofmann's performance "Into the Unknown" at Moderna Museet Malmö refers to a wide variety of subjects, such as religious rites, art history, and personal matters. The arrangement and the choreography of objects and people become a ritual, or perhaps a membrane, in the border between the static and the living, the fluid and the firm.
Performers:
mirabella paidamwoyo dziruni
Dourane Fall
Lukas Hofmann
Scott Hopper
Nicole Walker
Marat Zakirov
Kläder/Clothes:
Louise Lyngh Bjerregaard
Julia Bondesson
Through intuitive, performative works, the Swedish artist Julia Bondesson highlights an animistic approach that blurs the distinction between object and subject. Bondesson refers to the performative action and the collaboration with her sculptures as "a dance" that gives rise to an intimate and emotional relationship between the artist and the works. The sculptures become ambiguous characters – vessels that oscillate between being lifeless and lively.
Curators: Andreas Nilsson and Maija Rudovska
For a Fragile Moment
Julia Bondesson
Date: 27 and 28 November, 29 and 30 January 2022.
Time will be published shortly.
Place: Moderna Museet Malmö