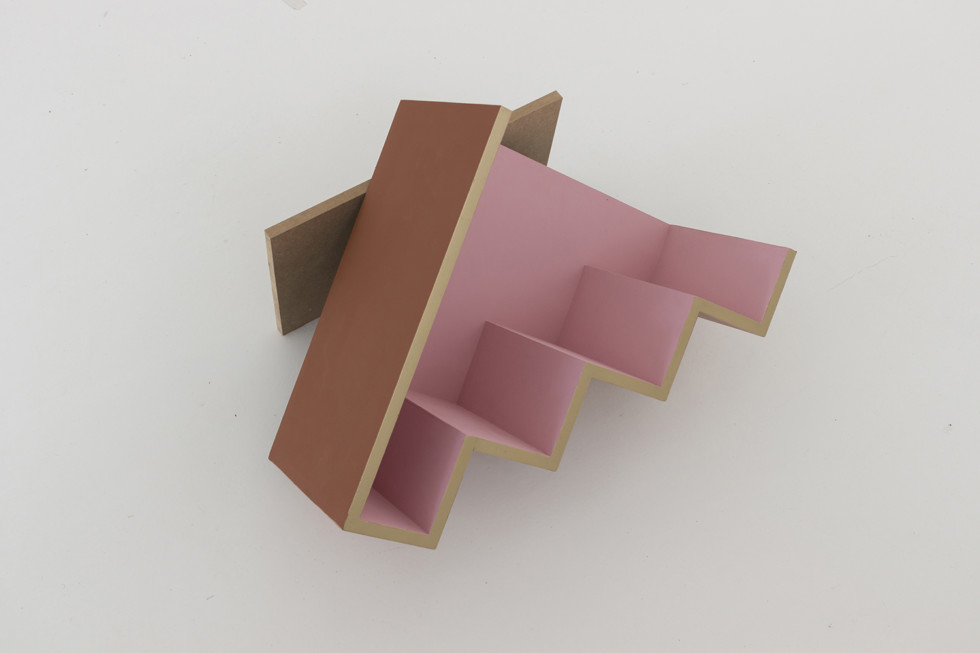 Jimmy Robert's works examine the politics of the gaze, question established ideas, and open up the possibility of reading in several directions.
In a personal and poetic tone, he often stages art-historical discussions, and recurring themes are how the creation of meaning takes place in the relationship between place, body, and artwork, where all the parts are thought to be equally active. In different ways, they impact and instruct each other. And between the different elements, something appears that alternates between the intangible and the intellectual, but which not infrequently also evokes a feeling of desire or humility. Further, Robert's art poses questions about how movement is preserved and how this can be presented in an exhibition context.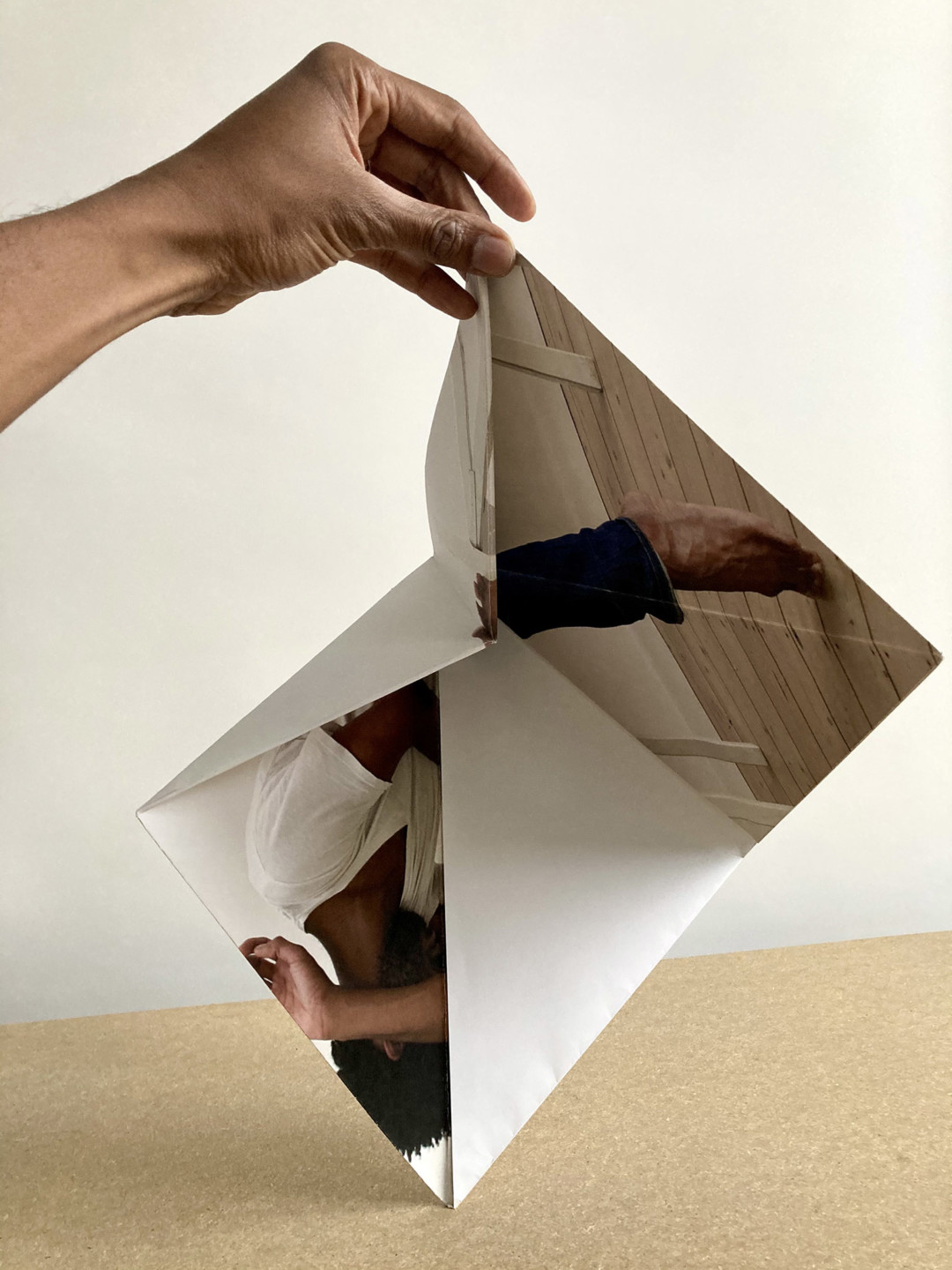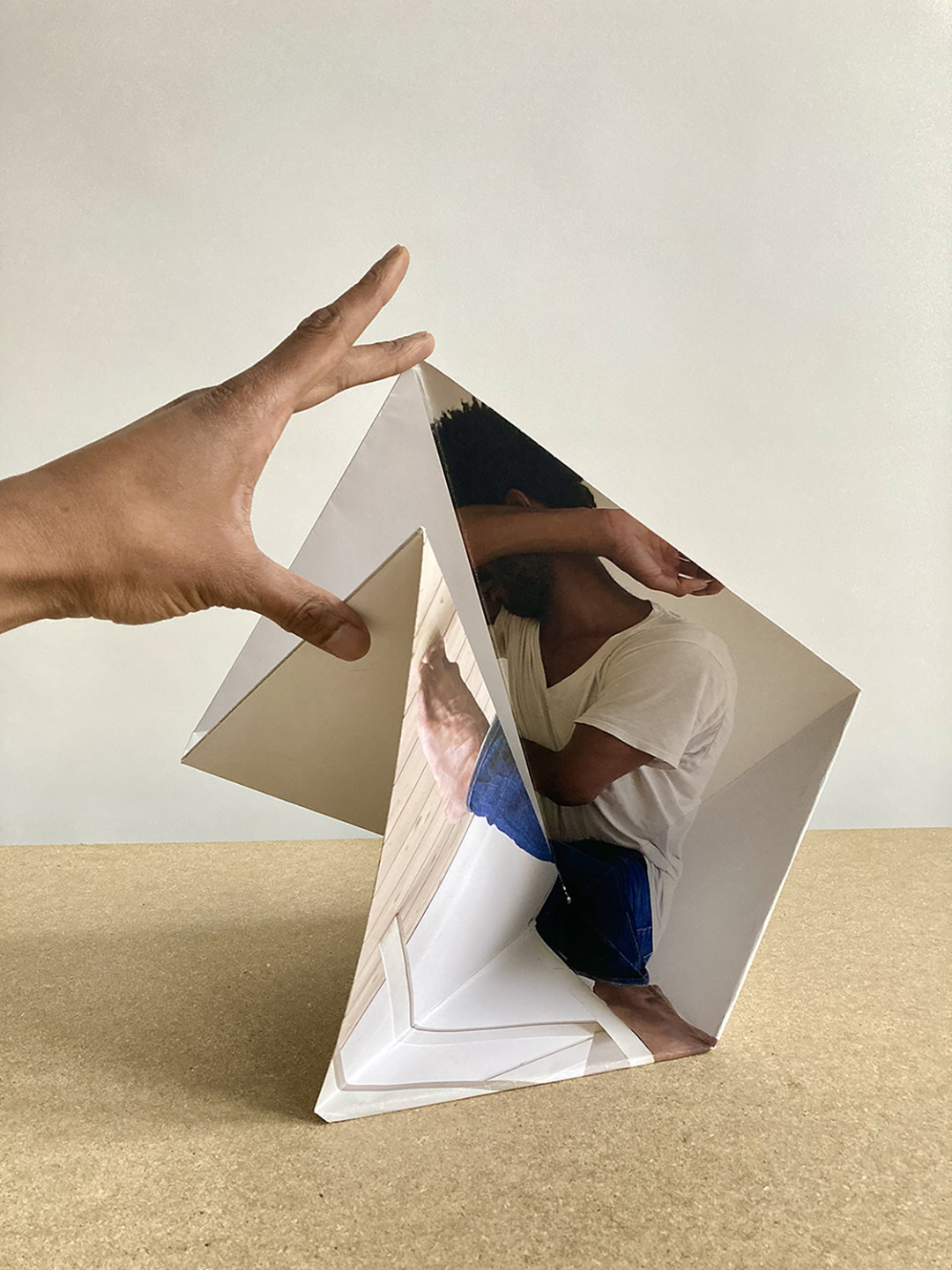 Performative sculptures
The exhibition's first room features "Untitled (Plié VI)" (2020) which consists of two photographs placed on a low podium on the floor. Both of the images depict the artist himself in different sculptural poses, but their placements and formations make it impossible to see the complete motif. Here, shifting between the private and public body is shown to be an ongoing process. In "Untitled (Plié VI)", the paper also takes on a corporeality that in some sense functions as a surrogate for the artist. Robert's works have been described as actors in their own right, and he himself has characterized them as performative sculptures.
 A similar method and attitude can be found in the smaller, framed diptych "Untitled (2020/2022)", in which a hand is seen choreographing and changing the shape of photographs. The body's movements are captured in the handling of the folded paper, and also in the image of the subject's body. Jimmy Robert's work appears fleeting and fragile while simultaneously incredibly tactile. The materiality of the paper, its fragility and information-bearing function, comes to the fore.
"Floorwork" (2020) is a further example of Jimmy Robert's interest in dance, choreography, and movement. He is a self-taught dancer who, along with his close friend, artist Ian White (1971-2013), learned by practicing the choreography of Yvonne Rainer's (b. 1934) classical piece "Trio A" (1966). "Floorwork" consists of a text mounted on a wooden board. The title of the work leads our thoughts not only to modern and contemporary dance and its relationship to gravitation, but also to hard physical labor. The political dimension becomes clear in the wooden board's text referring to work songs sung by enslaved people. Theories and thoughts about subjectivity are raised quietly in Robert's work, where the individual body and its movements become parts of a larger system of models of interpretation.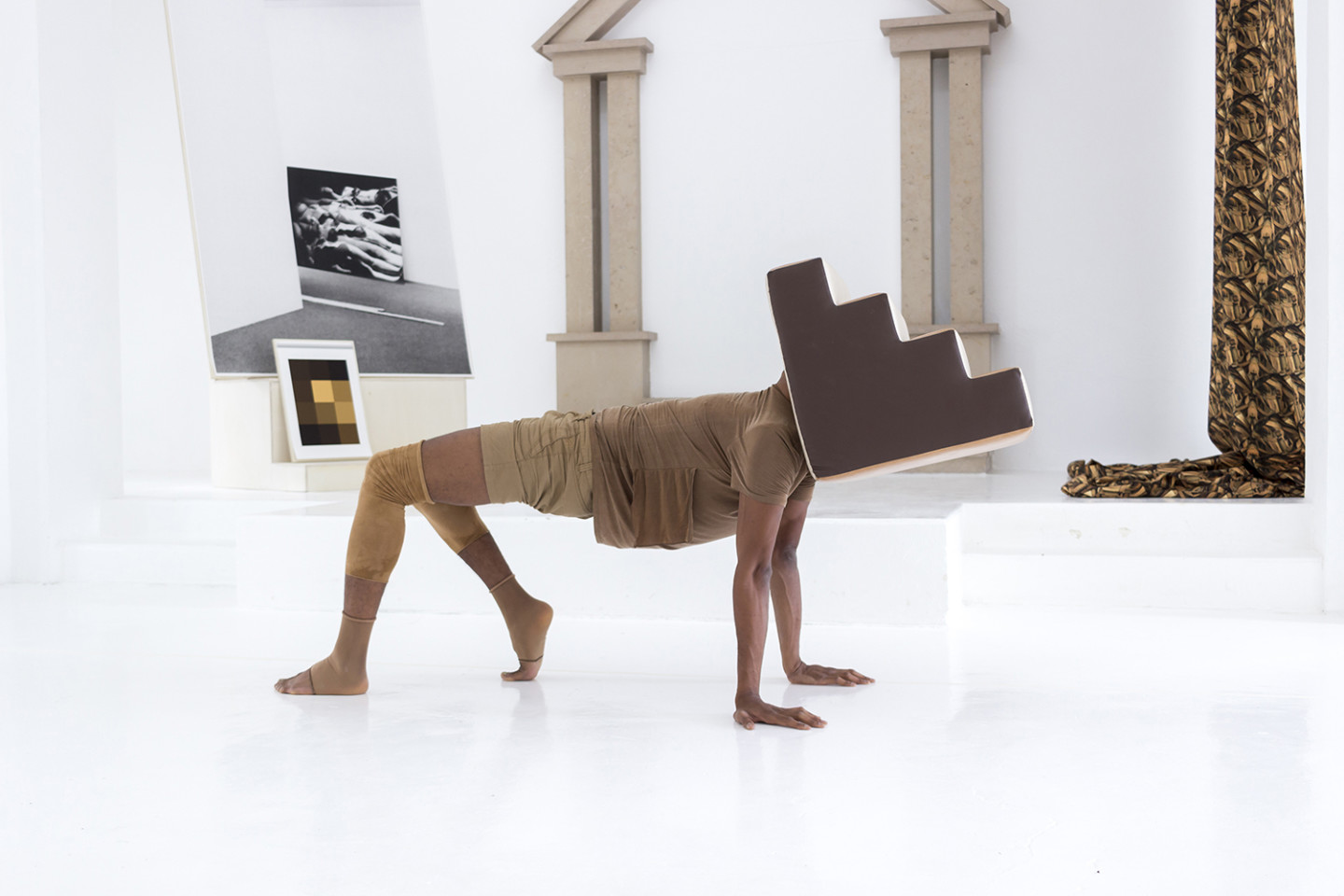 Descending the staircase also means taking the nude off its pedestal, carrying it towards its diasporic destiny.
Descendances du nu
A central work in the exhibition is the installation "Descendances du nu" (2016), which includes objects, photography, performance, audio (by sound artist Ain Bailey), and text (by art historian Elisabeth Lebovici). The installation can be seen as a deconstruction of Marcel Duchamp's (1887-1968) painting "Nu descendent un escalier" (1911-1912). The motif on the large piece of cloth is truly a fracturing of Duchamp's painting. Into his own work, Jimmy Robert weaves other artists who have referred to and appropriated Duchamp. Artist Sturtevant's (1924-2014) photograph "Duchamp Nu descendent un escalier" (1968/1996) leans against the wall in the installation's large photographic print, which is a photograph of Louise Lawler, "Nude" (2002/2003). The smaller photograph is a pixelated version of Duchamp's "Nu descendent un escalier II", with Robert borrowing the method from Sherrie Levine's (b. 1947) series "Meltdown" (1989), in which she has done the same thing with such works as Duchamp's "L.H.O.O.Q." (1919).
By including other artists' work, Robert invites a collegial rewriting of the history and an infinite circulation of images. The work's physical components also create the scenography for the performance that is part of the installation. Traces of the performance are also visible through clothing and a headpiece that is left in the exhibition space. For the exhibition in Malmö, the presentation is complemented with works by Marcel Duchamp and Sturtevant from Moderna Museet's collection.
Jimmy Robert's installation "Descendances du nu" is simultaneously a respectful homage to, and a humoristic sabotage of Duchamp's original work. Elisabeth Lebovici ends her insightful text "Descend," about Robert's Descendances du nu, with the words: "Descending the staircase also means taking the nude off its pedestal, carrying it towards its diasporic destiny."
In his art, Jimmy Robert raises questions of representation, gender, and identity—often with a starting point in an artistic or museum context. With subtle humor, melancholy, and queerness, he takes on these complex subjects through a fragmented and flexible idiom. The works, in which even the body can become a conceptual tool, are allowed to function both as independent entities and as components of a larger historical network. In spite of the body's constant presence, the direct gaze is often avoided—possibly as a gesture of preserved control.
Text: Curator Andreas Nilsson