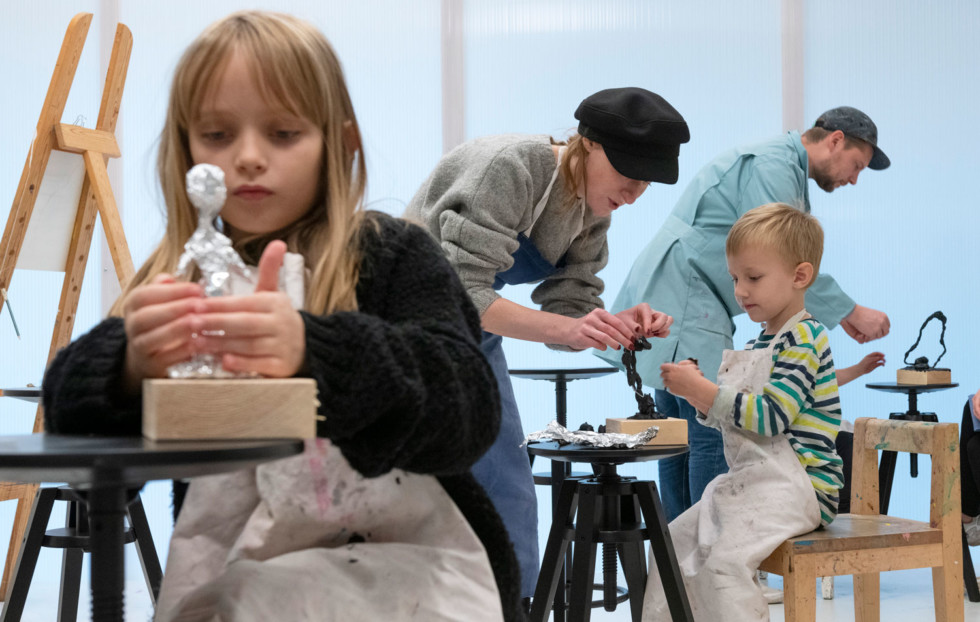 Create in Giacometti's studio
Drop in workshop for children and adults
10.10 2020 – 17.1 2021
Try sketching a portrait or work with sculpture – maybe in aluminium foil or clay? In the Workshop, we have created a space with the same dimensions as Alberto Giacometti's studio and every weekend you will have the chance to create there. We will work with techniques that Giacometti explored. Activities vary depending on day and time, doors are open to children and adults and no prior knowledge is necessary. No pre-booking is needed. Welcome!
The museum is temporarily closed and the drop in workshop is cancelled
This is a precaution to prevent the risk of spreading corona virus.
Create in Giacometti's studio
Drop in workshop for children and adults
Date and time:
Saturdays and Sundays 11 October–17 January, at 10.00–17.30
During the school holidays: 27–30 October and 4–8 January, at 11.00–17.30
Place: the Workshop, floor 2
Price: free admission
Booking information: No prebooking is needed but a limited number of people who can work in the studio at a time, in order to maintain proper social distancing.
About the exhibition: Giacometti – Face to Face
Alberto Giacometti lived his entire life in his studio
Giacometti's studio on 46 rue Hippolyte Maindron in Montparnasse is fabled. He moved there in 1925 and came to stay there until his death. For 40 years, the studio constituted a defined universe where the artist not only worked but also lived, though he could have with time and growing success lived much more comfortably.
In a space of only 23 square metres sculptures in various stages, sketches, personal objects, drawings and paintings mingled with food scraps and old cigarette butts. Visitors have spoken of how both the artists and the objects seemed as though they were wrapped in a grey film of dust. This was also where his models sat for him. He has portrayed the experience in the book "The Studio of Alberto Giacometti", 1958.