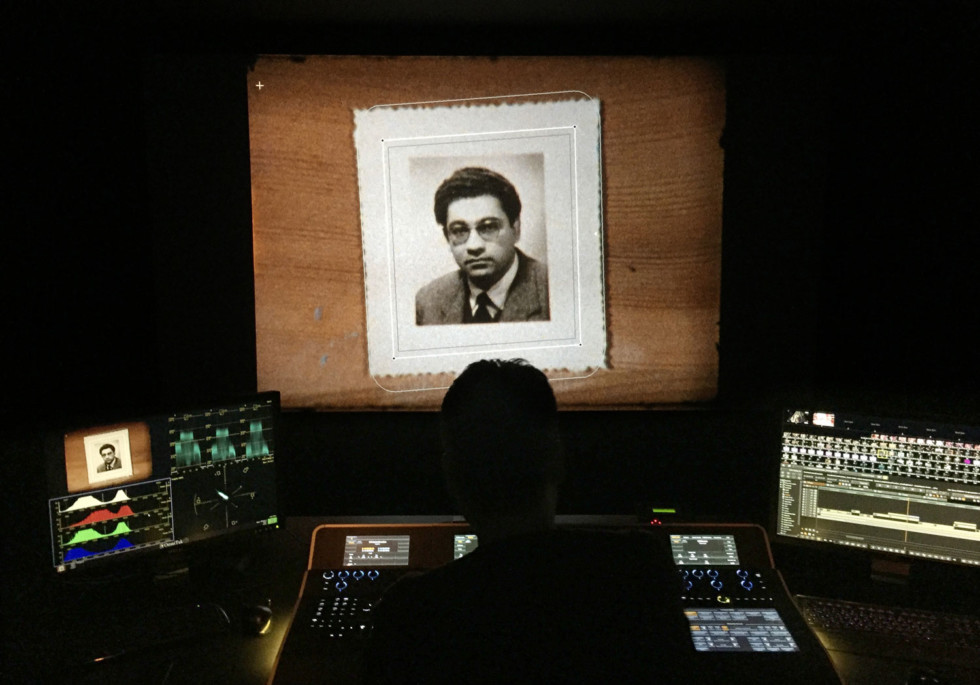 Events in a Cloud Chamber
10.1 2020
Stockholm
See "Events in a Cloud Chamber" by Ashim Ahluwalia with Akbar Padamsee. The first Film Club screening of the spring also marks the end of the exhibition "Mud Muses". The evening will be a journey through memory and the recreation of what has been forgotten. After the screening a conversation between the director Ashim Ahluwalia and Lars Bang Larsen, the curator of the exhibition "Mud Muses", will be held.
Eve

nts in a Cloud Chamber
 (2016)
Director: Ashim Ahluwalia with Akbar Padamsee.
21 minutes. Super 8/16 mm
Date: Friday 10 January, 2020
Time: at 18–20
Place: the Cinema, floor 2
Language: English
Price: free admission
Booking: book a free seat at filmklubben@modernamuseet.se
The film will be followed by a conversation with Ashim Ahluwalia, director, and Lars Bang Larsen, curator.
Moderna Bar is open after the film screening and the conversation.
About Events In A Cloud Chamber
In 1969, Akbar Padamsee, one of the pioneers of Modern Indian painting, made a film called "Events In A Cloud Chamber". Shot on a 16mm Bolex, the film ran for six minutes and featured a single image of a dreamlike terrain. Inspired by one of Padamsee's own oil paintings, he experimented with a new technique of superimposing shapes formed with stencils and a carousel projector.
After just a handful of screenings, the film was shipped to an art expo in New Delhi where it was misplaced. The film existed only as a single positive print and there were no copies. This was possibly the birth of experimental, artist moving image practise in India, but it ended before it began.
What was this mysterious film? A rare, spectral trace of India's forgotten avant-garde cinema, "Events In A Cloud Chamber" now exists only in memory. But can one rebuild a film from memory? More than 40 years later, filmmaker Ashim Ahluwalia worked with Padamsee, currently 88 years old, to remake the film. "Events In A Cloud Chamber" (2016) is a result of their collaboration.
Like a maze that leads into endless other mazes, "Events In A Cloud Chamber"'s vanishing reads like a fable. More than just the disappearance of an artwork or an aborted attempt at an experimental film movement, it suggests ideas about mortality. As Padamsee, now in his twilight years, looks back, what does he see?
Does art stop aging and preclude death? Like extinct languages and deathbed confessions, "Events" (2016) is ultimately a ghost story, meditating on vanished art, mortality and the phantoms that we leave behind.
Director Ashim Ahluwalia's notes
When I met Akbar Padamsee, he was 87 years old. I knew he was one of the pioneers of Indian modernist painting but I had no idea that he had made two forgotten experimental films.
The first film – "Syzygy" – is an absolute beauty made up solely of lines and dots and the connections between them. His films are pure abstraction. There is nothing else in Indian cinema history like this.
He showed "Syzygy" around, a few private screenings, a gallery or expo screening here and there. But it was basically laughed at. He was so ridiculed for making it that he put it away and forgot about it. And now the negative is completely damaged and only a really horrible VCD copy exists.
And when he lost "Events in a Cloud Chamber", his second film, he just didn't care anymore because the response to his first film was so bad. He never bothered to even search for it.
Akbar was really keen to collaborate on something cinematic because he knew I was interested in that sort of thing. And he loved the idea of working on something filmic again after a gap of almost 45 years.
I really wasn't sure what we could do together until he just happened to tell me about his second film – "Events in a Cloud Chamber". After just a handful of screenings, this film was shipped to an art expo in Delhi in the 70s where it was misplaced. There was no negative and the film is now long lost. This could have been the start of an entirely different kind of cinema in India but I suppose that was never meant to be.
I wanted him to try and remember this film so that we could both attempt to make it again.
He couldn't completely remember how exactly the film was made, and that was what made the process so fascinating and collaborative for me. "Events In A Cloud Chamber" now exists only in memory. But can one rebuild a film from memory? Trying to remember a lost film is a strange thing. Because on one hand film is so concrete, but memory is so dreamlike. But he did manage to make the painting again – after not lifting a brush for ages. He chose the colours and drew the stencils and cut the pieces himself. We just filmed it. But, of course, I also got into the process of memory and decay and forgetting as we filmed this.
Through his film I discovered Geeta Sarabhai, another forgotten figure. She had made an abstract electronic soundtrack for "Events in a Cloud Chamber" in the late 1960s. I even found the 1/4 inch spool but it was totally corroded. It turns out that she was great buddies with John Cage and influenced him greatly by introducing him to Hindustani classical music and Vedic mathematics. I find this stuff more inspiring, and future-looking than anything going on today in the art or film world.
It's like ghost stories – so many missing links, mysterious artworks, lost films. But I'm not trying to be nostalgic, just trying to look to the past to find inspiration because there were so many directions started and never finished.
About the Film Club
The Film Club features films and discussions on Friday evenings. The Moderna Bar will be open after the film screenings and offers a fine selection of wines, beers, cheeses and vegetarian wraps.
The Film Club resurrected in 2018 and presents films on the boundary between art and documentary. Often, the artist or director will take part in discussions after the screenings. The 2020 spring programme is compiled in collaboration with the Royal Institute of Art.
Film has had a prominent position at the Museum since the start. The Moderna Museet Film Club has existed since the Museum opened in 1958, showing everything from children's matinees to the latest experimental art films.
Duriing the 1990's and early 2000's the museum presented international artists in the series Contemporary Film and Video. Other screening have often been held in connection with exhibitions at the museum or in collaboration with The Royal Academy of Art, Filmform, Cinemateket, Temp Documentary Film Festival, Cinemafrica, Stockholm's Feminist Film Festival, among others.
Previous programme: The Film Club
The Film Club editorial team
Lena Essling, curator, Catrin Lundqvist, curator.
Contact