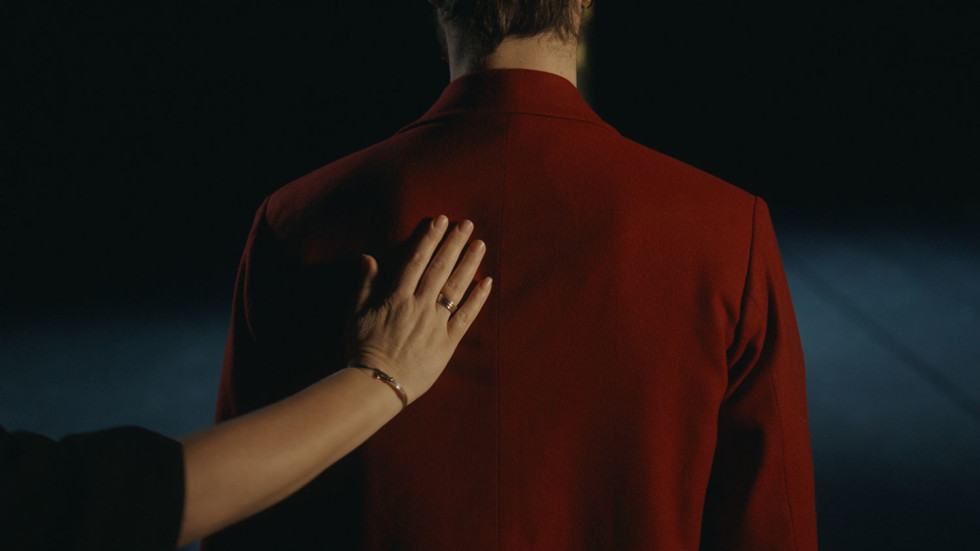 The Film Club: Dear Dancer
Film & discussion
13.3 2022
Stockholm
See the film "Dear Dancer" by the award-winning director Marcus Lindeen. Join us on and beyond the stage as the legendary choreographer Deborah Hay and the Swedish dance company Cullberg, struggle to premiere their new work "Horse" during the pandemic. After the screening, Cecilia Roos will facilitate a discussion about the film, the work process and dance with Marcus Lindeen, Deborah Hay, and Agnieszka Sjökvist Dlugoszewska.
Together with Cullberg and the Tempo Documentary Festival, the Film Club presents the short film "Dear Dancer" (2022) by Marcus Lindeen. It is set in spring 2021, when the choreographer Deborah Hay and the dance company Cullberg were rehearsing for the premiere of "Horse" on the main stage of Dansens Hus in Stockholm, despite the pandemic and travel restrictions.
The work, which was intended to open in the summer of 2020, is rehearsed via Zoom, with Deborah Hay at her home in Austin, Texas, and the dancers in their studio in Stockholm. Due to the pandemic, the work evolves into a series of solos, as the restrictions prevent the dancers from being too close to one another. See how Deborah Hay and Cullberg tackle the challenges and new demands caused by the pandemic through experimentation, creativity and flexibility.
After the film, Marcus Lindeen, Deborah Hay and the dancer Agnieszka Sjökvist Dlugoszewska will participate in a discussion at Moderna Museet and online. The discussion is facilitated by Cecilia Roos, dancer, professor and vice-rector of research at the Stockholm University of the Arts.
Dear Dancer (23 min, 2022)
by Marcus Lindeen
Date
Sunday 13 March 2022
Time
At 14–15.30
Place
The Auditorium, floor 2
Language
English
Price
85 SEK. Tickets are sold via Tempo Documentary Festival
Do you want information about the Film Club and our screenings? Become a member!
Dear Dancer
As the coronavirus pandemic is forcing theaters and dance companies to close down, the American choreographer Deborah Hay decides to let her dancers at the dance company Cullberg in Sweden continue their work and perform her latest piece in front of an empty theater in Stockholm. From her home in Austin, Texas, Hay writes them a letter proposing an experiment where instructions for movement will be replaced by a set of unanswerable questions. The film follows the dancers on and off the stage and captures their different reactions to the experiment.
Director: Marcus Lindeen
Choreography and narration: Deborah Hay
Cinematography: Ita Zbroniec-Zajt
Music and sound: Hans Appelqvist
Editing: Alexandra Strauss
Dancers: Agnieszka Sjökvist Dlugoszewska, Anand Bolder, Benjamin Pohlig, Camille Prieux, Eleanor Campbell, Eliott Marmouset, Eszter Czédulás, Freddy Houndekindo, Johanna Tengan, Katie Jacobson, Louise Dahl, Mohamed Y. Shika, Unn Faleide, Vincent Van der Plas.
"Dear Dancer" is a production by Cullberg and Fasad.
Marcus Lindeen
Marcus Lindeen is a Swedish writer and director. His latest theater play is called "L'Aventure invisible" ("The invisible adventure") and premiered at Festival d'Automne in Paris. In 2022, it will be presented at Schaubühne in Berlin, Wiener Festwochen in Vienna and Piccolo Teatro in Milan.
His most recent feature documentary film "The Raft" premiered at CPH:DOX in Copenhagen in 2018 where it won the main award. "The Raft" has since been shown in over fifty festivals (IDFA, BFI London, Zürich, Melbourne, Sao Paolo, Moscow) and was theatrically released in eleven countries, among them France, Mexico, the UK and the US. The film became a New York Times Critic's Pick and was broadcasted on BBC Storyville. In 2019 it won the Prix Europa for Best European Television Documentary. The same prize was awarded to Marcus Lindeen's debut film "Regretters", which also picked up a Swedish Academy Award (Guldbagge) in 2011. The same year his second film "Accidentes Gloriosos" premiered at The Venice Film Festival where it picked up the prize for best medium-length film.
Marcus Lindeen lives between Paris and Stockholm, where he is pursuing a Ph.D. candidate at Stockholm University of the Arts, exploring the subject of "The Staged Documentary" through an artistic project consisting of both film and theater works.
Deborah Hay
Deborah Hay, born 1941 in Brooklyn, has achieved icon status among choreographers. Her work was formulated in 1960s experimental Judson Dance Theatre in New York, one of the most radical and influential post-modern art movements. Hay's dances center on undoing the body's reliance on learned behavior by enlarging the field from which a dancer can resource movement. She spent many years choreographing solo works for notable artists including Mikhail Baryshnikov. The choreographer William Forsythe helped influence her international career after seeing the premiere of her quartet "The Match" in 2005 at the Montpellier Dance Festival.
Hay has been awarded many grants and awards including the inaugural and groundbreaking Doris Duke Artist Award in 2012. On May 5, 2015 France's Minister of Culture and Communication awarded Hay the title of Chevallier de L'Ordre Des Arts et Des Lettres. In 2015, Deborah Hay created the work "Figure a Sea" directly for Cullberg Ballet, to music by Laurie Anderson. The work has been highly acclaimed by audience and critics all over the world, toured in the US, and all over Europe and been presented at prestigious festivals such as Montpellier Danse and the International Festival of Contemporary Dance of the Biennale di Venezia in 2018.
2019-2022, Deborah Hay is associated artist at Cullberg, along with Alma Söderberg and Jefta van Dinther.
AGNIESZKA SJÖKVIST DLUGOSZEWSKA
Agnieszka Sjökvist Dlugoszewska is a performer and stage artist since 25 years. She was educated at the National Ballet School in Bytom and participated as a dancer at Swiss International Coaching Project for Choreographers under artistic direction of Rui Horta, Richard Wherlock, Jorma Outinen, Ismael Ivo, Jochen Heckmann, and Nils Christe. She has danced in works by Jefta van Dinther, Deborah Hay, Eszter Salamon, Stina Nyberg, Cristina Caprioli, Daniel Sjökvist, Cristian Duarte, Crystal Pite, Johan Inger, Helena Franzen, Ina Christel Johannessen, Benoit Lachambre, William Forsythe, Dan Johansson, Birgit Cullberg, Mats Ek, Ewa Wycichowska, Örjan Andersson, Anna Pehrsson, Jens Östberg, Tilman O'Donnell, Jochen Heckmann, Alexander Ekman, Gregor Zöllig.
Agnieszka Sjökvist Dlugoszewska joined Cullberg as a dancer in 2007; previous to that, she had been with the Polish Dance Theatre Ballet Poznan, Tanztheater Osnabruck and Ballet Theatre Augsburg.
CECILIA ROOS
Cecilia Roos is a dancer, Professor of artistic practices and vice rector for research at Stockholm University of the Arts. She has worked as a dancer and rehearsal director with, among others, Per Jonsson, Mats Ek, Ina Christel Johannessen, John Caird, Margaretha Åsberg, Cristina Caprioli, Kenneth Kvarnström, Reich / Szyber, Tim Rushton, Twyla Tharp, Eleonora Fabiao, Jefta van Dinther, Royal Swedish Ballet, Carte Blanche, Circus Circör, Cullberg.
Roos has been honored with several scholarships and awards, from the Swedish Arts Grants Committee, the Swedish Academy, the Swedish Union for Performing Arts and Film. She has taught internationally at universities and departments, including New York University, Norwegian University of Science and Technology in Trondheim, ARTEZ Institute of Arts in Arnhem, North European Institute at Humbolt University in Berlin, Paris 8 Saint-Denis in Paris, Hanoi University, University of Music and Dance in Cologne and Alvar Aalto University in Helsinki. Her research is based on the dancer's practice and the role it plays in performative processes.
Cullberg
Cullberg is the national and international repertoire contemporary dance company in Sweden, continuously co-creating to make cutting edge dance relevant for the many. Together with choreographers from all over the world, Cullberg are exploring ideas on how dance can be defined, produced and presented. Those explorations are the pillars of a company that is constantly in motion at the heart of the international arena.
2019-2022, Cullberg works exclusively with three associated artists: Alma Söderberg, Deborah Hay and Jefta van Dinther. The core of the company consists of 17 extraordinary individual dancers with a central role in the creations. Cullberg's works emerge from the times we are living in, as part of the socio-political environment including equality, diversity and sustainability. Cullberg is led by artistic director Gabriel Smeets and managing director Stina Dahlström. Cullberg is part of Riksteatern – The Swedish National Touring Theatre.
BECOME A MEMBER!

Do you want information about the Film Club and our screenings? Become a member! Membership is free. Become a member by sending your name and email address to filmklubben@modernamuseet.se (membership communication is in Swedish).
Processing of personal data
To become a member in the Film Club, we need to store your personal data (name and e-mail address). We process your personal data in accordance with the General Data Protection Regulation (GDPR). Read more about how we process personal data here: Moderna Museet's integrity policy
The Film Club editorial team
Lena Essling, curator, Catrin Lundqvist, curator.
Contact
filmklubben@modernamuseet.se
About the Film Club
What has the Film Club shown before?