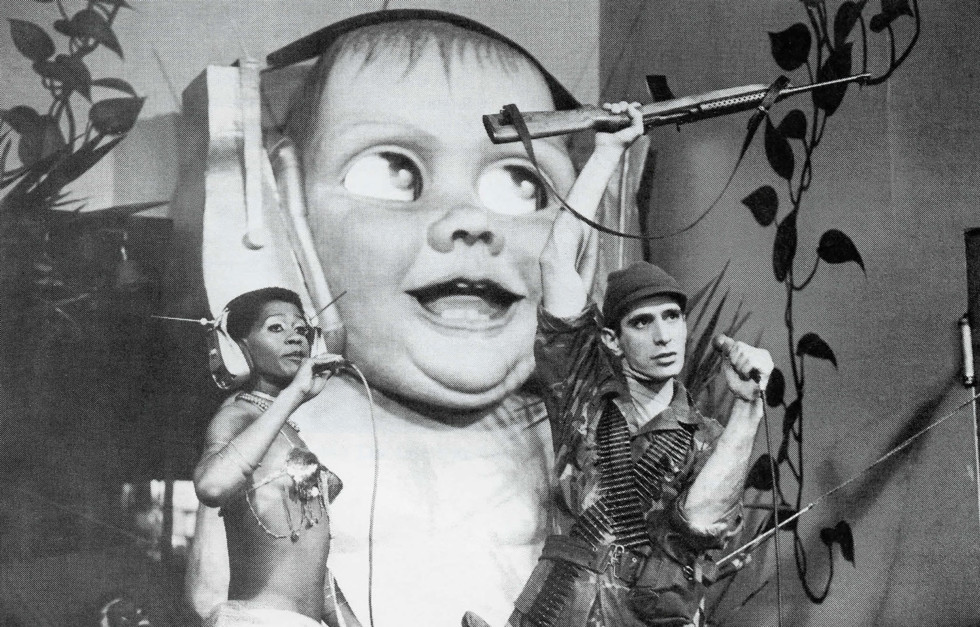 The film club: "Mr. Dead & Mrs. Free"
Films & discussion
25.2 2022
Stockholm
The Film Club opens the 2022 Spring Season with an exceptional film! See "Mr Dead & Mrs Free" by the Hungarian experimental drama collective Squat Theatre. A movie about death, deceit and desire in 1980s New York. After the screening, the artist collective coyote discusses Squat Theatre's collective and radical approach.
With its singular medley of war scenes, childbirth and musical and dance routines, the award-winning war-disco musical "Mr Dead & Mrs Free" (1982) erases the boundaries between art, everyday life and fiction.
"Mr Dead & Mrs Free" presents the radical approach that the drama collective Squat Theatre explored during the years in New York in the 1970s and 1980s. The film mixes documentary images with music and live theatre footage, fused into a rare multimedia performance.
After the screening, the artist collective coyote discusses Squat Theatre's collective and radical way of contrasting unrehearsed reality with imaginative fiction. How can this approach be used to reformulate reality and envisage an alternative future?
Mr. Dead & Mrs. Free
Films & discussions
Date & time
Friday 25 february 2022
Time
At 18-20.30
Place
The Cinema, floor 2
Language
English
Price
60 SEK, 30 SEK for members in The Film Club.
Moderna Bar is open during the evening.
Mr. Dead & Mrs. Free
83 min
Mr. Dead & Mrs. Free is a war-disco musical set in 1980's New York City depicting death, betrayal and desire. In a multimedia performance that combines documentary images with music and live-recorded theatre, Squat Theatre blurs the boundary between reality and fiction. An idiosyncratic conglomerate of war scenes, childbirth, musical and dance numbers which is played both on a stage and outside in the street. As a stage play, "Mr. Dead & Mrs. Free" won the Obie Awards for "Best New American Play" in 1982.
Squat Theatre
Squat theatre was a theatre collective founded in Budapest in 1969. Due to trouble with Hungarian authorities the collective emigrated 1976, first to Paris and then to New York. In a boutique with a large storefront window facing 256 West 23rd Street, the collective worked, lived and performed between 1977-1985.
With roots in the European avant-garde theatre, Squat Theatre created a number of experimental plays that moved within a multimedia borderland between film, theatre and performance – where the reality outside the store was constantly part of the fiction.
Squat Theatre's core members were Peter Berg, Marianne Koller, Péter Halász, Anna Koós, Stephan Balint and Eva Buchmuller.
coyote
coyote is a multidisciplinary artist collective, founded in Stockholm, 2017. coyote's collective practice is constantly in flux and moves between curatorial and artistic work. In addition to several self-produced exhibitions and projects, coyote has recently had a solo exhibition at NSFW/SVILOVA, Gothenburg and participated in group exhibitions at KØS – Museum of art in the public spaces, Køge, Index – The Swedish Contemporary Art Foundation, Stockholm and ISSUES gallery, Stockholm.
BECOME A MEMBER!

Do you want information about the Film Club and our screenings? Become a member! Membership is free. Become a member by sending your name and email address to filmklubben@modernamuseet.se (membership communication is in Swedish).
Processing of personal data
To become a member in the Film Club, we need to store your personal data (name and e-mail address). We process your personal data in accordance with the General Data Protection Regulation (GDPR). Read more about how we process personal data here: Moderna Museet's integrity policy
The Film Club editorial team
Lena Essling, curator, Catrin Lundqvist, curator.
Contact
filmklubben@modernamuseet.se
About the Film Club
What has the Film Club shown before?
Organised in collaboration with coyote and The Royal Institute of Art.