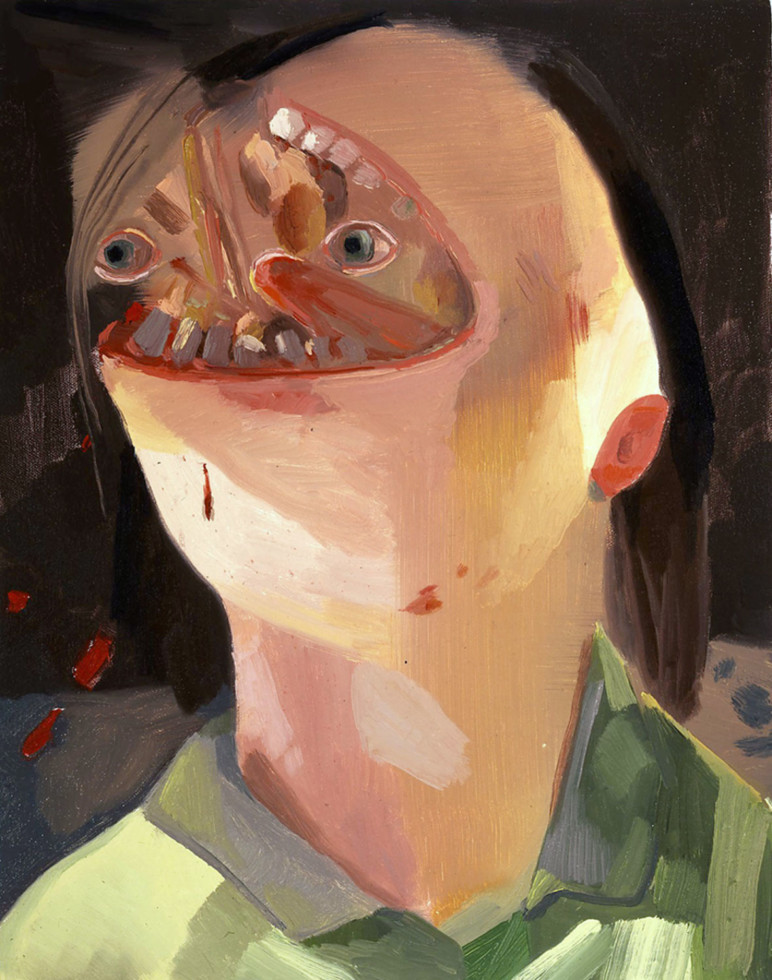 Dana Schutz's art consists of scenes from a post-apocalyptic world where the white – American? – population has mutated into grotesque survivors. Despite their shortcomings, their eyes, posture and actions reveal a sort of melancholy empathy.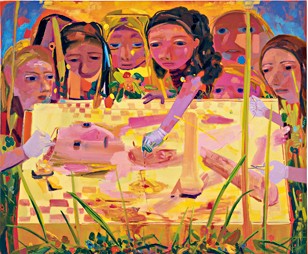 Dana Schutz
Surgery, 2004
© 2008 Dana Schutz
Courtesy of Zach Feuer Gallery, New York
These "auto-cannibals" are a despicable race who have to eat their own flesh in order to survive. They are portrayed cultivating and tending their plants, performing surgery on each other and sometimes eating, an act that is always performed outside a social context. Existentially, these auto-cannibals are a mournful species, especially from a romantic or modernist view. But from an ecological and economic/political perspective, with regard to attaining a sustainable society, they may be justifiable?
Dana Schutz does not flinch from the very hardest issue of our time: mankind's potential to survive its own ruthless exploitation and avoid extinction. With an ironic glint she seems to say: Goddamn anyone who believes man is not smarter than to just allow himself to perish. And yet, there is a serious existential fear in the "second world" where her people live: Okay, we survived… but how long can we keep eating ourselves before there is nothing left? How far can we go in patching up ourselves and others? Can we stay put on the earth's crust, or will our paranoia grow so massive that we will be forced – like the man in Gravity Fanatic (2005) – to duct-tape ourselves to the surface to prevent ourselves from soaring off into outer space?
An earlier series of paintings features Frank from observation. In the landscapes where he roams – the last man on earth – there is also a woman. She is invisible, but without her the pictures of Frank could never be shown. She is an artist and has created both Frank and the world he lives in. Let us call her Dana. The last two people on earth have gender roles that are entirely different from those of the first humans. In their godforsaken world she alone is the active one. Frank doesn't look that smart, but he seems kind. He complies with her instructions and undresses to pose on the beach or floats around like a climatically raped polar bear on an ice floe at sea, without questioning his behaviour. His role is passive and he most of all resembles a hippie-like relic from the 60s: "Easy come, easy go," seems to be his philosophy.
Dana Schutz's method is also expressed in the series How we would … where she has set herself tasks relating to questions starting with "What if…" or "What would it be like if…" She has also taken a closer look at narcissistic websites where individuals present their special interests, resulting in the series I'm into… This is a common introductory phrase when people describe their proclivities or a specialist field. Dana Schutz has explored these websites but takes the subject one step further by making up new, non-existent interests. She challenges herself by painting what she believed could not be painted, and out of these paintings a cluster of remarkable presentations of hobbies flourish, reflecting a new kind of evolving human being, or a parallel, completely different, existence.
Dana Schutz's paintings are a cascade of colour, rhythm, decorative features and abstract elements, incorporating a mixture of all the skills and gestures of painting that have been passed down through the ages. She allows several modernist masters and their experiences to blend with her own. In one painting, a woman is leaning the same way as one of the ladies in a late cubist work by Pablo Picasso. The leaves and branches surrounding her figures are sometimes drawn with the same plain beauty as if by Henri Matisse. And the presence of material things is as distinct as in the pop art master Claes Oldenburg's bright objects. An onlooker with a knowledge of art history will spot umpteen references to the new and old in painting and sculpture.
Catrin Lundqvist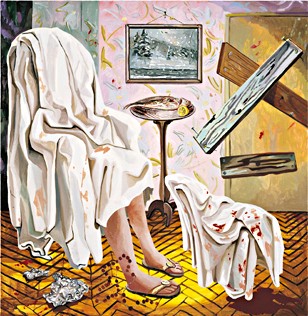 Dana Schutz
Worship Channel (I´m into Jesus), 2008
© 2008 Dana Schutz
Courtesy of Zach Feuer Gallery, New York
Dana Schutz
Born 1976. Lives and works in New York
Education
2002 MFA, Columbia University, New York, NY, [US]
2000 BFA, Cleveland Institute of Art, Cleveland, OH, [US]
1999 Skowhegan School of Painting and Sculpture, Skowhegan, ME [US] 1999 Norwich School of Art and Design, Norwich [UK]
Selected solo exhibitions
2008
If It Appears in the Desert, Contemporary Fine Arts, Berlin [DE]
2007
Stand By Earth Man, Zach Feuer Gallery, New York, NY [US]
2006
DanaSchutz: Paintings 2002–2005, Rose Museum, Brandeis University, Boston. Turné till/Travelled to: the Museum of Contemporary Art, Cleveland, OH [US]
2005
Dana Schutz, SITE Santa Fe, Santa Fe, NM [US]
Selected group exhibitions
2007
Hammer Contemporary Collection: Part II, UCLA Hammer Museum, Los Angeles, CA [US]
2007
Art in America: 300 Years of Innovation, Shanghai Museum, Shanghai [CN] Organiserad av/Organised by the Solomon R. Guggenheim Museum, New York. Turné till/Travelled to: The Guggenheim Museum Bilbao [ES]
2006
USA TODAY, Royal Academy of Art, London [UK]. Turné till/Travelled to: The Hermitage, St Petersburg [RU]
2005
Take Two: Worlds and Views, Museum of Modern Art, New York, NY [US]
Selected bibliography
Stephen Stern "Image Search", Frieze, April 2007, s./pp.136–141
Dana Schutz: Paintings 2002–2005, Boston: The Rose Art Museum, 2006
Mia Fineman, "Portrait of the Artist as a Paint Splattered Googler", The New York Times, January 15, 2006, s./p. 16