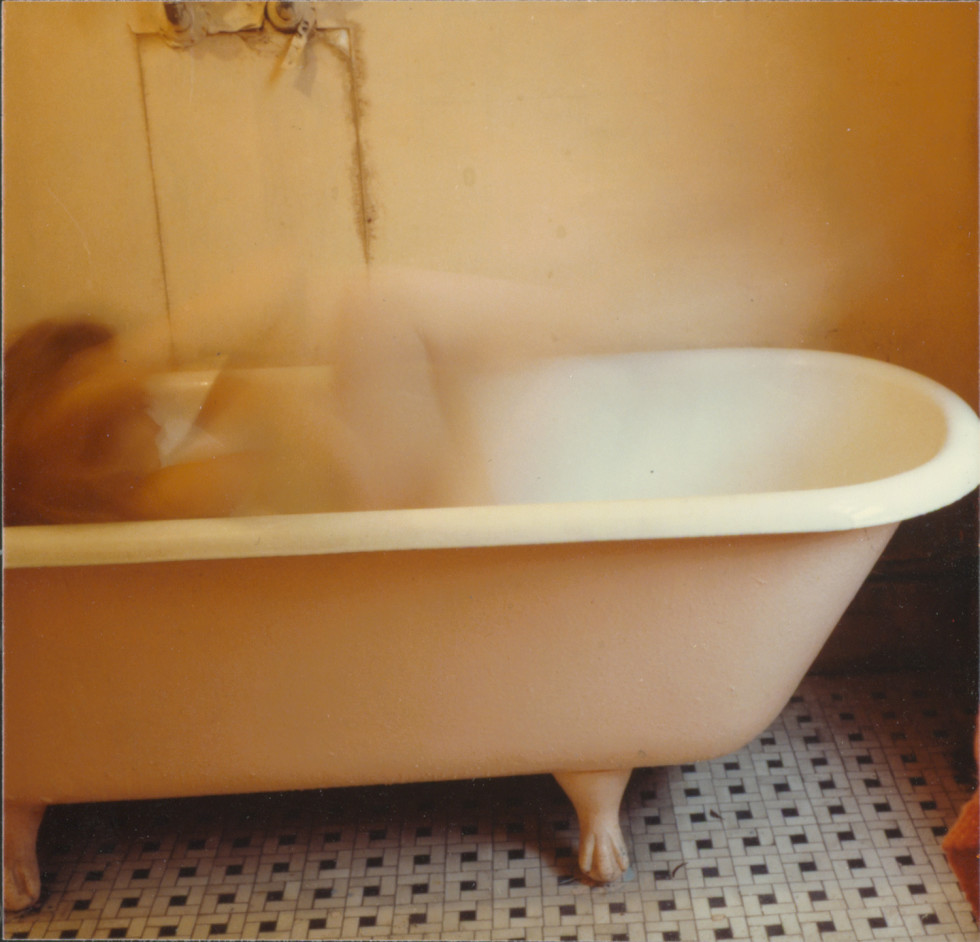 Moderna Museet Collection
In connection to the exhibition with Francesca Woodman, Moderna Museet presents a selection of photographs from the same period from its collection, to show her in context.
In Francesca Woodman's active years in the late 1970s and early 1980s, photography was in a period of transition. Many photographers who had worked with classic black and white photography were experimenting with other forms and were pushing the documentary tradition towards more subjective and surrealist projects.
The United States paved the way in this development, and when many started working more professionally with photography, it was institutionalized. This shift in the field eventually spread to Europe. Major photographic exhibitions were held at The Museum of Modern Art in New York, featuring artists such as Diane Arbus, Robert Frank, and Lee Friedlander, all of whom were influential to many younger photographers.
One of Francesca Woodman's teachers was Aaron Siskind. His photography is often compared to that of Harry Callahan, since both were active for many years as teachers at the Institute of Design at the Illinois Institute of Technology in Chicago, and later at the Rhode Island School of Design in Providence. Another figure in American post-war photography is Minor White, who also had influence as a teacher. White wrote about and taught methods for understanding and interpreting photographs.
New Topographics. Photographs of a Man-Altered Landscape (1975) was a significant exhibition. It was held at the International Museum of Photography at George Eastman House in Rochester and one of the featured artists was Lewis Baltz. Other notable photographers in the new American wave were personalities as diverse as Robert Mapplethorpe, Melissa Shook, and Jerry Uelsmann.
But it was also then, from 1977 forward, that Cindy Sherman started working on her break-out series Untitled Film Stills. Sherman is an artist of the postmodern generation, and it is not known if Woodman had been aware of the so-called Pictures Generation. Duane Michals stood for a more conceptual approach. He was one of the photographers who we know interested Woodman.
Participating Photographers
Diane Arbus, 1923–1971, USA
In the course of her comparatively short career Diane Arbus created pictures in which human encounters resulted in a profoundly personal style of portraiture. Arbus was
born in New York and grew up in a Jewish family in Manhattan. During a few years in the 1950s, she and her husband Allan Arbus worked together with fashion and commercial photography and had assignments for Vogue and Glamour. Thanks to two Guggenheim fellowships, in 1963 and 1966, she was able to engage in her own projects and travelled around the USA several summers to photograph "american rites". Many of her most well-known portraits of people in more or less unusual situations and settings are from this project. Arbus ended her life dramatically in 1971 by committing suicide. The following year, the Museum of Modern Art in New York had an exhibition featuring her work and she has since then become one of our most famous postwar photographers.
Lewis Baltz, 1945–2014, USA
Lewis Baltz was born in California and studied photography at the Art Institute in San Francisco in the late 1960s. He is considered to be a pioneer of conceptual photography, but was not a formalist. The settings in his photographs are landscapes in the broadest sense. Urban no man's land, silhouettes of mountain ranges in the Great American Desert, or abandoned industrial sites are among his typical motifs. Influences from motion pictures, especially by European directors such as Michelangelo Antonioni and Jean-Luc Godard, are obvious in Baltz's tersely elegant compositions. Alfred Hitchcock is another filmmaker who is often mentioned in connection with Baltz. There are parallels also to Ed Ruscha and his remarkable portrayals of settlers in post-war Los Angeles. In 1975, Baltz took part in New Topographics. Photographs of a Man-Altered Landscape at the George Eastman Institute in New York, an exhibition that influenced the exhibiting artists towards a new style of landscape photography that was both documentary and profoundly artistic, in an era where art and photography were still two distinct and separate disciplines. In addition to Baltz, the photographers included Stephen Shore, Robert Adams and Bernd and Hilla Becher. The exhibition name, New Topographics, provided the name for the style that has inspired generations of photographers.
Dawid, born 1949, Sweden
Dawid is well-known for his experiments in the photographic medium aimed at erasing the boundary between photography and painting. Dawid studied at Fotoskolan between 1969 and 1970, ending his studies in a search for alternative ways to use the photographic medium. The creative process is vital to his images and his artistic work, where found motifs become descriptions of known and unknown things. In the series Rost [Rust] (1984), exhibited at Fotografiska Museet in Moderna Museet, metal piecesresemble objects, expressions and human forms, but their titles consist only ofa date and negative number. Dawid is also a successful fashion and commercial photographer.
William Eggleston, born 1939, USA
After studying at the Vanderbilt University, Delta State College and University of Mississippi, William Eggleston moved to New York, where he became a pioneer in using colour film for art photography. In New York he also met Diane Arbus, Garry Winogrand and Lee Friedlander – all of whom had an impact on his work. In 1976, the Museum of Modern Art in New York featured his first exhibition of colour photographs. The exhibition then went on tour throughout the USA. Eggleston is a master photographer who concentrates on the everyday; he considers no subject too trivial to be photographed.
Agneta Ekman, born 1942, Sweden
Agneta Ekman was in the first class of Christer Strömholm's Fotoskola in 1962 and later taught photography at the school. Ekman published the photography book Tall-Maja in 1967, which was to be her best-known project. This series of early staged photography draws inspiration from folk stories about forest sirens in Värmland, Sweden. The images are created with double exposure and superimposed frames that create a mystical and eerie atmosphere. Apart from photography, Ekman has worked with documentary filmmaking and teaching.
Lee Friedlander, born 1934, USA
Lee Friedlander studied photography at the Art Center College of Design in Pasadena, California. In 1956, Friedlander moved to New York, where he initially earned his living as a photographer working for several magazines. He later became known mainly for his photographs of what is now known as the social landscape, a form of representation that strives to capture the image of modern society. In Friedlander's case, this means pictures of the urban environment, such as shop windows, information signs and architectonic structures. In 2005, Friedlander received the Hasselblad Foundation International Award in Photography and the same year he was featured at the Museum of Modern Art in New York in a major retrospective exhibition of his photography.
Ralph Gibson, born 1939, USA
Ralph Gibson began with photography while in the Navy, then pursued his studies at the San Francisco Art Institute (1960–62) and was a photo assistant to both Dorothea Lange and Robert Frank. Gibson's images often have a dreamy, psychological element, where the gaze plays a vital part. He is especially noteworthy for his contributions as the editor of his own publishing house, Lustrum Press, which has produced a number of seminal books on photography and was one of the first to publish works by photographers such as Larry Clark and Robert Frank.
Kenneth Gustavsson, 1946−2009, Sweden
Kenneth Gustavsson studied at Fotoskolan in Stockholm in 1964 to 1967 and co-founded the Saftra photo agency with Anders Petersen after graduation. Gustavsson and Petersen created well-received reportages during the late 1960s, including a series taken in run-down neighbourhoods of Stockholm that was displayed in the exhibition Staden i retur [City in Return] at the Stockholm City Museum in 1969. After a break from photography during the 1970s, Gustavsson reappeared in 1983 with a spread in ETC magazine and an exhibition at Galleri Gauss in Stockholm. Throughout the 1980s he captured city life on his travels to Belfast, Chicago and New York and other cities. In 1984, Kenneth Gustavssson was awarded the prestigious Stora Fotografipriset, founded by the Swedish magazine Foto.
Kenneth Josephson, born 1932, USA
Kenneth Josephson began taking pictures at an early age with his family's small-format camera and in 1960 graduates at the Institute of Design of the Illinois Institute of Technology in Chicago, where he studied under Harry Callahan and Aaron Siskind. Josephson, who is perhaps best known for his series Images within Images, often takes the medium itself as his subject, and plays on reality and reproduction in a comment on photography's relationship to truth and illusion. In 1972 he was receipient of the John Simon Guggenheim Memorial Foundation fellowship.
Eva Klasson, born 1947, Sweden
Eva Klasson became internationally acknowledged in Paris in the mid-1970s on the strength of a series of intimate close-ups of her own body, which she compiled and published in an artist's book in 1976. Its title, Le troisième angle [The Third Angle] alludes to the three levels of conditions she sought to express in her images. The first was the physical condition, the second the mental/psychological and the third angle was that of the camera lens. In her projects, she is both behind and in front of the camera. Klasson had worked shortly at the Hasselblad camera factory when she moved to Paris in 1969 to work as a freelance photographer for architectural firms, advertising companies and various magazines. She created a further two series that explore various emotional states. Over a few years, she had numerous exhibitions in Paris, Rome, Geneva and Stockholm, before giving up photography and moving to the USA.
Tuija Lindström, born 1950, Finland
Tuija Lindström began working with photography after her move from Finland to Stockholm in the 1970s. She studied photography at Konstfack in Stockholm in the beginning of the 1980s, where she tried working with large-format cameras and advanced darkroom techniques. In her conceptual series Kvinnorna vid Tjursjön [The Girls at Bull's Pond] (1991), portraits of women floating in dark water are juxtaposed with monumental images of domestic irons, creating a tension between the soft bodies and the angular contours of the iron. Lindström was a professor at the School of Photography and Film at Göteborg University in 1992–2002, during which time the curriculum was reoriented towards a more theoretical and artistic direction.
Robert Mapplethorpe, 1946–1989, USA
Robert Mapplethorpe grew up in a strict, Catholic family in Queens outside New York City, and began studying art at the Pratt Institute when he was 17. From working with images cut out of books and magazines, he started taking Polaroids, initially with the idea of including them in his collages, but the Polaroids were eventually used as works in their own right. In 1970, he lived with his friend, the musician Patti Smith, whom he often photographed, at the legendary Chelsea Hotel in Manhattan. He also took pictures of the people around them on the vibrant party scene: musicians, artists, porn stars, celebrities and beautiful men – often gay and often black. In 1978, when the USA was still fairly homophobic, the New York gallery Marcuse Pfeifer organised The Male Nude, one of the first exhibitions featuring Mapplethorpe's works. Mapplethorpe sought to achieve the utmost beauty, based on classical ideals, regardless of whether the subject was a flower or a torso. Among his many famous images are portraits of Truman Capote, Andy Warhol, Isabella Rossellini and Deborah Harry, and nude pictures of the body builder Lisa Lyon. When Robert Mapplethorpe died from an AIDS-related illness in 1989, he had made a series of self-portraits in which he is marked by the disease.
Ralph Eugene Meatyard, 1925–1972, USA
The company where Ralph Eugene Meatyard worked as an optician – after studying dentistry and later philosophy – sold cameras. He bought one in order to photograph his newborn son. When Meatyard later opened his own opticians, he exhibited his own and other people's photographs in the shop's reception. He continued his opticians' practice throughout his photographic career, calling himself an amateur photographer, but his works are characterised by meticulous composition and a distinctly personal style that was often theatrical and occasionally disturbing. He liked using dolls, masks and other props, even in the pictures of his family. All Meatyard's photographs were taken in and around northern Kentucky, where he and his family lived. One vital source of inspiration was Eastern philosophy, an interest that was awakened during a workshop with the photographer photographer Minor White, who had listed two books about Zen as essential reading for future photographers. Meatyard was also an avid reader, and the modernist Gertrude Stein was one of his favourite authors. There is a kinship between the emphasis on emptiness in Eastern philosophy and Stein's repetitive poetry – and both elements are present in Meatyard's works, with birth and death as recurring timeless themes.
Duane Michals, born 1932, USA
Duane Michals studied and worked as a graphic designer and did not become a photographer until the late 1950s. The Museum of Modern Art featured Michals in a solo exhibition in 1970. His photographs are often based on literature and a sequential narration not unlike the picture-boards used in film-making. He adds captions, but instead of building them on the subjects of the pictures, the hand-written lines are often contradictory statements. Double exposure and shadows suggest the presence of something outside the picture frame. Michal's pictorial narratives reflect on existential themes such as death, homosexuality and dreams.
Birgitta Ralston, born 1933, Sweden
Birgitta Ralston worked as a model in the 1950s and 60s. While working for the Eileen Ford Agency, she modelled for Richard Avedon, Martin Munkacsi, Erwin Blumenfeldt and other renowned photographers. Inspired by their work, she started taking photographs herself. In the early 1970s, she studied photography at the Massachusetts Institute of Technology under Minor White, who introduced her to Eastern mysticism, Zen Buddhism, American lyrics and the theory of the photographic zone system as described by Ansel Adams in his books on photography. In the collection Masker [Masks] (1974–77) Ralston describes in images the transition she underwent when she decided to take photographs instead of being photographed.
Cindy Sherman, born 1954, USA
Cindy Sherman studied at State University College in Buffalo, where she was a member of Hallwalls, an artist-run gallery which was her stepping stone onto the art scene in New York, which is still her home base. She belongs to the so-called "Pictures Generation" a group of photographic artists who emerged in the early 1980s and are regarded as postmodernists. From 1977 to 1980, Cindy Sherman worked on her Untitled Film Stills, where the artist herself posed in settings resembling film noir or some obscure 1950s movie. Playing all the leading parts, she takes on various female identities, but she is also the photographer, director and costume designer. Cindy Sherman has continued to explore and practise this method in her monumental colour photos. She was awarded the Erna and Victor Hasselblad Foundation's international photography prize in 1999, and was featured in 2013 in the exhibition Cindy Sherman. Untitled Horrors at Moderna Museet.
Melissa Shook, born 1939, USA
Melissa Shook studied photography at Bards College and took an early interest in her own body and identity, exploring these themes in a series of diary photographs. Her self-portraits and extensive series of pictures of her daughter Krissy from 1972–73, which were not originally intended for the public, eventually made it into the photo magazine Camera 35 Annual. This led to her breakthrough and meant she could earn her living as a photographer and teacher. Her daily documentation of life in the New York slums was Shook's way of coping with existence, the loss of her mother and memories of her. Her photographs were shown in the exhibition Tusen och en bild [Thousand and One Image] (1978) and subsequently in the exhibition Se dig om i glädje [Look Back in Joy] (1981), both at Fotografiska Museet in Moderna Museet.
Aaron Siskind, 1903-1991, USA
Aaron Siskind graduated in literature and then worked as an English teacher in public schools in New York for two decades. He was born in a family of Russian-Jewish origin. As a young man, he joined the New York Photo League, where amateurs and professional photographers and filmmakers with an interest in social issues documented contemporary society. It was here Siskind created his famous project Harlem Document in 1936, when the USA was in the throes of the great depression. In the 1940s, Siskind got involved with a group of artists who were active mainly in New York and were known as abstract expressionists. In abstract photography, objects, light and lines are used to generate shapes and purely aesthetic expressions, rather than to convey a narrative. Siskind launched a 20th-century variety of abstract photography at the time, merging two key tendencies in art and society, to create a body of work that is characterised by his sensitive eye for people and their living conditions and an abstract and concrete style. Siskind was introduced by the photographer Harry Callahan as a teacher at the Institute of Design at the Illinois Institute of Technology in Chicago, and they later both went on to the Rhode Island School of Design in Providence, where Siskind worked until his death.
Otmar Thormann, born 1944, Austria
Otmar Thorman moved to Sweden in 1965 and has worked in Stockholm since then. Thormann's photography often deals with memories of his childhood in postwar Austria. He appears to be inspired by Catholic sacred painting and by the modernist style of painting that emerged in Czechoslovakia in the period between the wars – especially the pictorial aesthetic of Josef Sudek. Thormann has had solo exhibitions at Centre Pompidou in Paris (1984), Malmö konsthall (1987) and Moderna Museet (2002).
Arthur Tress, born 1940, USA
After graduating in art from Bards College in 1962, Arthur Tress moved to Paris for a period. This was followed by extensive travels, which often took him to distant places and cultures that were to have a strong impact on his oeuvre. During one of these travels he visited Sweden where he worked as a photographer at Etnografiska Museet. Tress' photographs are based on the surrealist tradition that was embraced by many photographers in the 1960s. He became a master at constructing imaginative images where objects are portrayed in theatrical settings with mysterious allusions.
Jerry Uelsmann, born 1934, USA
Jerry Uelsmann studied at the Rochester Institute of Technology, a prestigious school in New York State, where he became fascinated by the technical and scientific side of photography to the degree that he considered taking that path until he realised this would mean not actually creating photographs. Uelsmann combines, or manipulates, his negatives into dream-like, always monochrome, montages. He is inspired by surrealist painters and early artistic experiments in the history of photography, and also by other artistic disciplines and the world around him. His works rarely have titles, and the artist avoids any discussion about interpretation and technique – preferring viewers to elaborate on the free association he initiated with his composition. Uelsmann has been applying the same approach since the 1950s, in a darkroom with an enlarger, developers and photo paper, where elements from his negatives are seamlessly joined – in a veritable Photoshop technique long before the invention of this modern digital program.
Minor White, 1908–1976, USA
Minor White began photographing at an early age, but he studied botany, poetry and art history before becoming a full-time photographer in his 30s. He regarded the camera as an instrument for self-observation, and photography as a means of expressing his mind, and he wanted photography to give the viewer a spiritual experience. In 1946, he met and was inspired by Alfred Stieglitz, a pioneer of early 20th-century American art photography. Stieglitz taught him to work serially, a method White developed into what he called a "cinema of stills". He often portrayed objects such as dead trees, rocks, the cracks in a wall or an old abandoned car, but also produced sensual nudes. Ansel Adams was another seminal influence. Together with a group of photographers, including Adams, White co-founded the prestigious photography magazine Aperture in 1952 and was its editor from the start until 1976. Minor White lectured at the California School of Fine Arts (now the San Francisco Art Institute) and at the Rochester Institute of Photography, and had a significant impact on many students.