Questions to Gunvor Nelson

Gunvor Nelson, 2007
1. You moved to the USA in the 1950s to study painting, among other things, but eventually film became your primary medium of expression. What was it that attracted you to film?
– I see film as a kind of choreography, movement that takes place in a defined space and time, just like in music and dance. In this time frame, the film builds up its own vocabulary, and in that way creates its own character and its own memory.
2. In connection with your exhibition you have chosen to highlight American avant-garde film from the 1960s and 70s in the museum collection. On two evenings, all the films shown are by women filmmakers. How have artists like Maya Deren, Chick Strand and Yoko Ono influenced you? When I went through Moderna Museet's catalogue of films, I realized that the women filmmakers from the 1960s were largely missing.
– When I went to the USA, I first encountered the influential male filmmakers, like Stan Brakhage and Bruce Baillie. It was only later that I discovered the women filmmakers. Maya Deren travelled around the USA early on, promoting film as a means of artistic expression beyond the Hollywood industry. Chick Strand was involved in starting up Canyon Cinema, which has been crucial to avant-garde film in the USA. It is vital to give visitors the chance to also see works by women filmmakers.
3. SCHMEERGUNTZ from 1966 is a milestone in American feminist film history. You mix scenes from beauty pageants with close-ups from a woman's everyday life. Could you describe the attitude to women at the time when you and Dorothy Wiley planned your film?
– The idea behind this collage was to reveal the contrast between women's everyday existence and the image that was broadcast on American TV. We were both mothers with small children at the time and had friends who were making a film with people like Steve Reich. It occurred to us that we could make a film too. Our film was a hit at the opening on New Year's Eve 1965–66. People were doubled over in laughter. The absurdities of everyday life became one of Dorothy Wiley's and my specialties. And the title SCHMEERGUNTZ is a nonsense word, another absurdity.
4. Let's talk about sound. You came into contact with Steve Reich's audio works at an early stage. In several of your films you use fractions of dialogue that are barely audible, as if we were in an adjacent room or hearing echoes of the past. Can you describe the relationship between image and sound?
– I collect sounds. When you combine a certain film sequence with a certain sound you achieve a third possible dimension. I try to develop different solutions for each new film, to achieve suspense and variation. I did the cutting of MY NAME IS OONA, for instance, after first finishing the soundtrack. It's an art to avoid simply illustrating the image with a sound. It's also an art to dare to exclude sound entirely, as in TIME BEING.
5. Some of your films – for instance TIME BEING – is only shown at specific times in our cinema. Can you describe how that film was created?
– TIME BEING is about my mother at the very end of her life. When I made the film she was no longer able to communicate. It's a very sensitive subject that I want to be treated respectfully. I wanted to make a film with a simple format. Without sound. It's a film about my mother, but here she also represents something more. She represents human fate.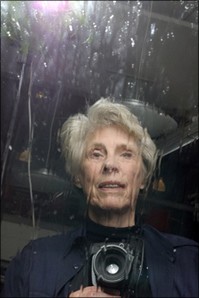 Gunvor Nelson, 2007
6. In 1993, you moved back to Sweden and decided to abandon the 16 mm film format. You contacted the video lab CRAC and now work exclusively with video and digital editing. How did that change your approach?
– The transition to video has meant that I feel more freedom technically. But I have also started filming in a more intimate way. I film "smaller" worlds than I did with 16 mm film, which involves more complex technology because you need a film lab to perform certain stages.
7.TRUE TO LIFE – your latest film – has several similarities with MY NAME IS OONA (1969). You create evocative dream landscapes based on an apparently simple study of nature. How did you conceive TRUE TO LIFE?
– TRUE TO LIFE was shot in my garden in Kristinehamn in Sweden. I had bought a few closeup lenses for my camera, and when I put them together I discovered another world and started filming it. Then I amplified the sound of the camera brushing against the vegetation. The title, TRUE TO LIFE, is a cliché, of course. As always, I was looking for a multifaceted title that could be interpreted in many different ways.