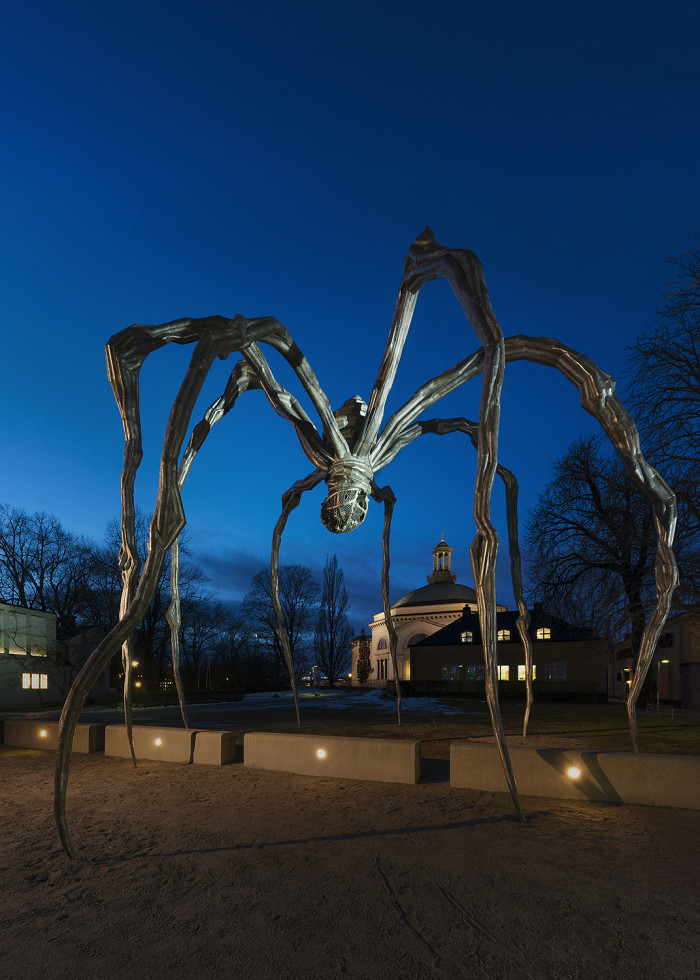 Louise Bourgeois
I Have Been to Hell and Back
14.2 2015 – 17.5 2015
Stockholm
Louise Bourgeois (1911–2010), is one of the most important 20th and 21st-century sculptors. Her art serves as a bridge from Modernism and continues to exert its influence on contemporary artistic practices today. One-third of the pieces in the exhibition have never before been shown publicly.
Before entering the exhibition, visitors will encounter her monumental work Maman, a gigantic spider sculpture, which is standing outside the museum. The art of Louise Bourgeois is complex, radical and full of subversive humour, danger and fear. She succeeds in formulating that which is hard to find words for, and her creative urge was intimately linked with her need to understand, imbuing her oeuvre with a compelling psychological dimension.
Moderna Museet's Louise Bourgeois – I Have Been to Hell and Back is a major survey of Bourgeois's oeuvre and, with more than 100 works, it is the largest exhibition in Sweden to date. It includes forty-seven sculptures, one cell, one painting, and fifty-four works on paper and fabric, stretching over seven decades. The selection aims to show the range of Bourgeois's work, and highlights her experiments in different materials, techniques and scale. Nearly one-third of the exhibits have never been shown in public before. This alone is sensational. The exhibition itself is divided into nine rooms, each highlighting a theme central to Louise Bourgeois's work. The rooms do not follow any chronological order. Instead, the exhibition explores how themes were taken up by the artist and developed during various phases of her artistic career.
Curator: Iris Müller-Westermann
The exhibition is produced ab Moderna Museet and will tour to Museo Picasso Málaga 15 June–27 September 2015.
Supported by