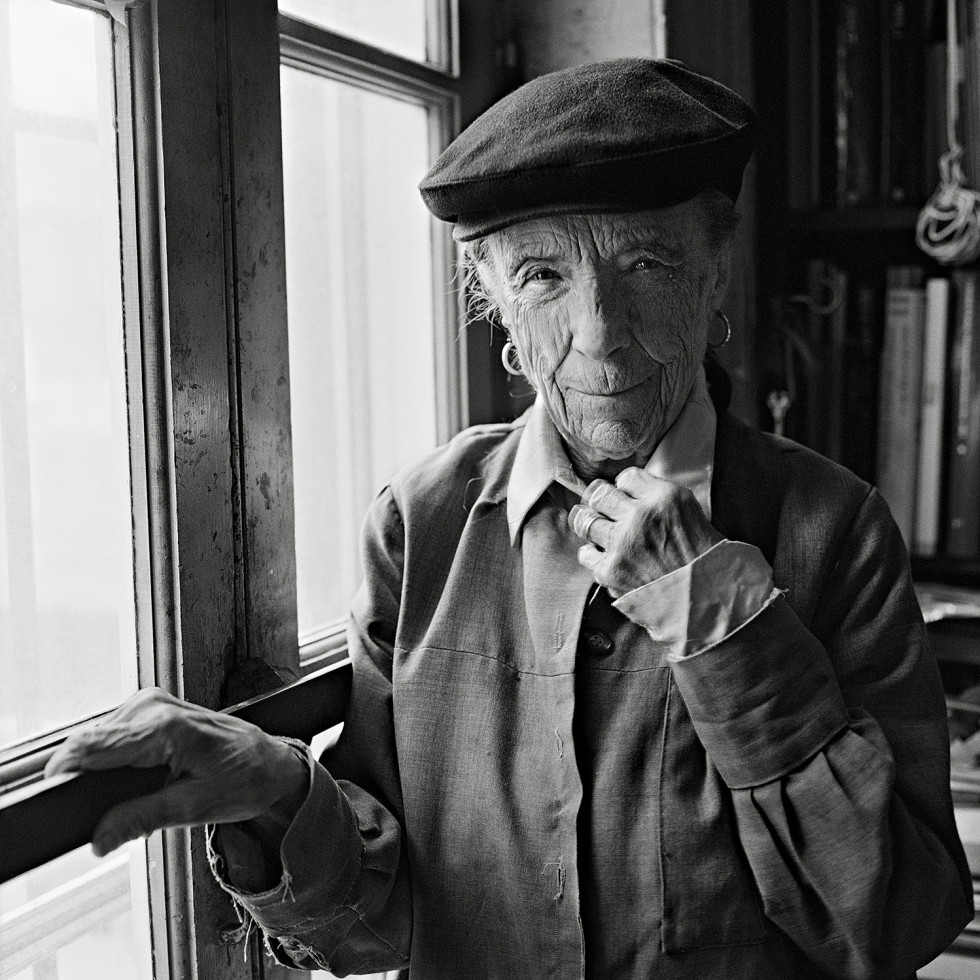 Biography Louise Bourgeois
Louise Bourgeois was born in France, where she studied art for a number of artists, including Othon Friesz, André Lhote and Fernand Léger. She moved to New York in 1938, where she began her career as an artist.
From the mid-1940s she started creating semi-abstract sculptures that also bore the imprint of late Surrealism. This movement was still active in New York after the war, which had driven so many artists there from Paris, including Max Ernst, Yves Tanguy, Joan Miró, and Marcel Duchamp, all of whom Bourgeois knew personally. At the same time, Bourgeois was a member of the emerging New York school of abstract expressionism.
Louise Bourgeois's international recognition came with her retrospective at the Museum of Modern Art in New York in 1982, by which time Bourgeois was seventy-one years old. Commenting on this, she said:
(…) nothing protects you like anonymity. This, by the way, has been the story of my career. For many years, fortunately, my works were not sold for profit or for any other reason. And I was very productive because nobody tried to copy my alphabet. (…) My image remained my own, and I am very grateful for that. I worked in peace for forty years.
Biography
1911 Louise Bourgeois is born on 25 December in Paris, the second of three children. The family firm restores and sells mediaeval and renaissance tapestries and antiquities.
1922 Sadie Gordon Richmond is hired as an English tutor for the children. She becomes the father's mistress and lives with the family for nearly a decade.
1930s Bourgeois travels abroad, including to Scandinavia and the Soviet Union.
1932 Bourgeois's mother dies. After graduating from school, Bourgeois begins studying spatial geometry and differential calculus at the Sorbonne.
1933 Suffers from depression. Gives up mathematics and begins studying art. Over the next few years she studies under various artists in Montparnasse and Montmartre.
1937–38 Studies art at École des Beaux-Arts and art history at École du Louvre. She also works as a guide at the Louvre.
1938 Marries the American art historian Robert Goldwater, moving to New York shortly after. Focuses initially on painting and drawings.
1940–41 Adopted son, Michel, arrives from France in 1940. A few months later, Bourgeois gives birth to Jean-Louis, followed by Alain the year after. They move to an apartment in the Stuyvesant Building. Makes wood sculptures on the roof.
1942–50 Participates in group and solo exhibitions in New York. Takes up sculpture in the mid 1940s.
1940s and 1950s Meets many prominent people on the art scene. Suffers from insomnia and discovers the therapeutic effects of drawing.
1951 Her father dies. Bourgeois suffers from depression and starts psychoanalysis in autumn 1951, continuing until 1985.
1960s Experiments with organic shapes and less static materials such as plastic, latex and rubber. Teaches art at several schools. Moves to West 20th Street, where she lives until her death.
1964 First solo exhibition in eleven years. Presents several new works in plaster and latex.
1970s Takes part in feminist debates. Continues to teach art. Shows her works in numerous exhibitions.
1973 Husband Robert Goldwater dies.
1980s Receives a number of prestigious prizes and awards for her work and becomes a member of several academies. Finds a studio in Brooklyn where she can produce works with much larger dimensions. Jerry Gorovoy becomes her assistant and works with her until her death.
1982 Louise Bourgeois: Retrospective opens at the Museum of Modern Art in New York. This is the Museum's first retrospective of a woman artist.
1990 Her son Michel dies.
1990s Is recognised with further awards for her art. Embarks on her monumental spiders and spatial cells. Major exhibitions in the USA and Europe , for example the Venice Biennale in 1993.
2000s Participates in several exhibitions internationally and receives numerous prestigious commissions, including the inaugural installation in the turbine hall at the new Tate Modern in London.
2010 Louise Bourgeois dies on 31 May.