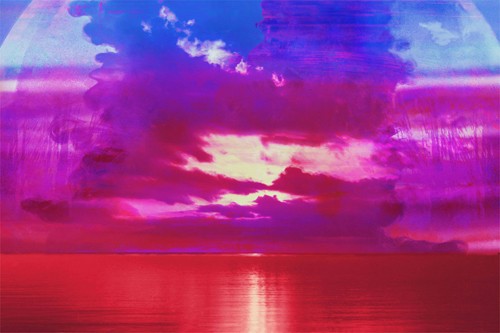 The 1st at Moderna: Maya Eizin Öijer
Once The Tree Was In Bloom
1.9 2007 – 14.10 2007
Stockholm
On 1 September, Maya Eizin Öijer will open the exhibition of a new work, a triptych named "Once The Tree Was In Bloom", after a poem by Bruno K. Öijer (from The Lost Word, 1995). The poem is presented in the pictorial suite as a separate section, flanked by two monumental sunsets.
"In Maya Eizin Öijer's sunsets, the sky is painted with blood. A hackneyed subject. But Maya Eizin Öijer is in earnest. With her direct approach, heart to heart, without being sullied by other sunsets, she formulates a fear that the world may come to an end, just as it may be resurrected tomorrow." John Peter Nilsson.
Maya Eizin Öijer
Maya Eizin Öijer is born in 1946 in Stockholm. She lives and works in Stockholm. Ever since her debut in 1967 at Nationalmuseum, Maya Eizin Öijer has been a key figure and multifaceted influence in Swedish contemporary art. She studied at the Royal University College of fine Arts in Stockholm and at the Tokyo University of Art, and has had frequent exhibitions in Sweden and abroad, most recently at the Armory Show in New York in 2007. A retrospective of her works toured Swedish galleries and museums in 2004/2005, among them Bildmuseet in Umeå and Uppsala konstmuseum. Maya Eizin Öijer is represented in many collections, including that of Moderna Museet.
Education
1979–81
Tokyo University of Art, Tokyo
1967–72
The Royal University College of Fine Arts, Stockholm
Solo Exhibitions
2006
Fiction, Andréhn-Schiptjenko, Stockholm
2005
Maya Eizin Öijer 1980-2005, Uppsala Art Museum, Uppsala
Örebro konsthall, Örebro
Passagen Linköpings konsthall, Linköping
Bohusläns museum Konsthallen
Bildmuseet Umeå
Group Exhibitions
2007
Set Darkness On Fire, Göteborgs Konsthall, Gothenburg
Linné, The Ljungberg Museum, Ljungby
The Armory Show/Andréhn-Schiptjenko, New York
Bruno K. Öijer
Bruno K. Öijer (born 1951) is a veritable legend in Swedish contemporary poetry. Since 1973 he has published some 15 volumes of poetry and the novel Chivas Regal. Medan giftet verkar (While the Poison Works) and Det förlorade ordet (The Lost Word), the first two volumes of a triptych that ended with Dimman av allt (The Mist of it All) won great acclaim among both critics and readers. Bruno K. Öijer has won several awards, including the Bellman Prize and the Swedish Radio Poetry Prize.
Commenting on his poem "Once The Tree Was In Bloom", he writes:
"All ruthless exploitation and the rape of the earth is a direct reflection of the continuous devastation of the human inner ground. The destructive lack of meaning and the deforested areas of the soul that you can't see or touch are the most frightening. As frightening as living in a society where compassion has been replaced by schadenfreude and where the important voices and thoughts are suffocated by impoverishment and dumbing-down, and by a game of degradation perpetrated by the media. My poetry has no master. At the same time, it is a monologue over our times. The fact that human beings transcend their situation and that our future depends on our ability to mourn that which has been lost. Life and social progress can rob you of everything but no one can deprive you of your memories, no one can rob you of your grief."
Once The Tree…
colors and thread
unraveled from the weave
I heard steps
moving away from me
I stood alone
among everything ravaged and bare
once
the tree was in bloom
once the branches glimmered
I prayed
to the seed inside me
I prayed the tree would bloom again
I saw the future
a face that had run dry
a doomed river everyone drank from
I saw man stare
I saw him
caressing his inner executioner
I saw that we had lost this planet
once
the tree was in bloom
once the presence of
a hungry winternight was strong enough
for you to
put out bits of bread
along your windowsill
once you were alive
and had a name
once you nursed the seed within you
the seed of a tree
and moonleaves fell
starleaves drifted down inside your body
Bruno K. Öijer
from THE LOST WORD (1995)
translated by the author
The 1st at Moderna is an exhibition programme for contemporary art. The opening is always on the first day of the month, and the exhibitions are in different venues in or outside the museum.