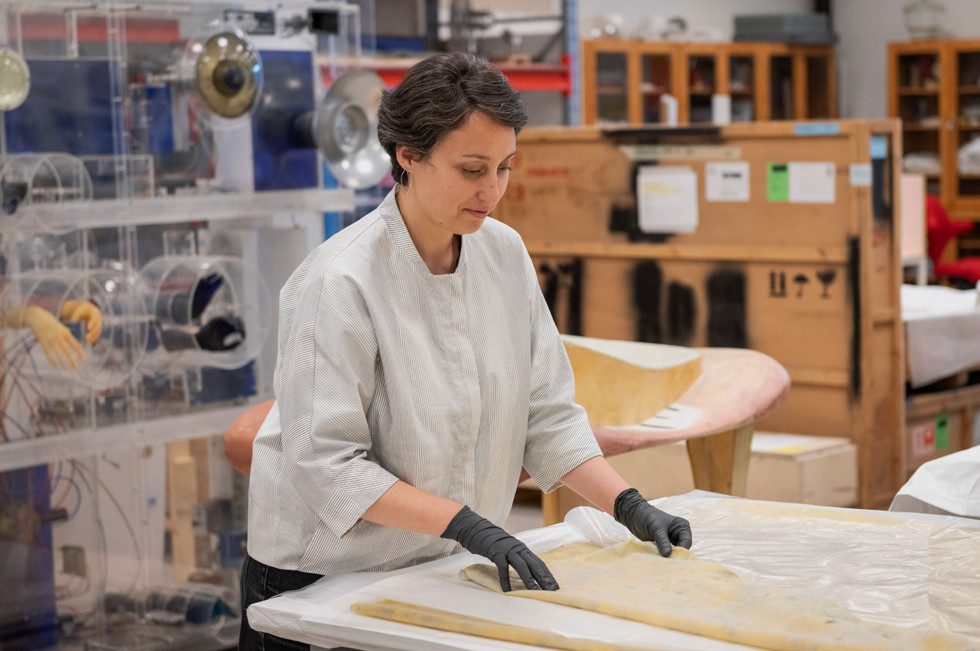 10.7 2023
MOXY: From Space to Art
What does NASA have to do with Moderna Museet? Until 2026, the project MOXY, aiming at developing a new radical method for preserving cultural heritage that promotes green conservation, is ongoing. Now, sensitive works of art can finally be cleaned – with the help of space science.
The Moderna Museet collection includes artworks made of all kinds of materials, where some surfaces are more sensitive than others. The wool on the famous goat in "Monogram" and the copper frame around Duchamp's "L.H.O.O.Q." are examples of materials that, for various reasons, can be a challenge for our conservators to maintain. Currently, there are even works in the collection that are so delicate that they cannot be cleaned – or touched at all.
In an effort to solve this problem, Moderna Museet is participating in the EU-funded research project MOXY (Green Atmospheric Plasma Generated Monoatomic Oxygen Technology for Restoration of the Works of Art).
– The aim of the project is to find a solution to clean sensitive materials, but above all to give the cultural heritage sector the means and tools to move towards a sustainable practice, says Michaela Florescu, conservator and project manager, and continues:
– With input from space science and plasma technology, the MOXY project aims at developing the use of atomic oxygen as a new contactless cleaning method, making it possible to remove substances such as dust, fingerprints, mold or waxes from sensitive cultural heritage objects without physically touching them.
How it Works
During a visit to the Andy Warhol Museum in Pittsburgh in 1997, a visitor kissed the artist's 1961 work "Bathtub". The kiss left a red lipstick impression on the white canvas. After ruling out all known methods of removing the kiss, museum conservators reached out to NASA. Two NASA-based scientists, Sharon Rutledge Miller and Bruce Banks, had found a contact-free method for removing various types of surface contaminants – using atomic oxygen.
Atomic oxygen occurs naturally at altitudes of between 85 and 125 kilometres in our atmosphere, and has long been researched by space agencies such as NASA and ESA because it damages objects, such as satellites when sent into space. When atomic oxygen comes into contact with different materials, a strong chemical reaction takes place, causing the material to disintegrate. Efforts to mitigate the effects of atomic oxygen have been going on for decades – but the MOXY project is now using the harmful space substance for the benefit of art.
Using a pen-like machine, researchers and conservators can focus the atomic oxygen on chosen areas of a surface, in order to remove unwelcome substances that have stuck to cultural heritage objects, such as artworks. The chemical process is natural and, unlike current methods, creates neither waste nor danger for nature and conservators.
NASA scientists Miller and Banks are scientific advisors to the international team developing the method.
MOXY and the Future
The hope with MOXY is to revolutionise the choice of substances and treatment methods used by the cultural heritage industry, and ultimately to switch to environmentally friendly conservation.
– We know it works in theory, now we just need to test the method on different materials, says Michaela Florescu.
Read more about the project: MOXY
Coordinated by Ghent University, the project brings together experts in plasma physics, green chemistry, cultural heritage research and conservation from 10 European research organisations, museums, SMEs and other organisations in six EU countries working together for a greener future.
MOXY is one of three research projects funded by the European Commission with a Horizon Europe grant under the call for proposals Green Technologies and Materials for Cultural Heritage: HORIZON-CL2-2021-HERITAGE-01-01 (grant agreement ID: 101061336).
The project is rooted in Moderna Museet's manifest, which emphasises the importance of collaborating with other institutions, experimenting and working with new perspectives for a sustainable future.

Published 10 July 2023 · Updated 10 July 2023