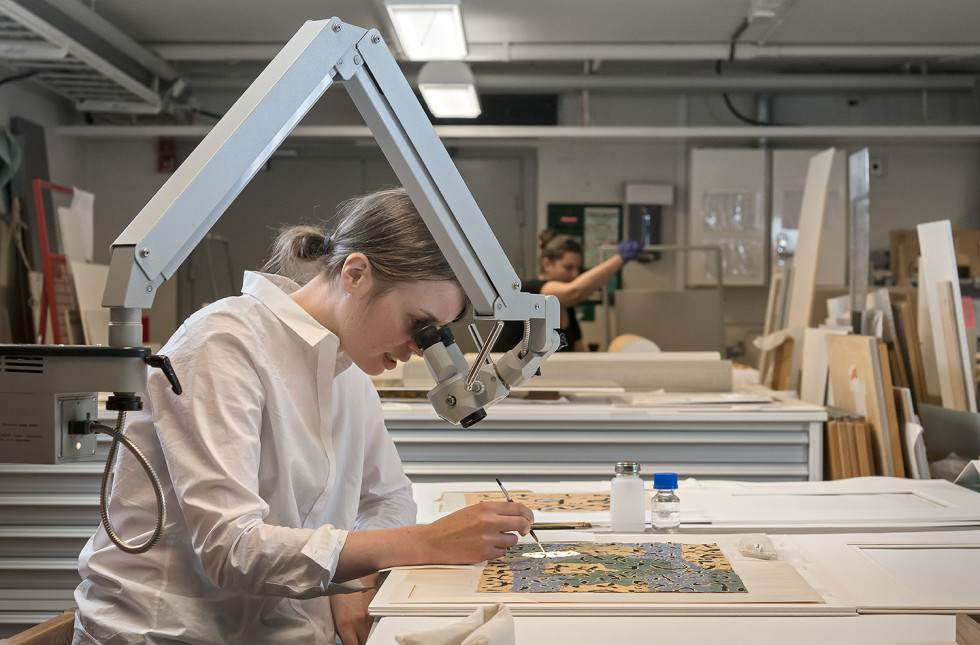 20.1 2016
The conservation and re-framing of Paul Klees works of art on paper from the Moderna Museet collection
In preparing for the Klee/Aguéli exhibition, 2016, the works of art on paper of Paul Klee were examined by the museum's conservators. In 2014 two works by Klee were donated by Peggy Bonnier which joined the earlier donation of seven works from Carl Gemzell's collection. The works have been conserved, and received new mounts and frames that respect Klee's original presentation.
Material and Technique
Characteristic for Klee's artworks on paper is that he often used a wide variety of support material such as newspaper or the back of graphic prints, and as a general rule they are always adhered to a secondary support of thin cardboard. Thanks to Klee's own cataloguing of his work, and information from his son Felix, it is known that Klee mounted his works on paper himself and made his own paste (Quabeck). Sometimes he worked outside, which can partly contribute to the papers' lively and undulating appearance.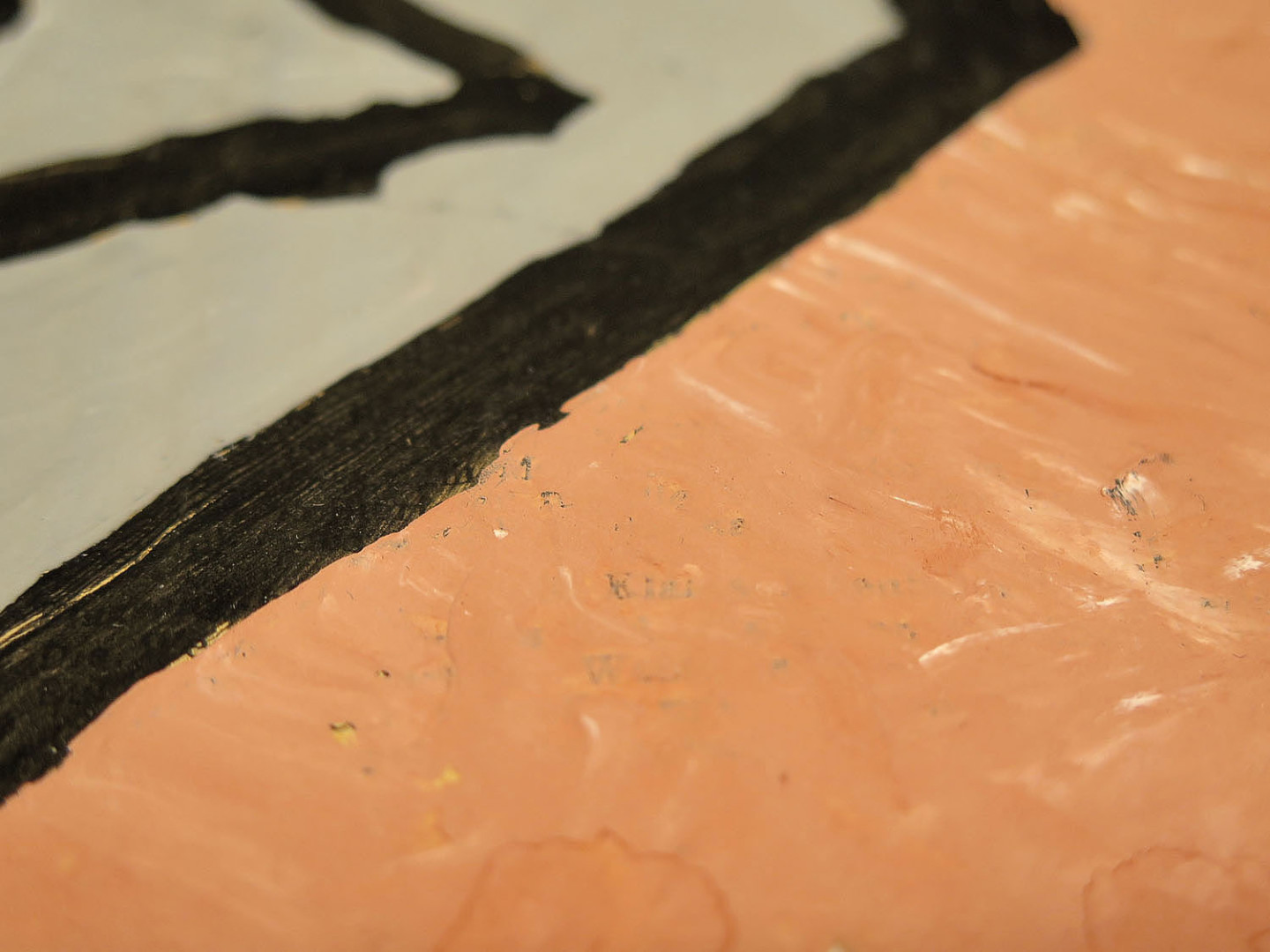 Secondary Supports
Klee used a thin cardboard of wood fibres faced with paper for his secondary supports. Each outer measurement was individually considered and they were often decorated with hand-painted lines. Klee then could add the date, catalogue number and sometimes title under the painting according to his own system. After 1925 his numbering became increasingly cryptic eventually replaced with a code involving letters and numbers, which partly disguised the extent of Klee's prolific yearly output. These secondary supports simplified the handover of Klee's artworks and made them easy to present. Historically this presentation practice has been ignored when the works have been remounted according to later ideals in framing. In many cases they have received decorative gilded frames and the card support has been folded or cut down during framing to fit into smaller frames or to fit the traditional presentation of paintings. These earlier alterations have sidelined and ignored Klee's own intentions and attention to detail which are important aspects in presenting his works of art on paper (Kaiser Schulte et al).
The conservation of Klee's works at Moderna Museet
After careful documentation the frames were opened by the museum conservators It became apparent that a number of the supports had been folded or cut-down, and that the majority were discoloured with visible damage from previous mounting materials. Acidic mountboards leads to accelerated degradation of organic material such as paper. The conservation of the works included consolidation of friable media and the removal of tape and old glue from earlier mountings.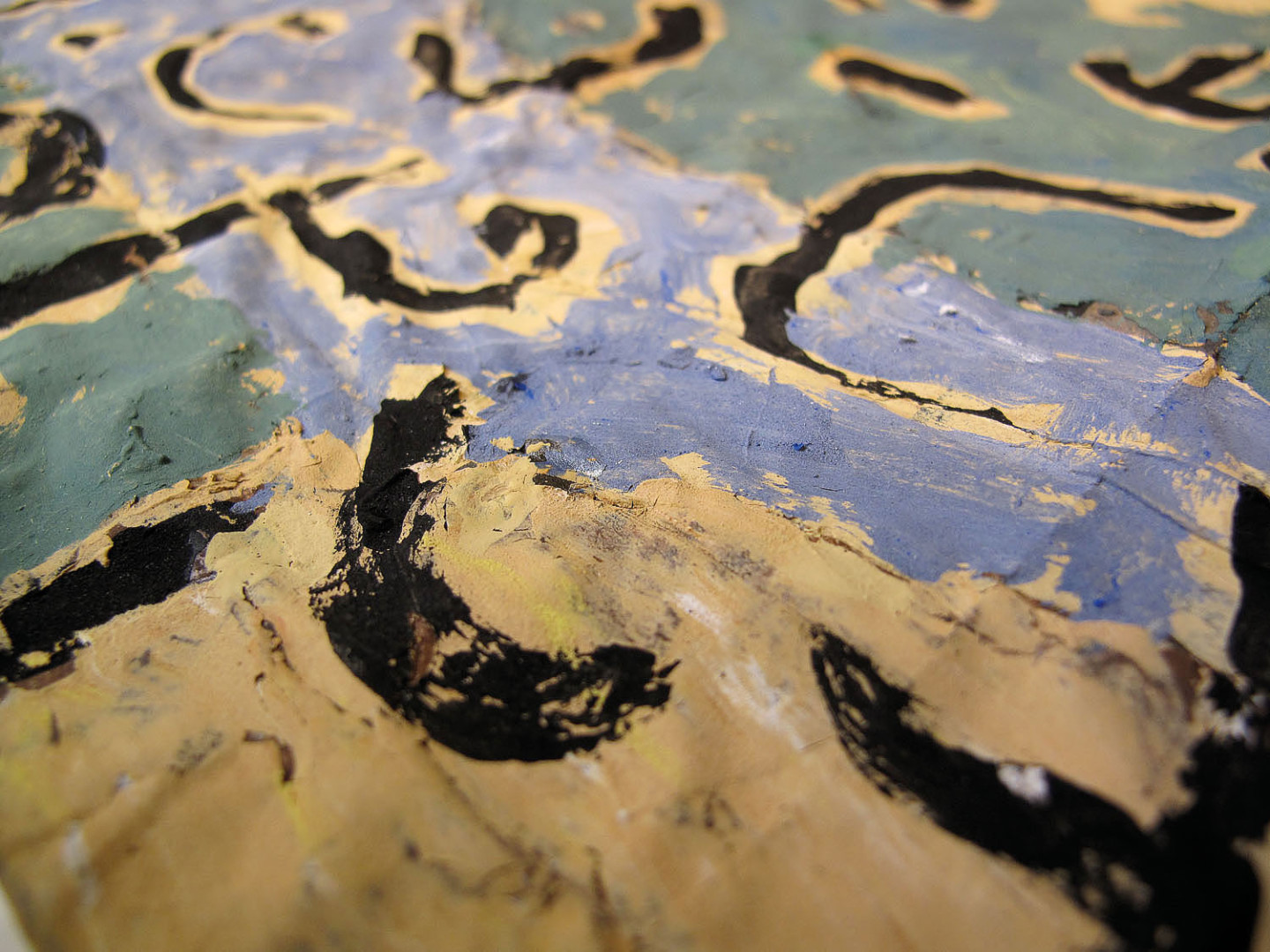 Consolidation: The paint layer on "Hochwasser – Wald" (1938) was examined under the microscope and was seen to have been previously consolidated in places at some point earlier. Further consolidation was required to prevent lifting and the risk of paint loss in isolated areas.
Tear repair: "Will weg, muss weinen" (1938) had been edge mounted with an acidic and damaging tape. This was humidified with a poultice and removed. The brittle newspaper support to the painting also had a tear previously repaired with tape. This was carefully removed using a heat spatula and tweezers. The tear was repaired more sensitively with Japanese paper, which is often used in paper conservation due to its high quality. An alternative variant of the title to this work of "Ich geh, muss heulen" was also found during conservation written on the secondary support and previously hidden by the frame.
Tape and glue removal: Damaging tape and discoloured cracked glue was removed from the secondary support of "Mann des winters" (1924) through softening with a poultice and cotton wool swabbing.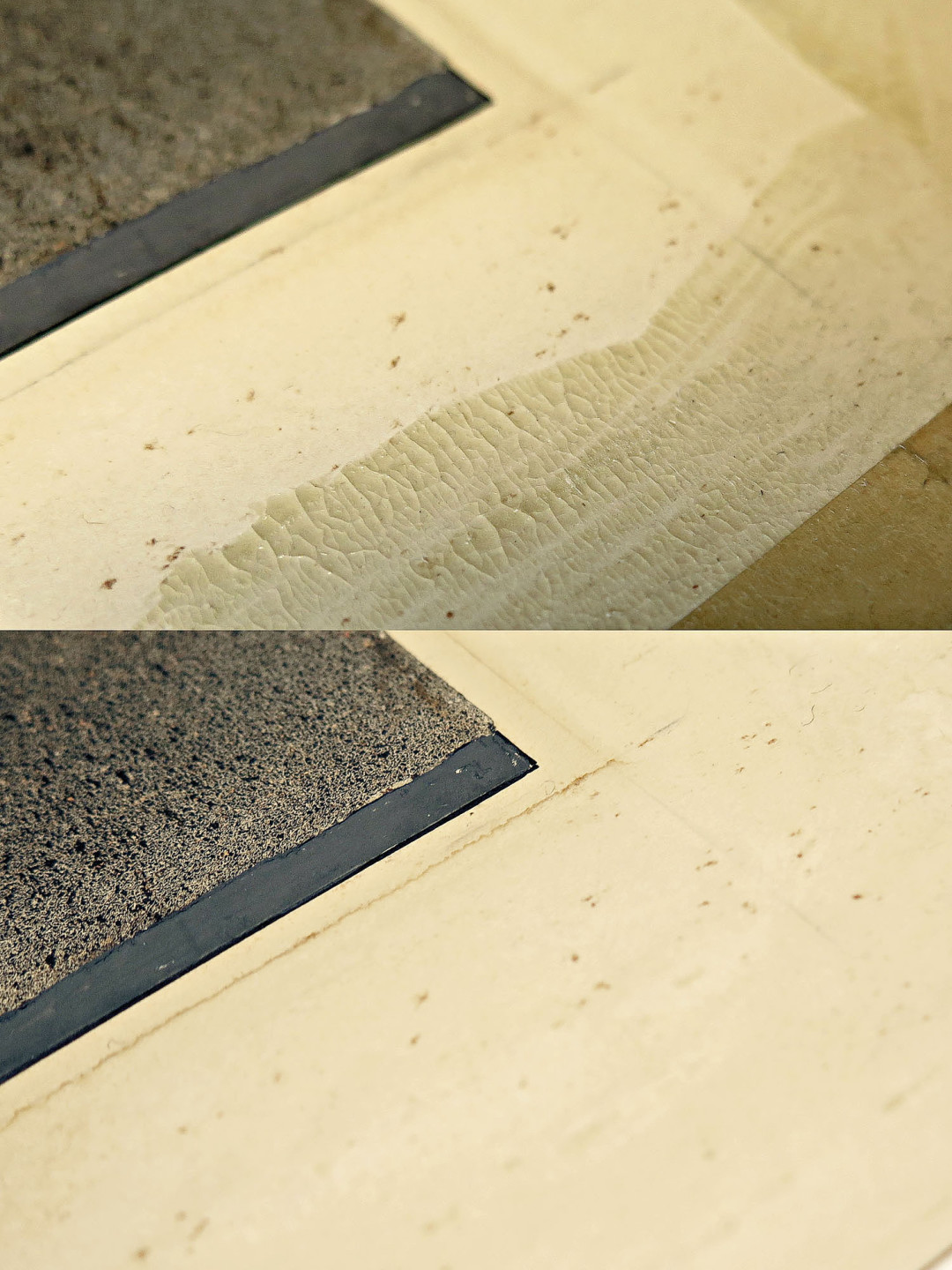 New frames for Klee
The Zentrum Paul Klee in Bern researches the mounting and framing of Klee's works By studying archival photographs and the original frames remaining on some of his paintings it has been possible to map the preferred method of framing during Klee's lifetime. This has led to the use of very simple wood frames that reflect the aesthetic ideals Klee developed when he was a teacher at the Bauhaus school (Quabeck). Moderna Museet has chosen a frame of waxed walnut and an acid-free mounting materials that allows space for the works which often have a three-dimensionality and undulation and allows their safe handling, exhibition and preservation. The original proportions of the supports have been used for the dimensions of the new frames. Passepartouts provide space to the glazing and partly cover the discolouration and damages on the secondary supports. A framing choice can influence how we see and experience art and here with the new frames we can approach them from Klee's own aesthetic. In combination with conservation of the artworks much information has been revealed by the secondary supports and earlier frames which has been documented for future research.
Tora Hederus och Alison Norton
Paper Conservation
Literature
Kaiser Schulte, E, Holben Ellis, M and King, A. An Approach to the Conservation Treatment of Paul Klee Drawings. The Book and Paper Group Annual 5 (1986)
Quabeck, N. Change the Frame and You Change the Game? Research and Reevaluation of the Presentation Formats of the Kunstsammlung Nordrhein-Westfalen's Paul Klee Collection.The Book and Paper Group Annual 31 (2012) 69
More on Conservation
Read more on conservation at Moderna Museet: Conservation
Published 20 January 2016 · Updated 24 June 2019