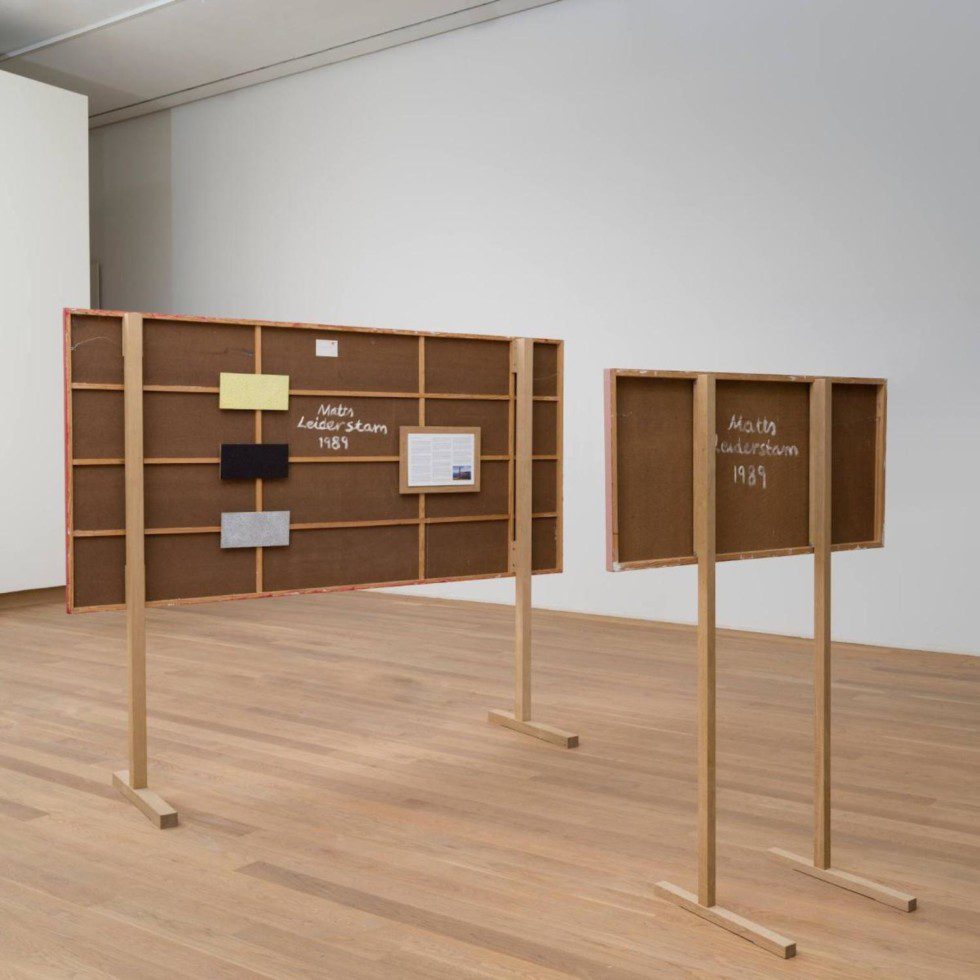 Artist Talk: Matts Leiderstam
A talk with the curator Asrin Haidari
18.4 2023
Stockholm
Meet the artist Matts Leiderstam in a talk with the curator Asrin Haidari, about the 1980s AIDS epidemic and how it is reflected in art. One of Leiderstam's works is featured in the exhibition "Sleepless Nights – From the 1980s in the Moderna Museet collection".
Artist Talk: Matts Leiderstam
Date
Tuesday 18 April 2023
Time
At 17.30 – 18.30
Location
In the exhibition "Sleepless Nights – From the 1980s in the Moderna Museet collection". Floor 4
Language
Swedish
Tickets
Included in the admission fee. Please pick up your ticket at the information desk. Limited number of seats. 
Contact
The Artist Talk was originally scheduled to take place on April 11, 2023.
In 1989, Matts Leiderstam made four monochrome paintings with motifs from American gay porn movies, including "Leo&Lance" from 1983. The colours represent blood, yellow bile, black bile and phlegm, the cardinal fluids of the humoral theory in ancient Greek medicine.
25 years later, Leiderstam bought one of his own paintings from the series at an auction. He then renovated it and recreated the context in which they were painted, including both his own private history, the provenance of the works and facts about the lives of the two actors, Leo and Lance. Leiderstam also acquired a smaller painting made the same year, and together they form an installation titled "Reconstruction" (1989/2016).
The exhibition "Sleepless Nights – From the 1980s in the Moderna Museet Collection" demonstrates how art reflected important events that were seminal to the period. Towards the end of the decade, we were on the threshold of the internet era, the Berlin wall had fallen, and the over-heated financial market was building up to its collapse in the 1990s. In the arts, the aids crisis was also tangible, and many artists and cultural workers were deeply disturbed by the disease and the ensuing homophobia, including the artists David Wojnarowicz and Robert Mapplethorpe, both active in the USA, who are represented in this exhibition.
Matts Leiderstam is an artist born in Gothenburg 1956, now living in Stockholm. He studied at the Valand Art Academy in Gothenburg in 1984–1989, followed the doctoral programme at the Malmö Art Academy in 2002–2006 and is Professor at the Malmö Art Academy since 2011.
A selection of solo exhibitions include Konstakademien, Stockholm (2022), Andréhn-Schiptjenko, Paris (2021) and Stockholm (2018), Kunsthalle Düsseldorf (2010), Salon MoCAB – Museum of Contemporary Art, Belgrad (2008), Kunstmuseum Liechtenstein, Vaduz (2006), Göteborgs Konsthall (2005), Magasin III, Stockholm (2005).
Among a variety of group exhibitions include Swedish Acquisitions: Insights, Moderna Museet (2022), (In-Visible), Malmö Konstmuseum (2021), Generation, Borås konstmuseum (2020), The 11th Shanghai Biennale, Shanghai, 8th Berlin Biennale, Berlin (2014), The Moderna Exhibition 2010, Moderna Museet, Stockholm (2010).
Asrin Haidari is curator responsible for contemporary Swedish and Nordic art at Moderna Museet.