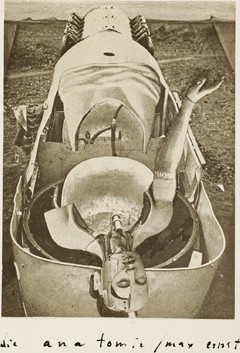 Max Ernst in Germany: Artistic Beginnings and Dada in Cologne
Max Ernst's early works blend cubist-futurist and expressionist elements. From the very beginning he combined different styles and imageries. After the atrocities of the First World War, his work took a new direction. Giorgio de Chirico's metaphysical paintings were a vital source of inspiration. This is evident in works such as Aquis submersus (Submerged by the Waters) from 1919, a representation of how artistic inspiration dives down into unknown worlds.
Max Ernst subsequently abandoned painting to develop the collage technique. Illustrations, often from teaching aid catalogues, were torn from their context and served as material for collages that evoke the feeling of futility in the wake of the War.
For Max Ernst, collage technique is "the systematic exploitation of the accidentally or artificially provoked encounter of two or more foreign realities on a seemingly incongruous level – and the spark of poetry that leaps across the gap as these two realities are brought together".
In 1919, the Dada group was also formed in Cologne, by Max Ernst, Johannes Theodor Baargeld and Hans Arp. The word "Dada" had been coined in 1916 in a publication from Cabaret Voltaire in Zurich. Dada was an anti-movement with offshoots in Europe and New York, which challenged norms and utility. The Dada artists wanted to abolish the personal signature, to exploit chance and to integrate mechanics and commodities. The spiritual standpoint of Dada was to regenerate art, life and thinking. They stressed internationalism as a reaction against the nationalist tendencies of the war.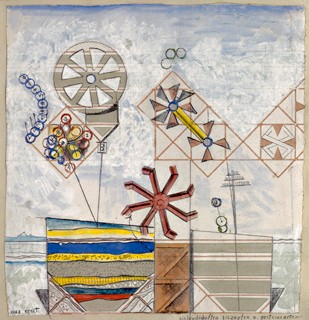 Max Ernst returned to painting in 1921. In Celebes and Oedipus Rex (Oedipus the King) from 1922, he transferred the collage technique to painting. In this way, he could make enlarged versions of the pasted-in pictures and colour them. Painting also obscured the illustrations that had served as his source of inspiration.
In May 1921, on the invitation of André Breton, Max Ernst showed a medley of his indirect techniques from the Dada period from Cologne at the Au Sans Pareil bookshop in Paris: cliché prints, frottages, over-paintings and collages.
1891–1922
1891
Max Ernst is born on April 2 in Brühl, near Cologne, as the son of the deaf-mute teacher and amateur painter Philipp Ernst and his wife Luise, née Kopp.
1897–1910
Schooling in Brühl.
1910–14
Studies classical philosophy, psychology, psychiatry, and art history at Bonn University.
1911
Meets August Macke and joins the Junges Rheinland circle.
1912
Max Ernst writes art and theatre reviews for the Volksmund in Bonn and decides to become a painter.
1913
Max Ernst exhibits with the Rhenish Expressionists. Five-week stay in Paris. Meets Guillaume Apollinaire and Robert Delaunay at August Macke's home.
1914
Start of the friendship with Hans Arp.
1914–48
Max Ernst is called up as an artillerist shortly after the outbreak of World War I.
1916
Meets George Grosz and Wieland Herzfelde on the occasion of an exhibition at the gallery Der Sturm during a brief vacation in Berlin.
1917
The journal Der Sturm publishes Max Ernst's essay "Vom Werden der Farbe."
1918
Returns to Cologne. Marries the art historian Luise Straus.
1919
Visits Paul Klee in Munich and sees reproductions of Giorgio de Chirico's works in the art magazine Valori plastici. The portfolio of lithographs Fiat modes pereat ars is published. Founds the Cologne Dada group together with Hans Arp and Johannes Theodor Baargeld. First Dada exhibition in Cologne. Produces his first collages.
1920
Birth of his son, Hans-Ulrich, known as Jimmy. Max Ernst and Johannes Theodor jointly publish die schammade. Second and final Dada exhibition in Cologne.
1921
Exhibition of collages in Paris upon the invitation of André Breton. Max Ernst vacations with Hans Arp, Sophie Taeuber, Tristan Tzara, and André Breton in Tarrenz (Tyrol). Meets Paul and Gala Éluard in Cologne. Der Elefant von Celebes.