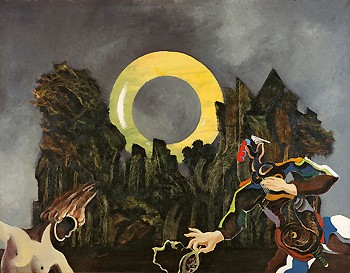 Film
A documentary on Max Ernst by Peter Schamoni from 1991 (in English), music by Igor Stravinsky. 20 and 21 September at 11 am, 1 pm and 3 pm. In the Cinema.
Lectures
Highlighting the Second Museum of Our Wishes – Dorothea Tanning
Tuesday 4 November 2008 at 6-8 pm
In the Auditorium
Admission free
A lecture and discussion presenting Dorothea Tanning's oeuvre and the project to create The Second Museum of our Wishes. The series will continue with one evening every spring and autumn until 2010, presenting some of the artists whose works have been acquired for the collection thanks to The Second Museum of our Wishes.
The director of Moderna Museet, Lars Nittve, and Cecilia Sjöholm, head of the Aesthetics programme at Södertörn University College, will be participating.
Moderators: John Peter Nilsson/Jonatan Habib Engqvist.
In collaboration with the Friends of Moderna Museet.
October/November
Lecture with Werner Spies
Werner Spies is an expert on Max Ernst and co-curator of the exhibition. Time and place to be annoounced later on.
YouTube
Documentation, talks and films