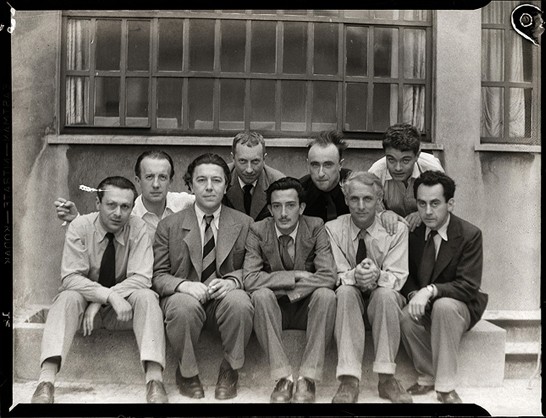 Max Ernst in France: In the Surrealist Circle
In 1922, Max Ernst moved to Paris and lived with Paul Éluard and his wife Gala, who later married Salvador Dalí. His friends included André Breton and Breton's literary circle, who were inspired by his proto-surrealist paintings, such as Piéta ou revolution la nuit (Pietà or Revolution by Night), Sainte Cécile (Le piano invisible) [Saint Cecilia (The invisible piano)], Ubu Imperator (Emperor Ubu) from 1923 and Weib, Greis und Blume (Woman, Old Man, and Flower) from 1924.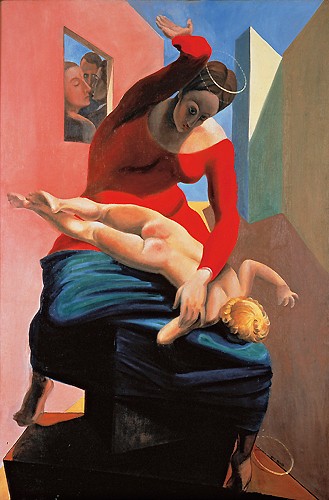 In October 1924, André Breton published his "First Surrealist Manifesto". Dream notation and texts generated by "écriture automatique" (automatic writing) or under hypnosis gave access to the unconscious, which could be used as a source of inspiration for a liberated perception.
The translation of the poets' automatic writing into visual art triggered a new experimental phase in Max Ernst's artistic career. He developed new techniques, including frottage. This method involves placing a sheet of paper on a richly textured surface and rubbing over the paper with a pencil. These textures evoked visions that Max Ernst interpreted and developed. In 1926, a graphic portfolio, Histoire naturelle (Natural History), was published with a selection of his frottages.
Max Ernst also experimented with combining frottage and oil painting. He called this grattage. The method involved scraping off layers of paint on canvases placed on various textured surfaces. In this way, he created a series of fishbone forests, mussel flowers [e.g. Fleurs de neige (Snow Flowers) from 1929] and bird monuments.
During his prolific years in France, he created the collage novel La femme 100 têtes (The Hundred-Headed Woman) in 1929 as well as petrified cities and landscapes, with a dense, virgin forest vegetation that engulfs the scenery.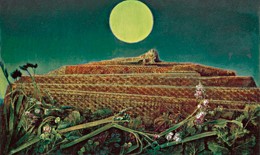 In 1937, Max Ernst's art was branded as "entartet", degenerate, in Nazi Germany. The same year, he painted L'ange du foyer (Fireside Angel), as a reaction to the Fascist takeover in Spain. When the Second World War began in 1939, he was interned in southern France several times, but he managed to emigrate to the USA in 1941.
1922–1941
1922
Renewed vacation in Tarrenz with the Éluards, Tristan Tzara, Hans Arp, and Sophie Taeuber-Arp. Settles in Paris and separates from Luise Straus-Ernst and son Jimmy. Publication of Répétitions (poems by Paul Éluard, collages by Max Ernst) and Les malheurs des immortels (poems by Paul Éluard and Max Ernst, collages by Max Ernst). Oedipus Rex.
1923
Max Ernst moves with the Éluards to Eaubonne. Paints the house with a cycle of murals. Exhibits Der Elefant von Celebes, Oedipus Rex, and Au rendez-vous des amis at the Parisian Salon des Indépendants. Es lebe die Liebe oder Pays charmant, Castor und Pollution, Pietà ou la révolution la nuit, Sainte Cécile (Le piano invisible), Ubu Imperator.
1924
La belle jardinière is exhibited at the Salon des Indépendants. Travels to Indochina with the Éluards. André Breton publishes the "First Manifesto of Surrealism." Weib, Greis und Blume.
1925
Contract with Jacques Viot, who already has Joan Miró under contract and later also approaches Hans Arp on Max Ernst's advice. Meets Roland Penrose. First frottages. L'idole. Paris-rêve.
1926
Publication of a series of frottages in the portfolio of lithographs Histoire naturelle. Divorce from Luise Straus. Designs scenery and costumes for Sergei Diaghilev's Ballets Russes with Joan Miró. La vierge corrigeant l'enfant Jésus devant trois témoins: André Breton, Paul Éluard et le peintre, Aux 100 000 colombes.
1927
Marries Marie-Berthe Aurenche and rents a house in Meudon. Meets Yves Tanguy. Johannes Theodor Baargeld dies in an avalanche while climbing in the French Alps. Max Ernst starts the hordes series that he continues with the series of forests, water cabbage, and bird monuments.
1929
Publishes the collage novel La femme 100 têtes.
1930
Collaboration with Luis Buñuel and Salvador Dalí on the film L'âge d'or. First issue of Le surréalisme au service de la révolution. Meets Alberto Giacometti. Start of the Loplop series.
1932
First exhibition in the United States at the Julien Levy Gallery, New York.
1933
Brief sojourn in Northern Italy in early summer. Deux figures sans sexe.
1934
Was ist Surrealismus exhibition in Zurich. Max Ernst writes the introduction to the catalogue. Meets James Joyce in Zurich. Publication of the collage novel Une semaine de bonté. First sculptures.
1935
Summer in Maloja with Alberto Giacometti.
1936
Separation from Marie Berthe-Aurenche. Forty-eight of his works are shown in the Fantastic Art, Dada, Surrealism exhibition at the Museum of Modern Art in New York. La ville entière, La joie de vivre, La nymphe Echo.
1937
Meets Leonora Carrington during a visit to London. Publication of the essay "Au delà de la peinture" in Cahiers d'art which devotes a special issue to Max Ernst. Decorations for Alfred Jarry's play Ubu enchaîné. Spends the fall with Leonora Carrington in Saint-Martin-d'Ardèche. Paints L'ange du foyer. His works are confiscated in Germany. La belle jardinière is shown at the Munich Entartete Kunst exhibition.
1938
Max Ernst leaves Paris and the Surrealist group and moves to Saint-Martin-d'Ardèche in the South of France with Leonora Carrington. He decorates the interior of their house with bas-reliefs and murals, the outer walls with cement sculptures.
1939
Paints Un peu de calme. Is persecuted shortly thereafter as an enemy alien by the French authorities and later also by the Gestapo. Internment. Released upon the intercession of Paul Éluard.
1940
Renewed internment. First decalcomanias.