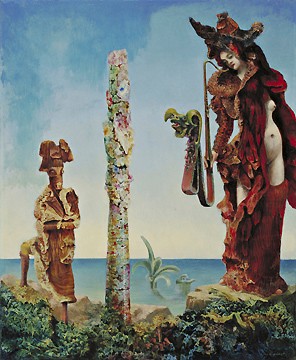 Max Ernst in America: The Years in Exile
In New York, Max Ernst embarked on experiments with the oscillation technique, which involves splashing paint through a hole in the bottom of a can suspended by strings above a horizontal canvas [see L'anné 1939 (The Year 1939) from 1943], a method that inspired Jackson Pollock's drip paintings.
Max Ernst also pursued his décalcomanie method, which he had started working on in 1940. A glass sheet or paper is used to flatten the still-wet paint on the canvas. When the glass or paper is removed, it creates a varied surface structure of random blisters, trickles and branches. These inspired the artist's imagination and were elaborated on with brushes to form dreamlike landscapes, occasionally inhabited by horrifying imaginary characters. One typical example is the painting The Temptation of Saint Anthony from 1945, where tormentors attack Anthony from all sides; they have dug themselves into his groin as though they were his own offspring.
In 1943, he executed Painting for Young People, comprising themes and techniques from his earlier output. In the summer of 1944, he began work on several sculptures out on Long Island, including Jeune homme au coeur battant (Young Man with Beating Heart) and The King Playing with the Queen. Dream and Revolution from 1945-46 is a painting in which Max Ernst, one last time, reflects on his role as a surrealist painter.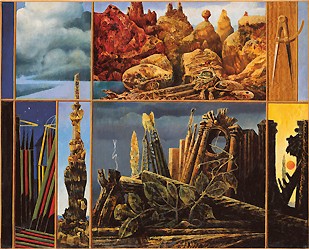 Together with the artist Dorothea Tanning, whom he later married, Max Ernst moved to Sedona, Arizona, in 1946. This is where he created the large figure group Capricorne in 1948. This work has a magical, invocative character, with references to the Zuni and Hopi Indian culture that fascinated the artist. Ever since he came to the USA, Max Ernst had studied Native American art and culture. In Capricorne Max Ernst uses found materials. The male figure's horns are a covered car bumper, his sceptre is crowned by a mask made of an egg carton and consists of stacked milk bottles.
1941–1953

1941
Flees via Portugal to the United States, arriving in New York on July 14. Sees Leonora Carrington and André Breton again. Travels with Peggy Guggenheim through the United States (California, Arizona, New Mexico, New Orleans). Marries Peggy Guggenheim in December. Continues working on the decalcomania technique. Napoleon in the Wilderness, Convolvulus! Convolvulus!, L'Antipape.
1942
View devotes a special issue to Max Ernst. Exhibitions in New York, Chicago, and New Orleans. Edits VVV together with André Breton and Marcel Duchamp; four issues are published until 1944. Participation in the First Papers of Surrealism exhibition in New York organized by Breton and staged by Duchamp. Meets the painter Dorothea Tanning. Develops the oscillation technique. La planète affolée, Jeune homme intrigué par le vol d'une mouche non-euclidienne.
1943
Max Ernst divorces Peggy Guggenheim and spends the summer in the Arizona mountains with Dorothea Tanning. Painting for Young People, L' oeil du silence.
1944
Max Ernst spends the summer with Dorothea Tanning and Julien Levy in Great River, Long Island, New York. He works on a new series of sculptures there.
1945
Summer vacation with Dorothea Tanning in Amagansett, Long Island. Max Ernst writes a screenplay for Hans Richter's film Dreams That Money Can Buy in which he also plays a role.
1946
Max Ernst's painting The Temptation of St. Anthony wins the competition in conjunction with Albert Lewin's film The Private Affairs of Bel Ami. Max Ernst settles in Sedona, Arizona with Dorothea Tanning. Builds and decorates the house himself. Visits from Roland and Lee Miller Penrose in Sedona. Marries Dorothea Tanning. Dream and Revolution.
1947
Starts working on the cement sculpture Capricorne and fashions numerous reliefs. Le surréalisme en 1947. Exposition internationale du surréalisme, the final important exhibition of the group at the Galerie Maeght in Paris; 87 artists from 24 countries participate. Geburt der Komödie.
1948
Max Ernst becomes a citizen of the United States. Robert Motherwell publishes Max Ernst—Beyond Painting and Other Paintings by the Artist and His Friends. Le régal des dieux, Chemical Nuptials.
1949
Marcel Duchamp visits in Sedona.
1950
Trip to Europe, works in Paris. Dorothea Tanning and Max Ernst return to Sedona in October. Colline inspiré.
1951
First German retrospective in Brühl on the occasion of his sixtieth birthday.
1952
Yves Tanguy visits Sedona. During the summer, Max Ernst holds guest lectures on modern art at the University of Hawaii in Honolulu. Humboldt Current.