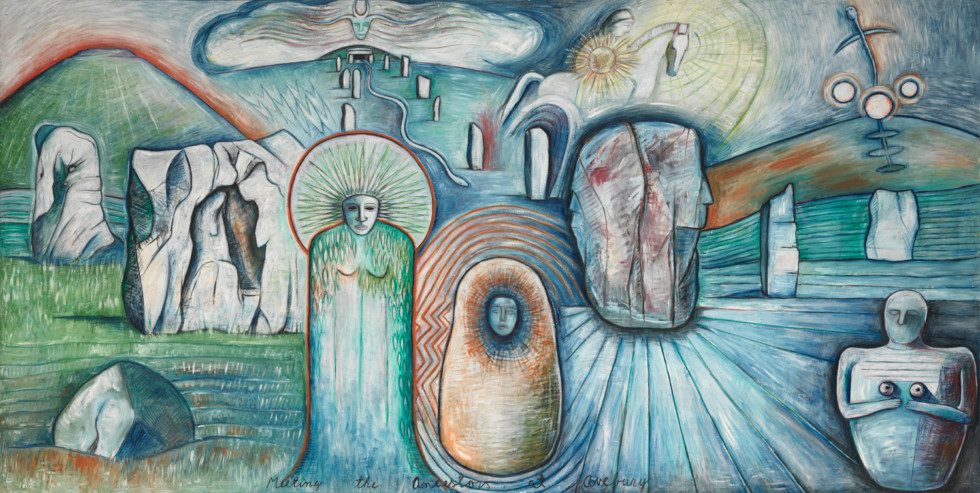 Immerse yourself in some of the works included in "Monica Sjöö: The Great Cosmic Mother". The exhibition departs from Sjöö's entire practice and contains around fifty works – from large-scale paintings to political posters, banners, drawings and material from the artist's extensive archive.
Emma Goldman (1967)
This work portrays the political activist, anarchist, and author Emma Goldman (1869−1940), a fighter for social justice, workers' rights, women's equality, and for access to contraception. It was illegal in Goldman's lifetime to distribute publications about contraception, and she was taken to court several times. Goldman was a prolific writer and a prominent advocate of free speech. Between 1906 and 1917 she distributed the publication Mother Earth.
Monica Sjöö identified as anarcho-feminist, and Goldman came to be central to her political activities. In protests and campaigns for abortion rights and sexual freedom, Sjöö would often cite Goldman's words: "Women need not always keep their mouths shut and their wombs open" and "Women are the real left", on posters that were widely spread.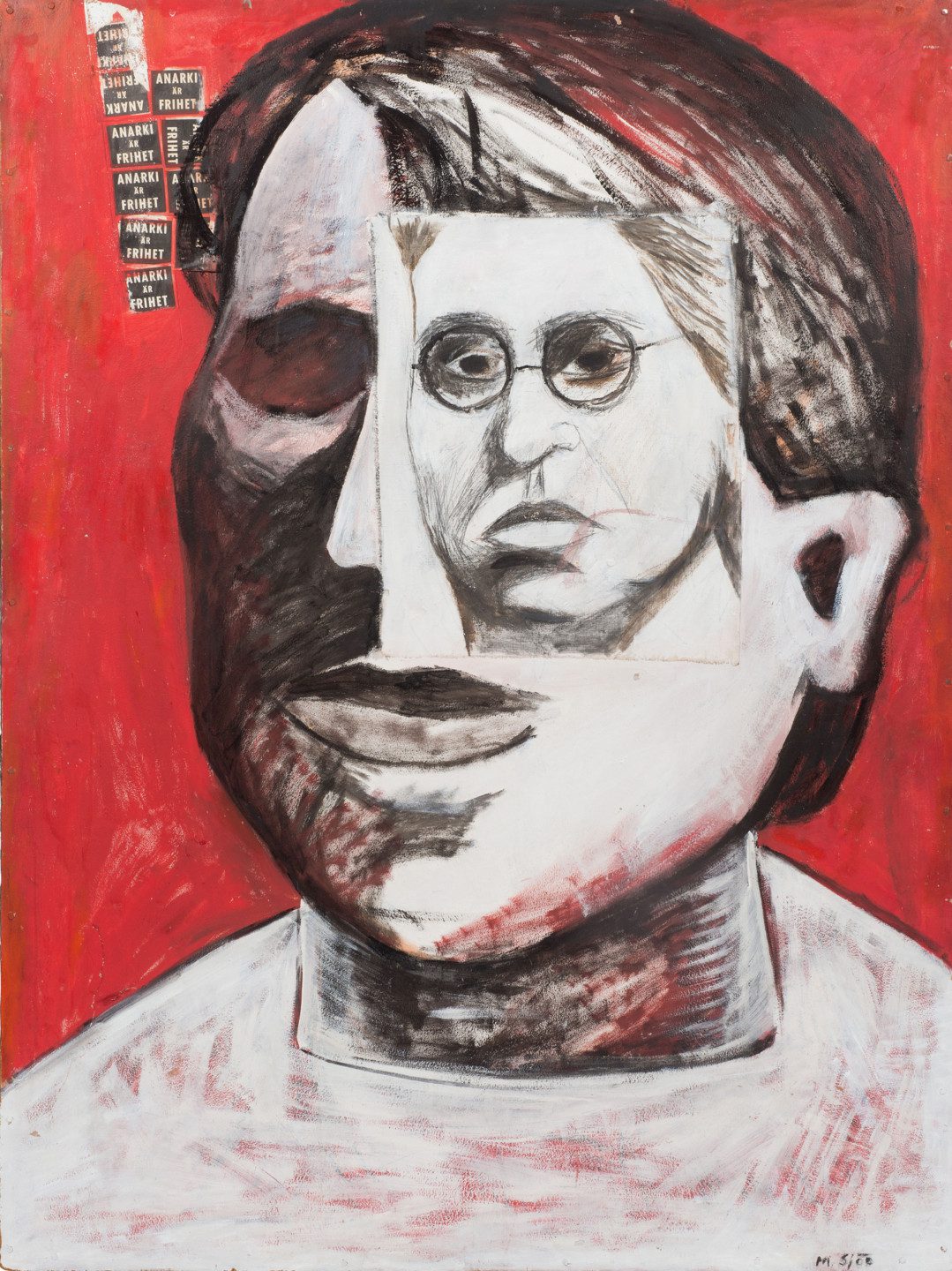 God Giving Birth (1968)
Several of Monica Sjöö's works depict her interpretations of ancient matriarchal societies, where religion centered on the Great Mother.
After giving birth to her first child at a hospital, Sjöö decided to have a natural birth at home in her second pregnancy. This was a revolutionizing experience for her, inspiring the painting "God Giving Birth". She has described the process as supernatural, imbued with a sense that the divine force of the Great Mother was in her. In Sjöö's view, the Great Mother, who is the motif of this painting, was the source of all life.
When the painting was exhibited in England in the 1970s, it provoked strong reactions. At one point, Sjöö was reported to the police and accused of blasphemy and obscenity, but the charges were ultimately dropped. The painting has become one of Sjöö's best-known works, and today it is viewed as a feminist icon.
More about "God Giving Birth" on the audio guide.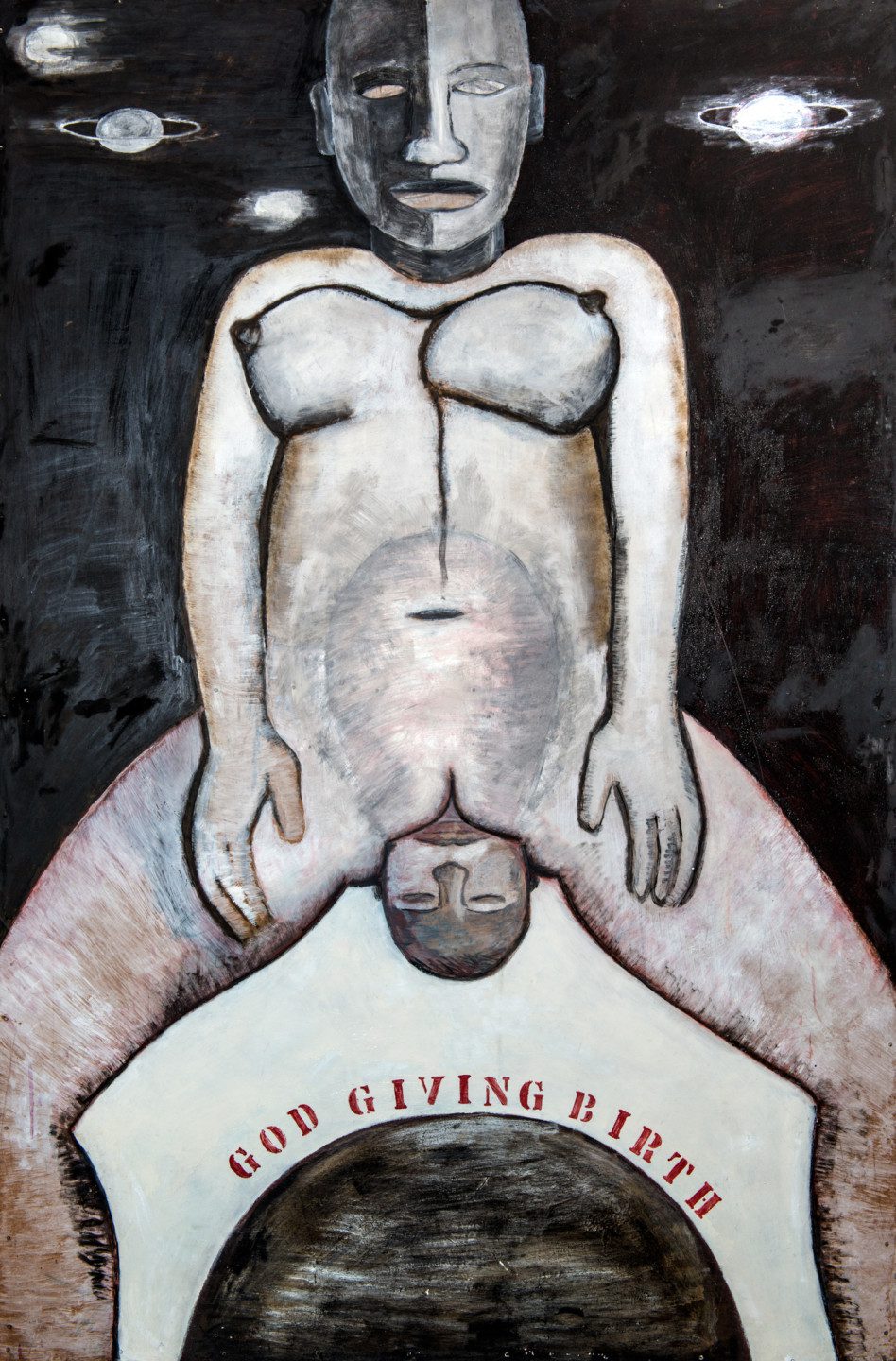 Past and Present (1969)
In "Past and Present", Monica Sjöö portrays universal sisterhood across time and space, shining a light on cultures other than her own. Painting made it possible for Sjöö to highlight experiences and histories otherwise hidden or forgotten, and in doing so she challenged patriarchal and Western narratives.
Sjöö was politically active from a young age. She moved in anarchist circles, fought against racism and oppression of marginalized groups, and was active in various peace and women's movements. Sjöö felt that modern society was oppressed by the patriarchy and therefore sought to present alternative communities founded in matriarchal structures through her art.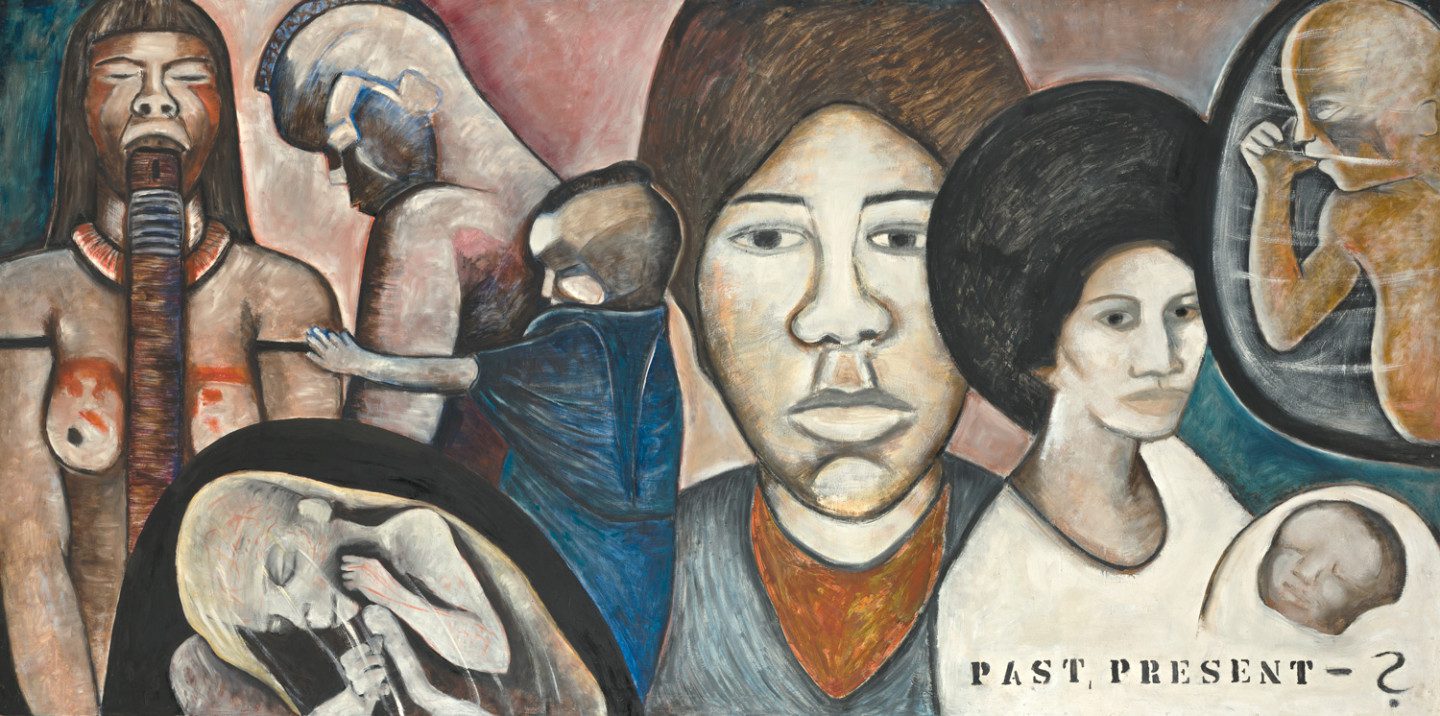 Our Bodies Ourselves (1974)
Monica Sjöö's painting is a tribute to sexual liberation, propagating for women's right to their own body. The painting shares its title with the textbook "Our Bodies, Ourselves", about women's health, compiled by Boston Women's Health Book Collective. Commercially published in 1973, it swiftly gained great popularity and was translated into multiple languages.
The book provides sexual education and information about sexual orientation, gender identity, birth control, menstruation, abortion, pregnancy and birth, violence, abuse, and menopause. It was considered revolutionary for its time as it encouraged sexual freedom, the use of contraception, lesbian sexuality, and sexual independence. Today, several editions later, it is viewed as a feminist classic.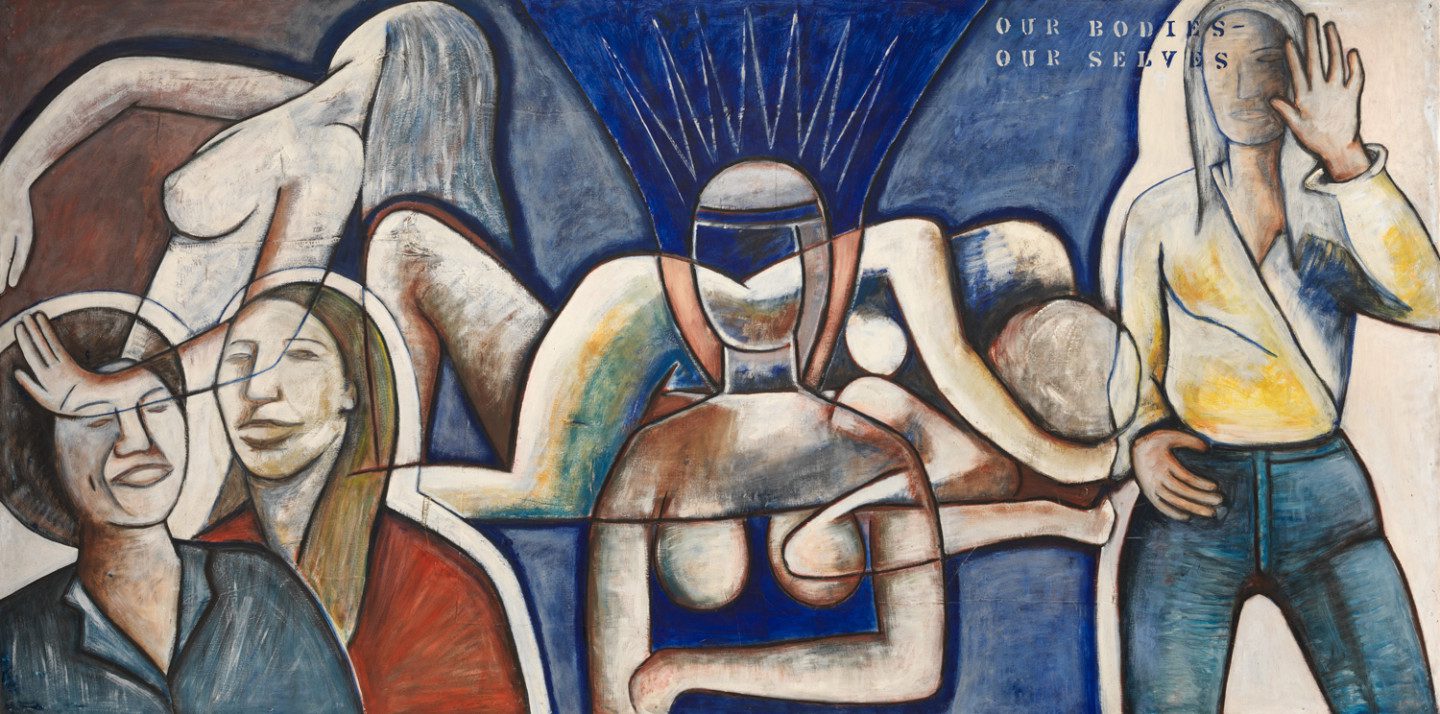 House-Wives (1973)
The work portrays three figures: a nude, eroticized woman, a woman cleaning, and an idealized woman: the archetypal mother − all of them behind bars. Monica Sjöö depicts the housewives of her era as trapped by traditional gender roles.
The 1970s saw the launch of Wages for Housework, a grassroots campaign Sjöö participated in. It was initiated by radical feminists in Italy and gained great popularity in Europe and the United States. They questioned the capitalist system, social conventions, stereotypical gender roles, and unwaged housework. A common slogan at their protest marches was: "Tremble, tremble, the witches are returning − not to be burned, but to get paid."
Working at odds with contemporary artistic ideals, Sjöö made figurative, representative paintings to communicate her message. She viewed it as a revolutionary act, since it showed the real situation for women − their life, work, and struggle.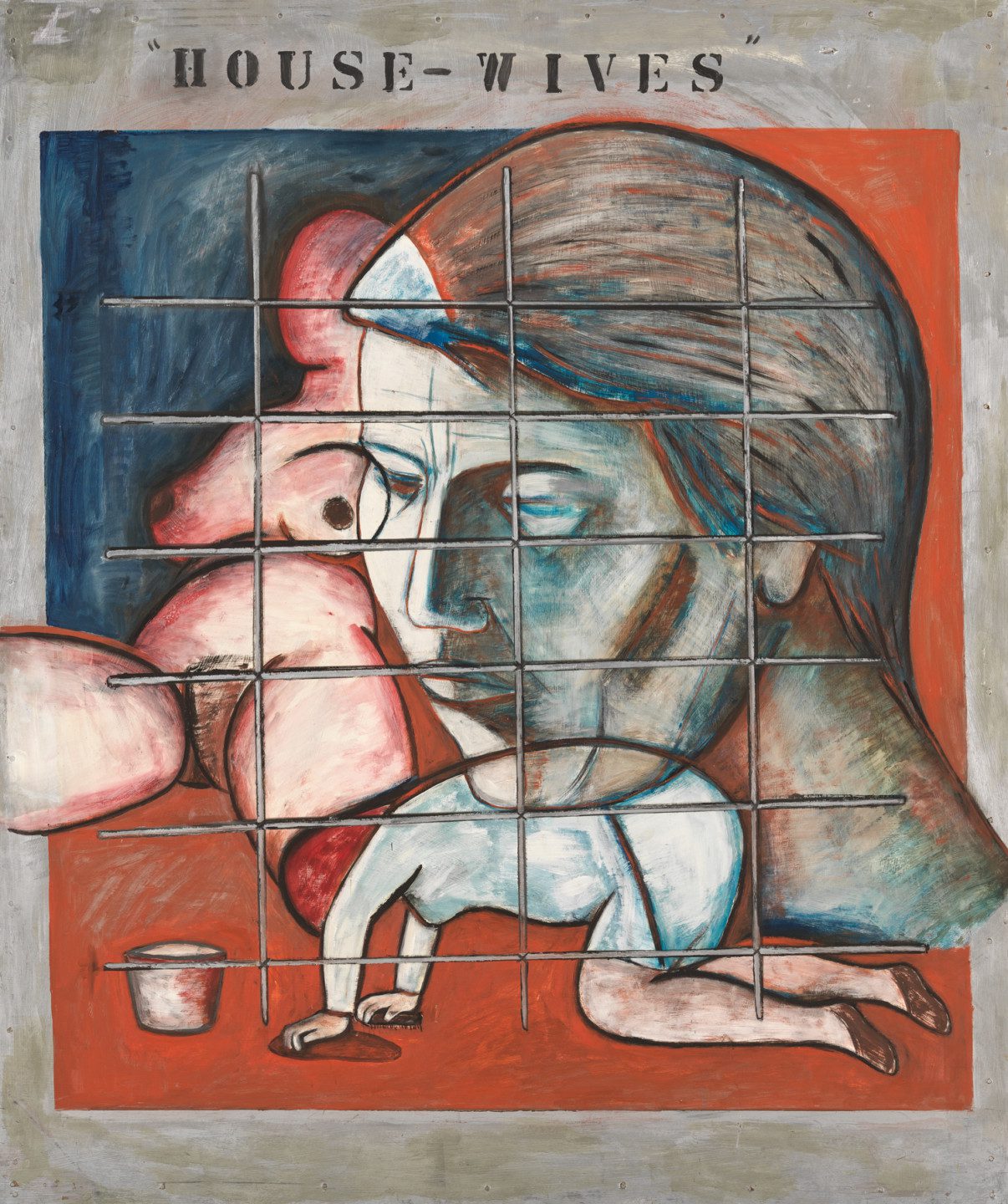 The Goddess at Avebury and Silbury (1978)
The landscape around Bristol, England − where Monica Sjöö lived almost all her adult life − is surrounded by several ancient sites, among them Stonehenge, Glastonbury Tor, and Avebury. In 1978, Monica Sjöö visited the sites at Avebury and Silbury Hill and had a psychedelic and deeply spiritual experience; her first encounter with the Great Mother. This was an awakening, which established Sjöö's life-long relationship to the sites, which she considered the sacred remains of ancient matriarchal societies.
The experience inspired her to paint "The Goddess at Avebury and Silbury". The center of the painting symbolizes Silbury Hill, in Sjöö's interpretation: the Great Mother's womb. After this, her spiritual, eco-feminist, and artistic practices became increasingly intertwined.
More about "The Goddess at Avebury and Silbury" on the audio guide.
Rebirth From the Motherpot (1986)
In the summer of 1985 Monica Sjöö spent a few days vacationing in the Pyrenees with her son Leif. Leif was hit by a car and passed away from his injuries a couple of days later, only 15 years old. The tragic accident left Sjöö in a deep depression, and she lost her desire and ability to paint. One of the few works she made during this time was the grief painting "Rebirth from the Motherpot". Using clear, strong colors, Sjöö imagines her son reborn from a lotus flower in an ancient pot, symbolizing the Great Mother's womb.
Only a short while after Leif's passing, another tragedy fell upon Sjöö. Her son Sean was diagnosed with incurable lymphoma and died a few months later.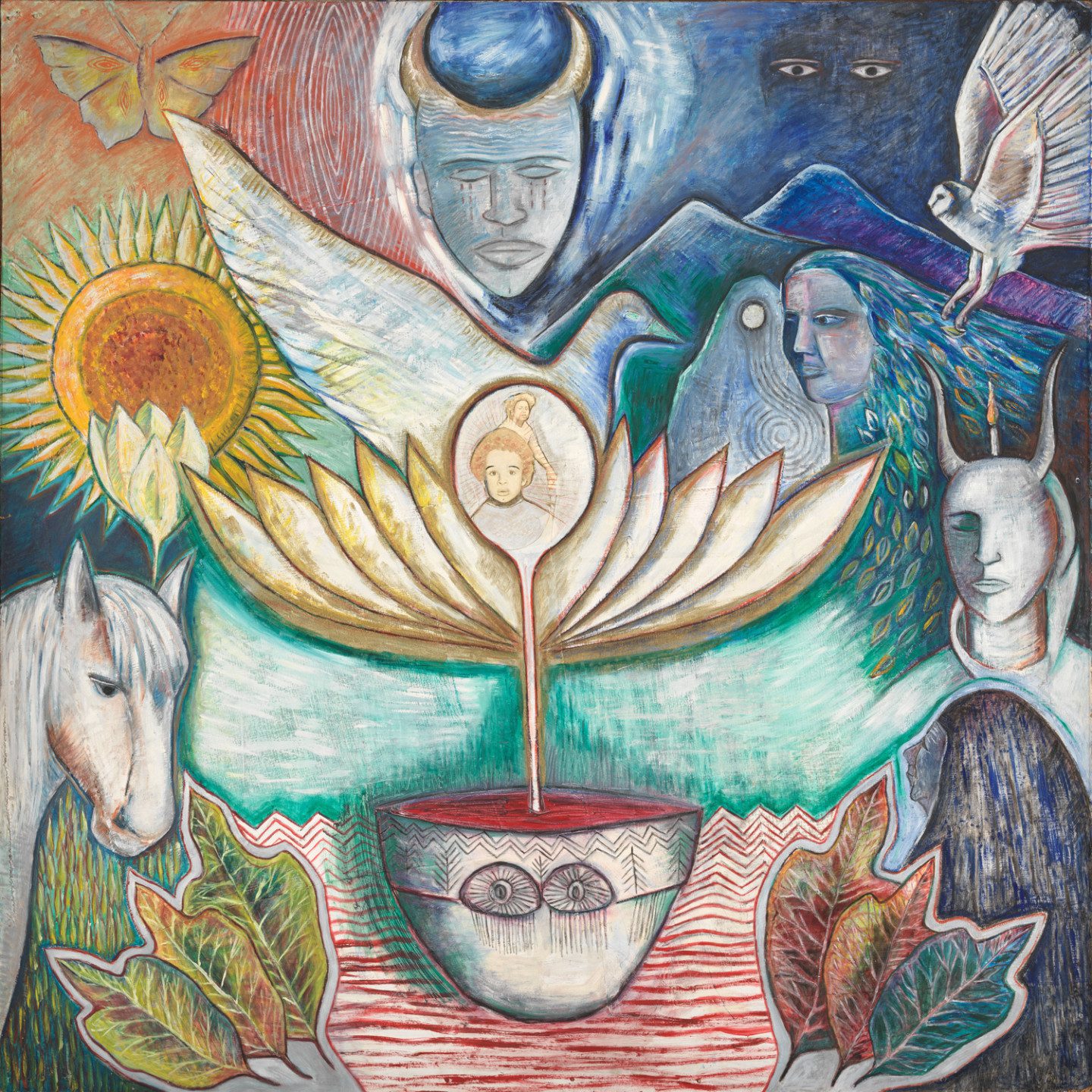 Meeting the Ancestors at Avebury (1993)
In "Meeting the Ancestors at Avebury", natural spirits around Avebury come to life. Stones and crop circles intertwine with the ancient spirits − goddesses, shamans, and priestesses. Monica Sjöö viewed herself as a medium who was able to communicate with spirits across time and space.
After her first experience at Avebury and Silbury Hill in 1978 she returned to these sites many times; she came to think of them as sacred. She performed various rituals to connect with the Great Mother, who for Sjöö was ever present − a divine force that provided life, sustenance, and soul to our entire planet. Sjöö's spiritual seeking found further inspiration in her research about goddesses and matriarchal cultures.
More about "Meeting the Ancestors at Avebury" on the audio guide.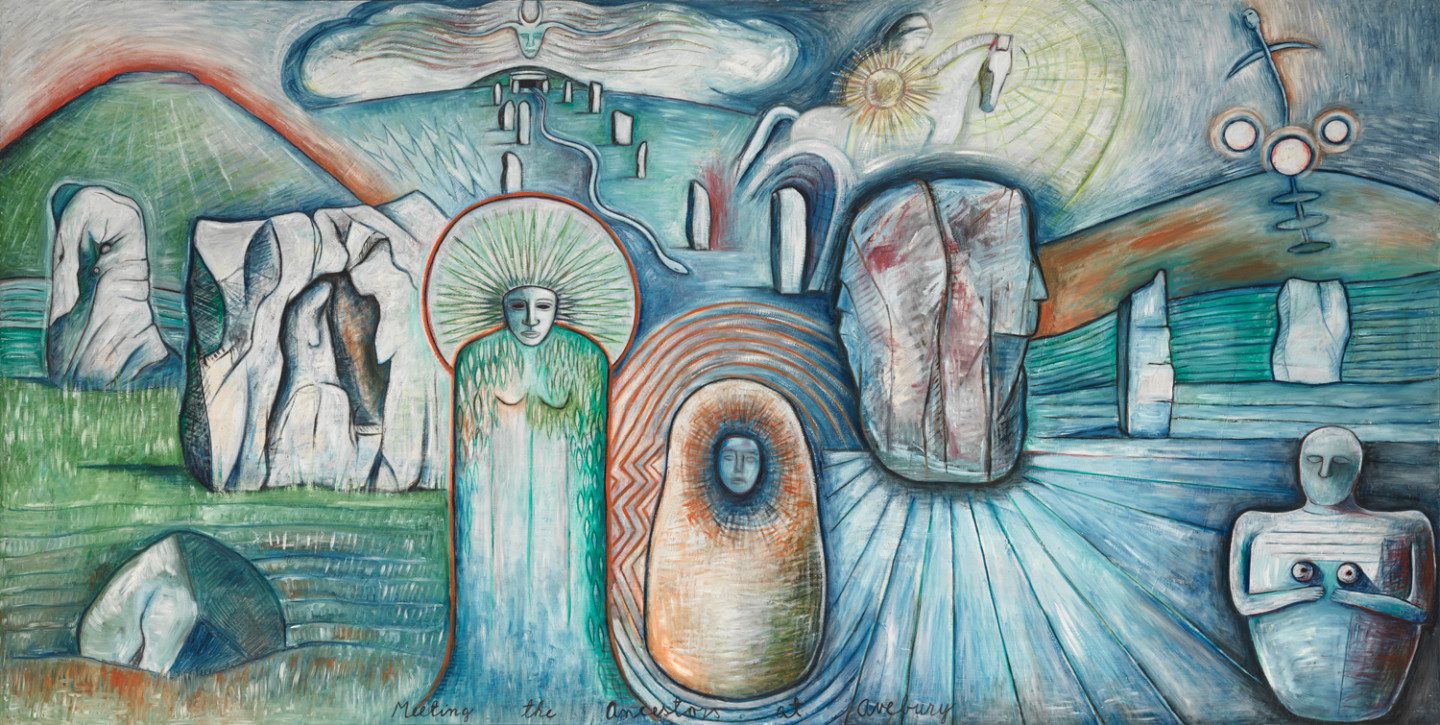 Mother Earth in Pain, Her Trees Cut Down, Her Seas Polluted (1996)
This painting shows the Great Mother's suffering in the face of environmental destruction. Monica Sjöö made this work in 1996 after visiting the enormous woods near British Newbury, where a new highway was being built. Despite protests by climate activists, hundreds of hectares of forest were destroyed. Around the same time a gigantic oil spill took place outside Milford Haven in South Wales, causing great pollution along Pembrokeshire's coastline and the death of thousands of birds.
Sjöö worried about the heightened climate threat and was frequently engaged in different protest movements against man's abuses of Earth. She sought to unite eco-feminist, political, and spiritual messages in her painting.
More about "Mother Earth in Pain, Her Trees Cut Down, Her Seas Polluted" on the audio guide.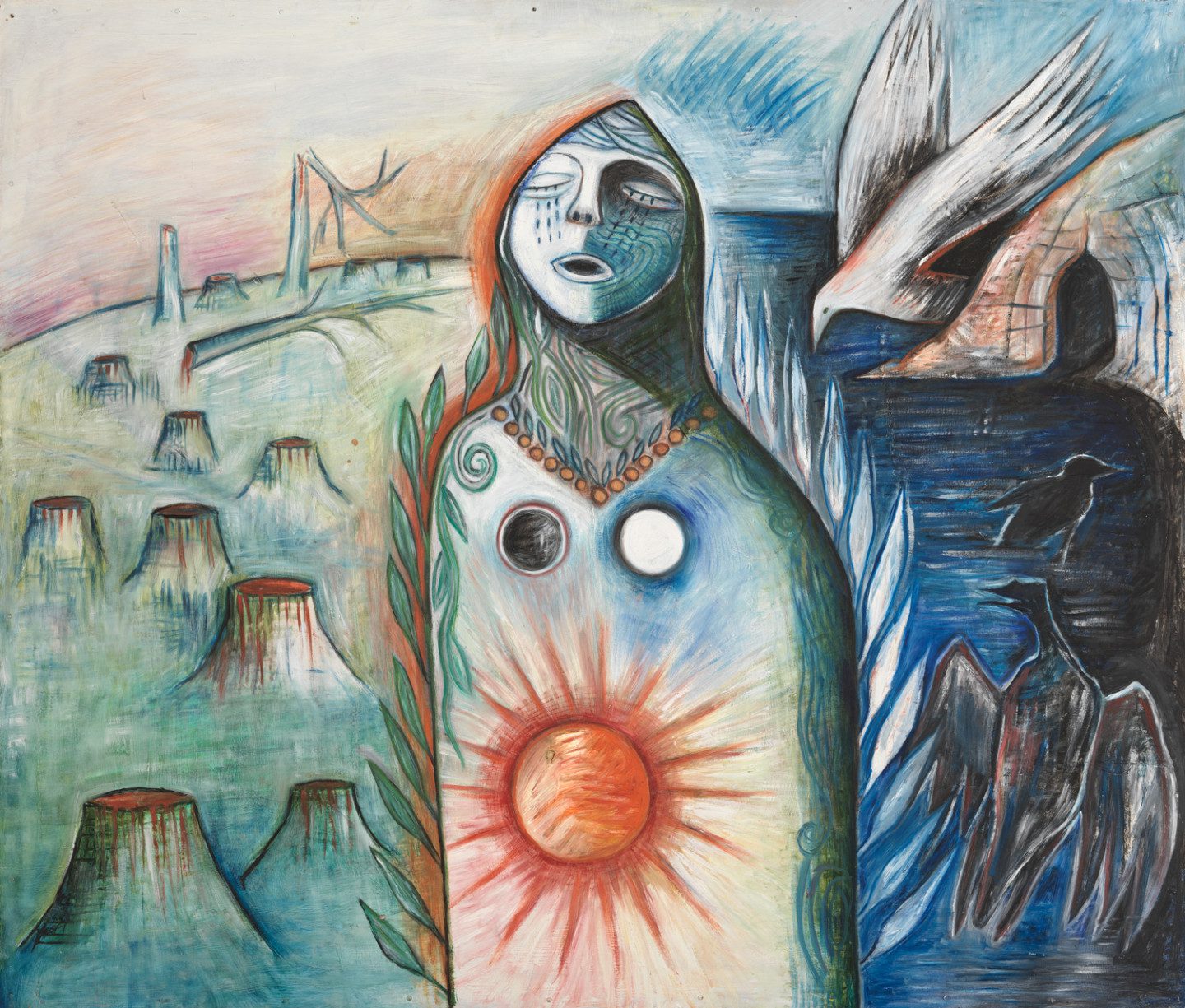 AMA MAWU (after 1993)
AMA MAWU was a feminist, anti-racist, and spiritual group co-founded by Monica Sjöö. Ama means "amma" (to breastfeed in Swedish), mother, and grandmother, and Mawu is the name of a West African goddess. This group was based in Bristol and organized events, seminars, workshops, and manifestations. They rejected violence, and instead centered their actions around singing and dancing, often calling for the abolition of the patriarchy.
One of the more controversial actions performed by AMA MAWU was a demonstration in the Bristol Cathedral in 1993. A group of women gathered outside and subsequently entered the church together, peacefully singing songs about the European witch hunts. Sjöö was one of the participants, holding a placard with her painting God Giving Birth.
More about AMA MAWU and the work "The Beginning of the End of Patriarchy" on the audio guide.