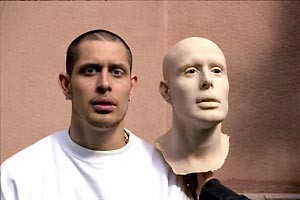 Preface from the catalogue by Lars Nittve
Often, in the really large cities, you will find places, or areas, that are easy-going multi-ethnic, multicultural communities. A few years ago, I was living in London, in an area like that, in the south-eastern part of the city.
My neighbours were British working and middle class, immigrants from Pakistan, the West Indies and Nigeria, Latin Americans and North Africans, a few Turks and Greeks, and a scattering of Western European high-income earners with jobs in the City. And a liberal amount of artists, photographers and writers. What struck me, as I wandered in the streets, visited the local shops or had dinner at one of the restaurants in the neighbourhood, was the feeling of openness and – not balance, but instability. Instability, not as in threat, but as in agility.
Another example: I remember my fascination and astonishment when I first read about the fighter aircraft JAS Gripen. It couldn't actually fly – at least not naturally. The aircraft was basically unstable and needed constant help from a super-fast computer that adjusted its movements every single micro-second. This instability was what made it so uniquely fast-moving, so agile. Much swifter than any aircraft that hovers naturally. In the street or in the supermarket in my London neighbourhood, I could experience the same instability – in the best possible sense. It was based on a strong awareness of the differences between us all – and on some kind of pleasure in living and playing with these differences. People manoeuvred around and handled these differences constantly – openly and with respect – participating actively in a sort of game. Suddenly, we were all human beings, in all our complexity and hybridity, and that was what defined us – not our ethnicity, religion or nationality. The cultural differences added zest to everyday life, a source of enjoyment, happiness and plenty of jokes as we stood in line to pay at the grocers.
Several factors are crucial for a place like that to develop – one of these is probably a relatively low unemployment, to keep poverty, drugs and crime at bay. But what I learned during my time in south-east London was that integration, in the sense of homogenisation according to certain national norms, is not the way to achieve a world where more people than ever before live outside the countries and culture where they were born. On the contrary, we may find that an acknowledgement of differences – and instability – is the only way forward!
In Swedish Hearts this rich diversity is manifested, along with a shameless revelling in these differences in contemporary art produced in – or relating to – Sweden today. But the exhibition also uncovers many of the exclusion mechanisms that prevail on today's art scene – not least those resulting from conscious or unconscious attempts to keep up the fiction we commonly call "Swedishness".
I would like to thank our guest curators, Charlotte Bydler, Rodrigo Mallea Lira and Magdalena Malm, for approaching Moderna Museet with the idea for this exhibition, and for their superb implementation and collaboration. Guest performances of this kind are essential if the museum wants to avoid becoming too homogeneous – and stable! – in its thinking and activities.
A hearty thank you also, of course, to the participating artists, for their commitment to the exhibition concept and for their personal contributions – without you, there would have been no exhibition! I am grateful to the private individuals and institutions that have lent their works to Swedish Hearts – your generosity is vital to the exhibition and the museum, and, not least, to the artists themselves!
Last, but not least, I wish to thank Svenska Spel and its Managing Director Meg Tivéus for their support to Swedish Hearts – an exhibition that is truly about all of Sweden!
Lars Nittve
Director