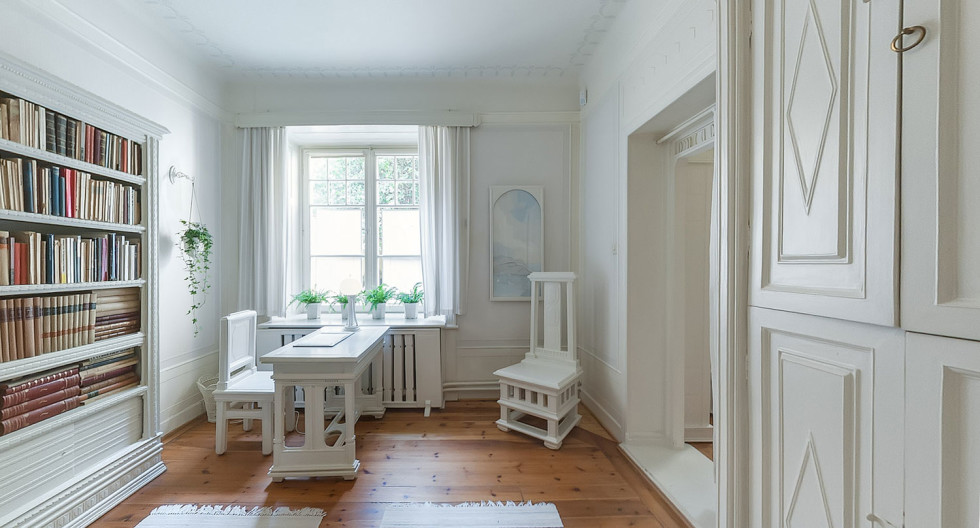 19.4 2018
Einar Hylander's apartment installation to be evacuated
Einar Hylander's apartment on Narvavägen in Stockholm is a unique work of art that was bequeathed to Moderna Museet in 1989. Since the permission required for the activity has expired, the apartment will be evacuated, and the work of art relocated as far as possible. This spring, we will be offering extra guided tours, the last opportunity to see this remarkable environment at Narvavägen 29.
In 1983, the artist Einar Hylander (1913–1989) moved into an apartment in the courtyard of Narvavägen 29 on Östermalm in Stockholm. He transformed his apartment into a unique universal work of art, which he bequeathed to Moderna Museet on his death in 1989. Measuring 57 sqm, this installation consists of a hall, living room and bedroom. Everything in the apartment, from the furniture to the wall panels, mural painting and relief decor, was created by the artist.
The current rental agreement has now been cancelled by the landlord, and the apartment will therefore be evacuated. It can no longer be used for museum purposes, since the permit for this activity has expired and cannot be renewed.
"We are devastated over having to evacuate Einar Hylander's installation, but legally we have no other option. Our aim now is to remove the work of art and document it for the future. We are also arranging open tours of the apartment in May and June, as a chance to see this work of art in its original setting at Narvavägen," says Daniel Birnbaum, director of Moderna Museet.
The evacuation will be effected by 30 September, 2018, at the latest. Extra guided tours for the public will be organised this spring. Private views can also be booked for groups of up to ten visitors.
Published 19 April 2018 · Updated 18 April 2018