5.7 2020
Create like Land artists
Go outside and create your own Land art. You can find everything you need outside: leaves, sticks, flowers, and maybe a few stones. Chose a place you think is special and build your own sculptures! If you have a camera you can take a photo of it. Then it might almost look like a painting.
You need
Stones
Sticks
Grass
Leaves
Flowers
Dandelion stems
A watering can and water
How to do it
Find the natural materials that you want to use.
Choose a place to create your artwork. It can be on grass, wood, asphalt, or gravel.
If you are creating on gravel you can sketch with a stick first.
Start building your artwork
Photograph or film your artwork when you are done.
Have fun and feel free to share your creations on social media. Tag us @ModernaMuseet and use #VerkstanModernaMuseet.
You can find the video on Moderna Museet's YouTube channel
Don't have everything you need? In our Shop you can find things you won't find in nature: watering cans, paints, pens, paintbrushes, paper – most of what you need to create on your own!
Land artists work with the landscape and nature
Land art was a way of making art that emerged in the USA in the 1960s.
The artists worked with the landscape and nature. They built large sculptures, changed or reshaped the landscape in a poetic way, for example.
There is a land artwork outside of Moderna Museet on Skeppsholmen. It is a grassy knoll called "Louise". It is a bit hard to notice. The artist who made it is called Thomas Woodruff.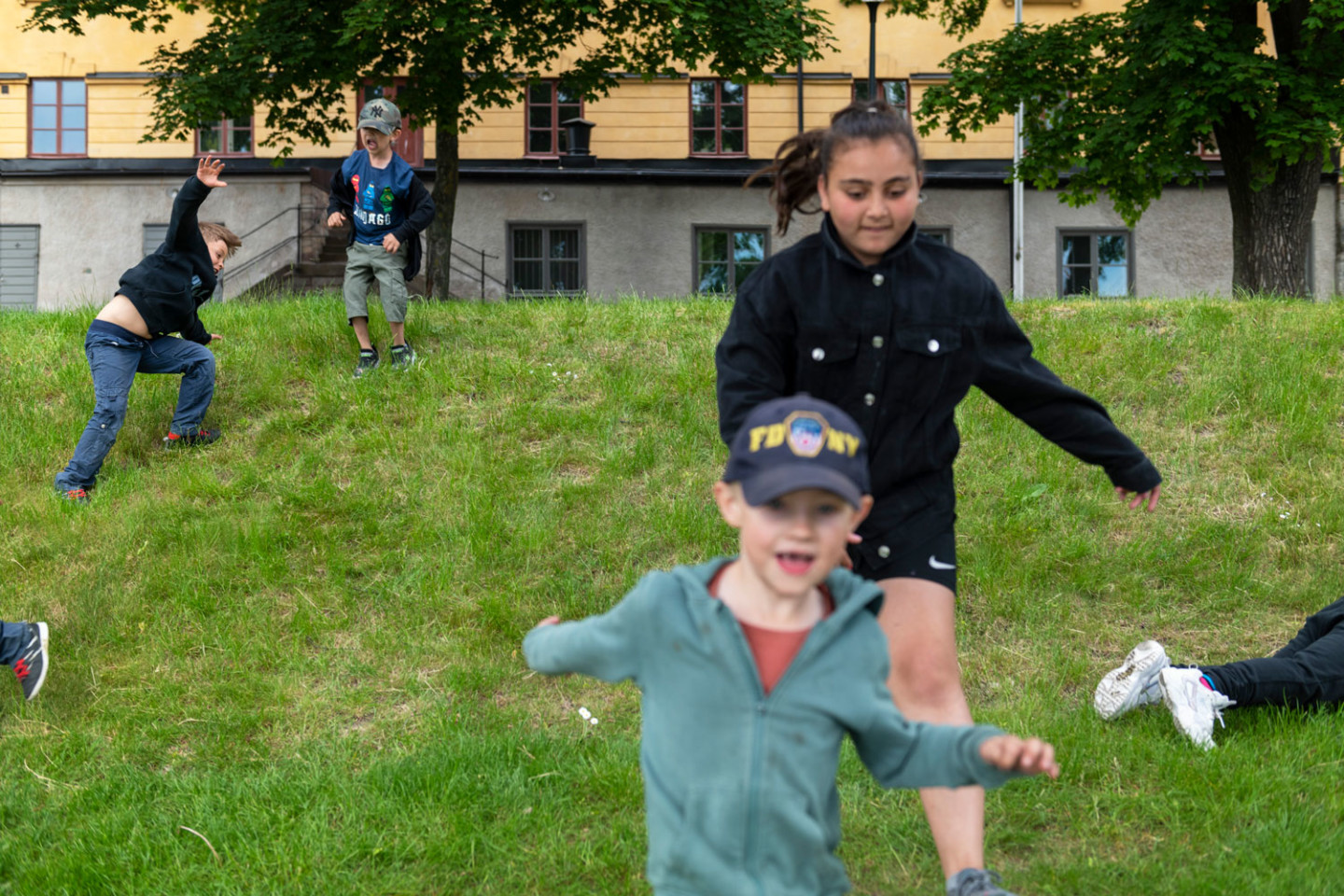 Marlene Creats was an artist that did land art. She uses her own presence in a place. For example with a hand photographed on a tree trunk.
In another work, she took stones from a beach and carried them to the top of a mountain.
Robert Smithson made a famous land artwork called "Spiral Jetty".
It is a huge spiral in the Great Salt Lake in Utah, USA. Sometimes the work is covered in water so you can't see it very well and sometimes when the water is low, the work is easily spotted. The spiral is 460 m long and 4,6 m wide.
Create land art at Skeppsholmen!
Summer holiday programme from 4-year-olds and up, June 30– August 16, 2020
If you are on Skeppsholmen this summer you can pop into the museum and get a land art-kit with materials and instructions on how to create on your own. Find a spot and get to it! Don't forget to photograph your artwork when you are done.
Read more on the summer holiday programme and other summer activities: Summer at the museum
Create lika en artist – from home!
Come along one of the museum's educators and get inspired by artists and artworks at Moderna Museet. We will create artworks from things we might already have at home. There is no right or wrong, ugly or beautiful when you are creating. But there is one rule – there are no rules.
Welcome to the Workshop!
In the museum's YouTube series "Create like an artist" you will receive tips on how you can create your own artworks at home inspired by artists in Moderna Museet's collection. New episodes are released every Sunday. The episodes are approximately 3–5 min long and are aimed at children between 4 and 9 years old.
Feel free to share your creations on social media. Tag us @ModernaMuseet and use #VerkstanModernaMuseet.
Published 5 July 2020 · Updated 28 October 2020