17.5 2020
Create like Toyen
Capture a shadow and create your own surreal paintings like the artist Toyen! But what a shadow really? Can a shadow hold a plant? Malin tells us how to create art from your dreams. All you need is a pen, paper, and paints. And most importantly – a dream and a shadow!
You need
A lamp
Paper
Something to fasten the paper on the wall
A pencil
Paint
Paintbrushes
Props
How to do it
Hang a piece of paper on the wall
Shine a bright light so that you can make shadows
Mix a colour that looks like the shadow's colour by mixing bland and white paint.
Sketch a background on the paper. In Toyen's work, we see a door.
Make shadow figures and ask someone to paint it. Take turns!
Fill in the shadow with paint.
Give the artwork a title!
Have fun and feel free to share your creations on social media. Tag us @ModernaMuseet and use #VerkstanModernaMuseet.
You can find the video on Moderna Museet's YouTube channel
Don't have everything you need at home? In our Shop you can find paints, pens, paintbrushes, paper – most of what you need to create on your own!
Toyen often used her dreams
The artist called herself Toyen (1902-1980). The name is taken from the French word for citizen: citoyen
Toyen did not want to be categorised. She thought that her art was what was important, not if she was a woman or a man or what country she was born in.
Toyen felt that one should feel more and think less. She and several other artist believed that this would make the world a better place. They called themselves Surrealists. To come in contact with their inner worlds they often used their dreams.
This painting is like a dream. Both real and unreal. The painting is called "Mythe de la lumière" [The Myth of Light] and was created in 1946.
The painting is about a memory from the second world war when Germany occupied Czechoslovakia and Prague where Toyen lived.
Toyen hid the man whose shadow is in the painting, in her home. His name was Jindřich Heisler and he was a Jewish poet.
Jindřich loved to be in the sun but instead he had to be locked inside in Toyen's apartment because German soldiers were looking for him. They hated his poems and Toyen's paintings.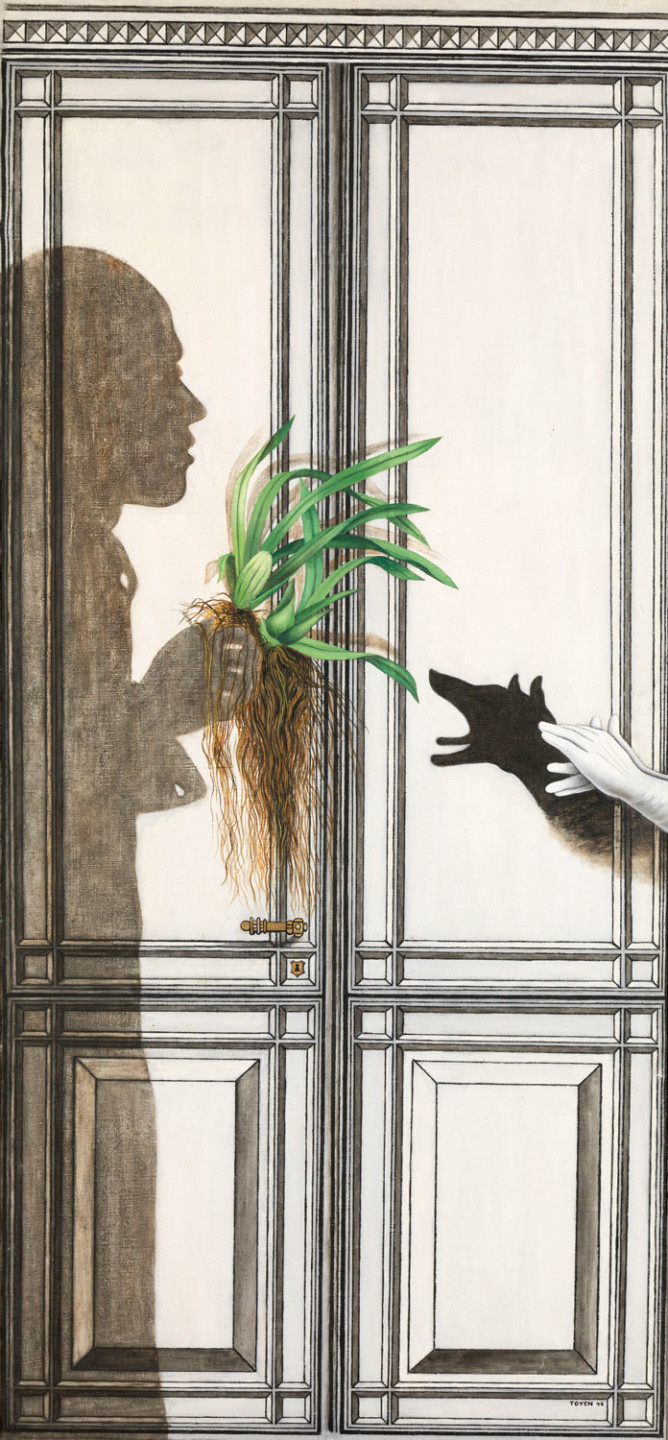 Create like an artist – from home!
Come along one of the museum's educators and get inspired by artists and artworks at Moderna Museet. We will create artworks from things we might already have at home. There is no right or wrong, ugly or beautiful when you are creating. But there is one rule – there are no rules.
Welcome to the Workshop!
In the museum's YouTube series "Create like an artist" you will receive tips on how you can create your own artworks at home inspired by artists in Moderna Museet's collection. New episodes are released every Sunday. The episodes are approximately 3–5 min long and are aimed at children between 4 and 9 years old.
Feel free to share your creations on social media. Tag us @ModernaMuseet and use #VerkstanModernaMuseet.
Published 17 May 2020 · Updated 28 October 2020