10.5 2020
Create like Eva Hesse
Build your own sculptures from sticks and scrap just like Eva Hesse! Rebecka will demonstrate how you playfully can create something like Eva that no one has seen before. So venture out on a treasure hunt and explore what you find! All you need at home is string and paints.
You need
Sticks or scrap
Hemp twine or natural string that will soak up paint
Acrylic paint
Water
How to do it
Collect materials
Play! Feel around with your hands, smell with your nose, look with your eyes. What could this become?
Dye the string
Combine the string/twine with the other materials to make a sculpture.
Build, shape, tie, break, wind.
Hang the sculpture from the ceiling and give ita name.
Try hanging the sculpture in the woods or from the balcony. What happens to your artwork then?
Have fun and feel free to share your creations on social media. Tag us @ModernaMuseet and use #VerkstanModernaMuseet.
You can find the video on Moderna Museet's YouTube channel
Don't have everything you need at home? In our Shop you can find paints, pens, paintbrushes, paper – most of what you need to create on your own!
Eva Hesse created fragile artworks
Eva Hesse was an artist born in Germany (1936-1970).
The Second World War started when she was 3, Eva, her older sister, and their parents fled to New York in the USA. Eva really liked it there and she lived there for the rest of her life.
She painted and sketched but started to become interested in metal scrap, different screws, and machine parts that she found in a studio that used to be a factory.
She liked the way they looked and wanted to use them in her art.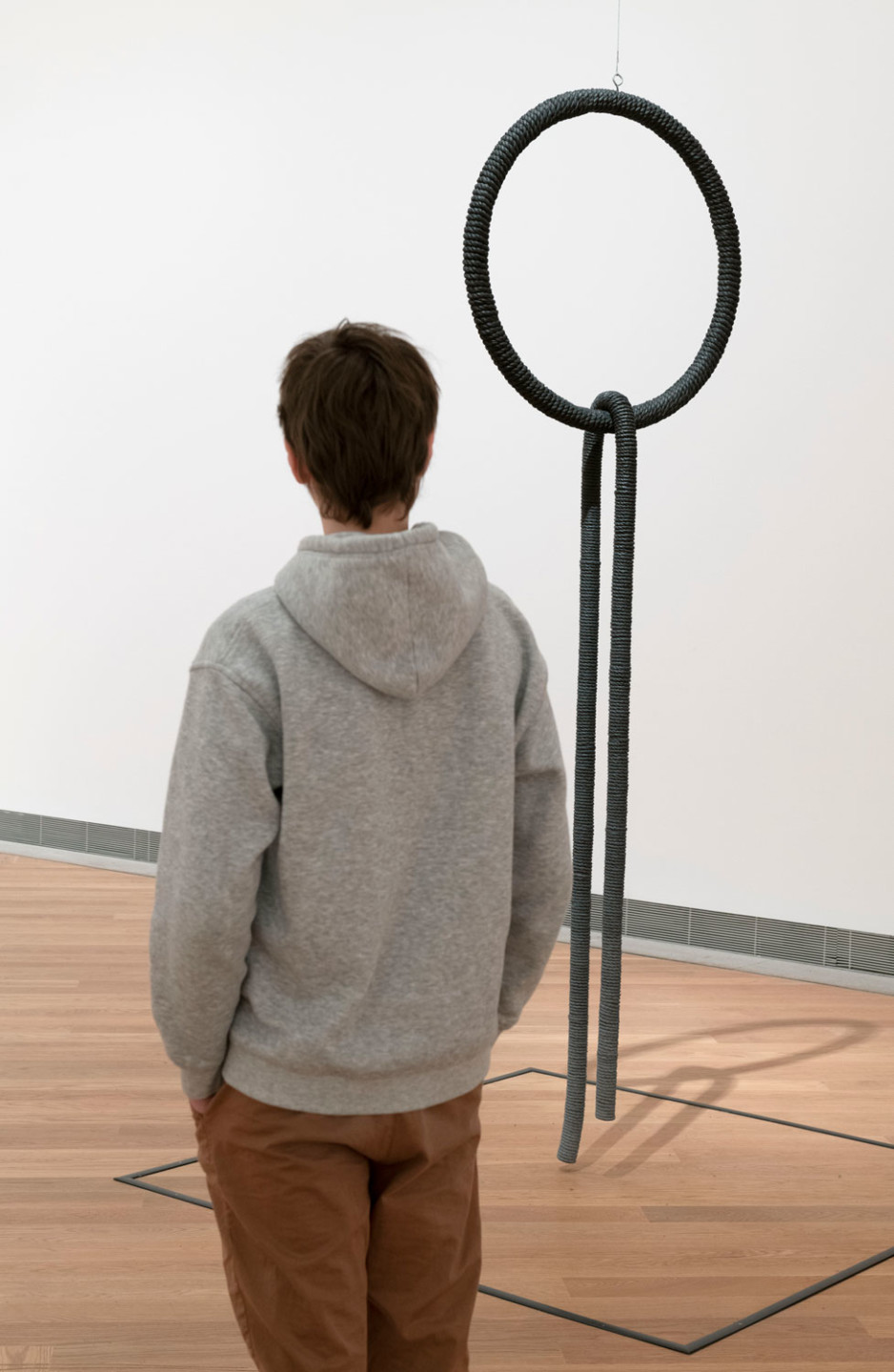 Eva was very playful in her art, she liked creating things that no one had ever seen before.
She explored soft materials like fiberglass and silicone
She created artworks that were quite fragile.
She knew that her art wouldn't last forever but that was ok. Do things have to last for all eternity?
Create like an artist – from home!
Come along one of the museum's educators and get inspired by artists and artworks at Moderna Museet. We will create artworks from things we might already have at home. There is no right or wrong, ugly or beautiful when you are creating. But there is one rule – there are no rules.
Welcome to the Workshop!
In the museum's YouTube series "Create like an artist" you will receive tips on how you can create your own artworks at home inspired by artists in Moderna Museet's collection. New episodes are released every Sunday. The episodes are approximately 3–5 min long and are aimed at children between 4 and 9 years old.
Feel free to share your creations on social media. Tag us @ModernaMuseet and use #VerkstanModernaMuseet.
Published 10 May 2020 · Updated 28 October 2020