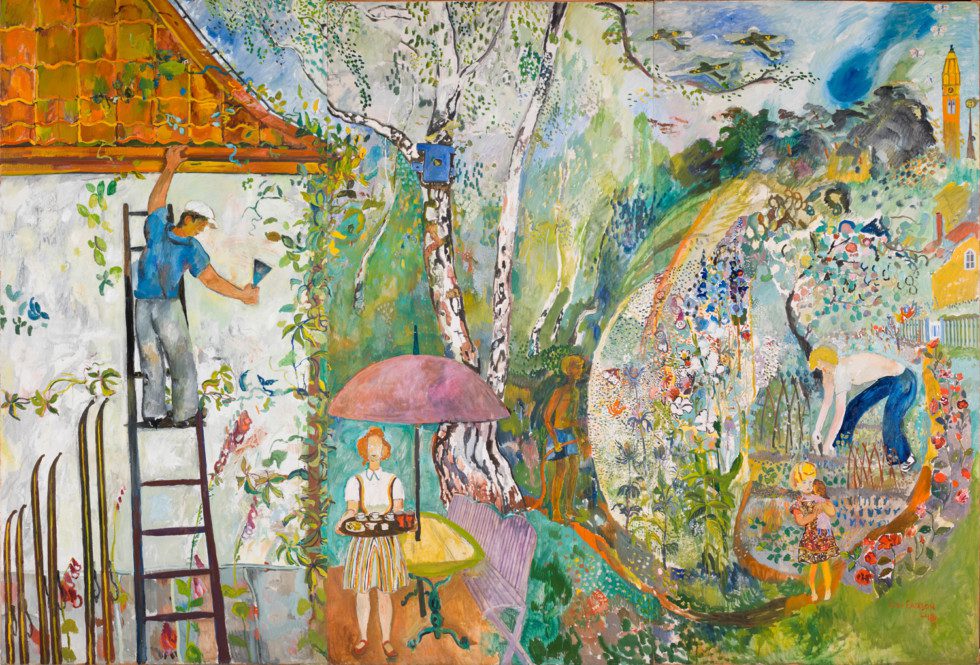 Art Party!
Opening Day of Pink Sails
17.6 2023
Stockholm
Celebrate the new exhibition "Pink Sails – Swedish modernism in the Moderna Museet Collection". See works by modernist favourites such as Isaac Grünewald and Sigrid Hjertén, listen to the pop band Melby, create flower collages, paint in pink tones and try weaving in the Collection corridor. Guided tours are held every half hour.
You can find opening day offers in the Restaurant, and the Shop offers a 20% discount!
Art party!
Workshops, music, guided tours, family activities
Date
Saturday 17 June 2023
Time
At 11–16
Location
In and outside of the museum
Language
Swedish and English
Price
Free admission (ticket is required to "Laurie Anderson – Looking into a Mirror Sideways")
Enjoy free coffee and juice between 11–12 in the pop-up café!
Contact: Camilla Carlberg
Activities
In front of the museum
At 11–16 Paint on an easel in shades of pink
At 14 Concert with pop band Melby on the outdoor stage
Dance for children in front of the stage before and after the concert
At 11 and 13 Show with Soap Bubble artist Rasmus Wurm
At 11–16 Pop-up café next to the entrance
The Collection Corridor, Floor 4
At 11–16 Create collages inspired by Sven Xet Erixon's painting "The Painter's House"
At 11–16 Try weaving inspired by Sigrid Hjertén
The Workshop, Floor 2
At 11–16 Poster workshop inspired by Monica Sjöö
Melby
The pop-band Melby's debut album "None Of This Makes Me Worry" was released in 2019, and earned praise from international and Swedish media.
Among others, Clash and The Line Of Best Fit, as well as culture magazine Nöjesguiden in Sweden ("they've achieved the perfect combination […] of pop and indie meets folk and psych"). In 2022, Melbys second album "Looks like a Map" was released.
Melby's members are Matilda Wiezell, Are Engen Steinsholm, David Jehrlander and Teo Jernkvist.