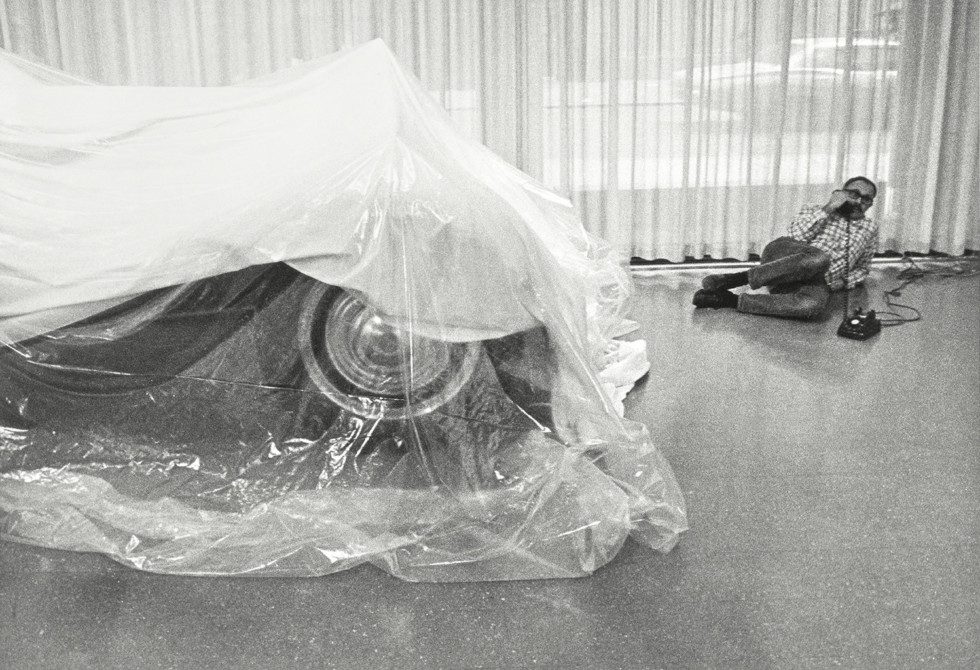 Symposium: Utopias and Visions
On the legacy of Pontus Hultén and his time
18.11 2022
Stockholm
How do the visions of mythical museum-man Pontus Hultén live on in today's art institutions? Welcome to a symposium on Pontus Hultén, his time, and his deed. Listen to former collaborators, curators, researchers, writers and artists examine Hultén's legacy and the contexts in which he worked.
Utopias and Visions: A symposium on the legacy of Pontus Hultén and his time
Symposium
Date
Friday 18 November 2022
Time
At 10.15–17
Place
The Auditorium, floor 2
Language
English
Price
Free admission. Registration is required.
Contact: Karin Malmquist, curator
In the summer of 1971, an art exhibition was held on the old shooting range behind what had once been a Swedish Navy prison on Skeppsholmen island in Stockholm. The exhibition "Utopias and Visions 1871–1981" drew from a number of utopian scenarios, starting with the Paris Commune in 1871. In addition to an eclectic mix of materials relating to everyday life during the short duration of the commune, the exhibition also presented the architect Buckminster Fuller's "World Game", and discussed issues concerning the nature of future communications.
The exhibition is remembered in part for the construction of a geodesic dome, where the artist Moki Cherry and the jazz musician Don Cherry, lived throughout the summer. It was here that they performed music, created set designs and costumes, and staged happenings together with the public.
"Utopias and Visions" was one of the many initiatives and projects conceived by Pontus Hultén during his time as a curator and later as the director of Moderna Museet in Stockholm. All of these demonstrate his fundamental view of art as an integral part of the society in which it exists as well as his firm belief in the creative freedom of artists. The mission of the museum was to create a space for every form of artistic expression.
The symposium will consist of lectures and discussions. Over the course of the day, former colleagues, curators, researchers, writers and artists will examine the legacy that Pontus Hultén has left, as well as the legendary 1960s as a whole, from a multitude of viewpoints. How have Hultén's visions been upheld by today's art institutions? How can his curatorial achievements best be described? And what expectations do we have on the future modern art museum?
Participants
Karen Archey, curator of international art at Stedelijk Museum in Amsterdam, and author of "After Institutions" (2022).
Claes Britton, journalist, creative director and author, whose latest book is "Pontus Hultén. Den moderna konstens anförare. En biografi" (2022).
Marta Edling, professor in Art History at Södertörn University and currently researching Nordic artistic collaborations 1945–1989.
Andreas Gedin, artist and author of the book "Pontus Hultén, Hon & Moderna" (2016).
Annika Gunnarsson, Ph.D. and Curator of Prints and Drawings at Moderna Museet
Ylva Hillström, M.Phil. and Curator of Education at Moderna Museet
Jean-Hubert Martin, curator, art historian and former colleague of Hultén, Director of Centre Pompidou 1987–1990 and subsequently of several other art museums.
Håkan Nilsson, professor in Art History at Södertörn University and during many years art critic in Svenska Dagbladet and Dagens Nyheter.
Anna Tellgren, Ph.D., Curator of Photography and Head of Research at Moderna Museet
Sophie Tottie, artist, professor at Royal Institute of Art (KKH) in Stockholm 2012–2022 and former student at Institut des hautes études en arts plastiques (IHEAP) in Paris.
Kim West, critic and researcher, whose doctoral dissertation "The Exhibitionary Complex. Exhibition, Apparatus, and Media from Kulturhuset to the Centre Pompidou, 1963–1977", was published in 2017.
Annika Öhrner, Associate Professor at the Department of Art History at Södertörn University in Stockholm, with a research interest in exhibition analysis and cultural circulation of the 20th century.
Programme
Friday 18 November 2022
10.15 Welcome address by Director Gitte Ørskou. Introduction by Anna Tellgren
10.30 Marta Edling: Getting "the hang of it". Translocal Collaborations Stockholm Paris 1944–1953
11.00 Annika Öhrner: Pop Art as Consolidation and Confirmation. Agency Considered through Two Exhibitions at Moderna Museet in the 1960s
11.30 Keynote
Jean-Hubert Martin: Cold War and Freedom of Expression
12.00 Jean-Hubert Martin in conversation with Claes Britton
12.30 Lunch
13.45 Kim West: Pontus Hultén, the Art Workers' Coalition, and the Idea of the Museum
14.15 Pontus Hultén and the Artists
Conversation between Andreas Gedin, Ylva Hillström and Sophie Tottie
15.00 Coffee
15.30 Keynote
Karen Archey: After Institutions
16.00 On the Legacy of Pontus Hultén and the Future of the Modern Art Museum
Panel discussion with Karen Archey, Claes Britton, Marta Edling, Andreas Gedin, Jean-Hubert Martin, Sophie Tottie, Kim West, Annika Öhrner and Gitte Ørskou
Moderator: Håkan Nilsson
17.00 Visit in the Pontus Hultén Study Gallery. Introduction by Annika Gunnarsson