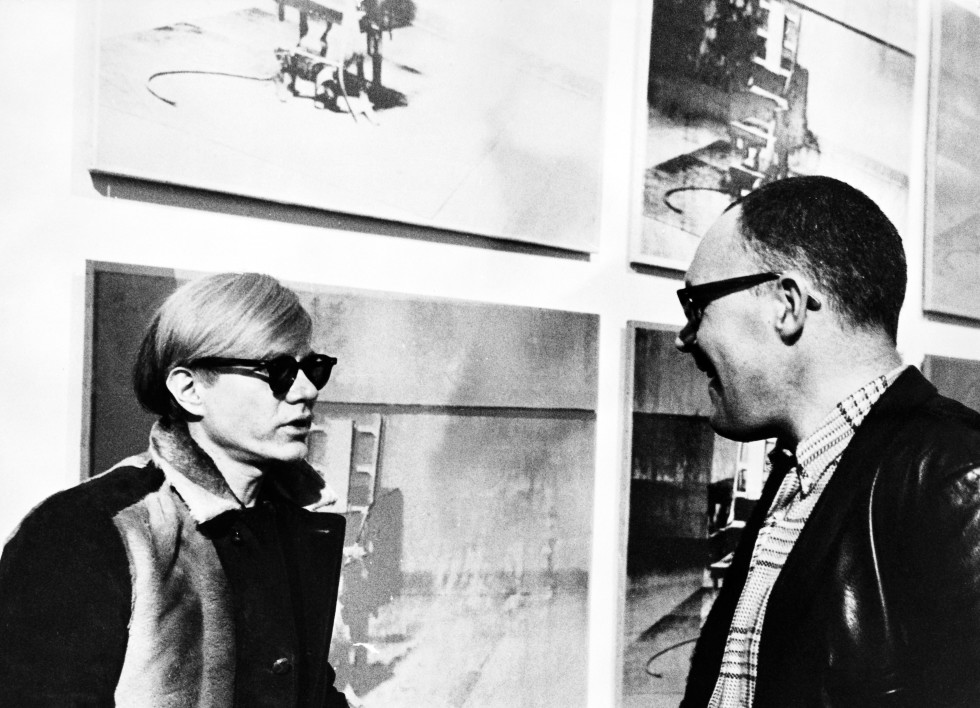 Andy Warhol was born Andrew Warhola in Pittsburgh on 6 August 1928, the third and youngest son of Andrej and Julia Warhola, immigrants to the USA from Mikova, near the present-day Slovakian-Polish border.
Warhol, seen here at the age of eight, grows up in circles that are marginalized from American society by their language, culture, and religion. He only learns English at school; his family are members of a small Ruthenian congregation, a community that is close to the Russian Orthodox Church in its beliefs and practices.
Suffering from the neurological disorder chorea, as a child he is obliged to spend long periods at home, where he passes his time with comics, coloring books, and animated cartoons. Fascinated by Hollywood he starts to collect celebrity autographs. The eight-year-old Shirley Temple sends a photograph with a personal dedication: "To Andrew Worhola from Shirley Temple."
The Warhola family live modestly. The father works as a laborer, and travels hundreds of miles with his work. He dies young in 1942.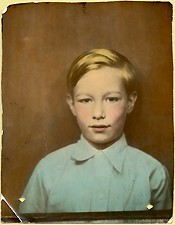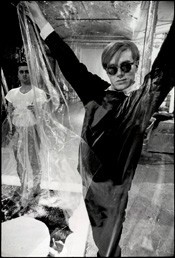 Andy's talent for drawing is noticed at school; as a result he is able to attend free art courses at the renowned Carnegie Museum.
From 1945–49 Warhol studies Pictorial Design at the Carnegie Institute of Technology. As a student Andy Warhol is already working as a window dresser at Joseph Horne's department store.
Fascinated by the writer Truman Capote Warhol dedicates a series of drawings to him. In one photograph he imitates Capote's famous pose pictured on the dust jacket of his novel Other Voices, Other Rooms (1948).
Warhol often visits New York. His mother joins him there in 1952, the two live together from then on.
Jordan Crandal: Do you look at yourself in the mirror? Andy Warhol: No. It's too hard to look in the mirror. Nothing's there."
His admiration for the stars of stage and screen is matched by a growing dissatisfaction with his own personal appearance. He now prefers retouched photographs, has cosmetic surgery to reshape his nose, and starts to wear wigs.
Warhol's insecurity regarding his own identity soon leads him into creating staged scenarios and disguising his own person; he takes a particular delight in adopting specific poses. Once again, Capote may have been his inspiration: in his 1948 novel Other Voices, Other Rooms he sends his protagonist (his own alter ego) to South America to both grow up and discover his own (homosexual) identity. As long as he lived, Warhol remains crucially preoccupied by the notion of remolding his own persona to fit a more artistic image.
Thanks to his sheer ambition and innovative style, in the 1950s Warhol quickly became one of the most successful graphic artists in New York.
In 1955 he employs his first studio assistant and in 1957 founds Andy Warhol Enterprises.
Warhol's drawings are now starting to be shown in galleries. His unique ability to temper advertising with art is in evidence in exhibitions such as The Golden Slipper Show, or Shoe's Shoe in America.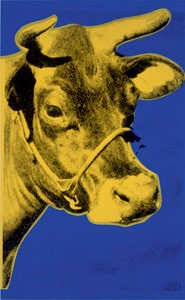 Andy Warhol
Cow, 1971
© The Andy Warhol Museum, Pittsburgh Founding Collection, Contribution The Andy Warhol Foundation for the Visual Arts, Inc
1961/62 sees the making of the first serial Dollar Bills, Coke Bottles and Campbell's Soup Cans, which soon establish Warhol's reputation as an artist. At the same time, he uses photographs as the basis for his Disaster cycles and the first of the Marilyns. In 1963 Warhol rents his first studio – an old fire station in the Upper East Side – and employs Gerard Malanga as his assistant, seen here on his first day at work.
In January 1964 Warhol takes over a whole floor of a commercial premises on 47th Street and calls it the Factory. Another assistant, Billy Linich (later known as Billy Name) covers all the walls of the Factory with silver foil. In 1964 Warhol makes his Boxes, replicas of boxes containing cleaning products and food; the most famous of these is the Brillo Box. From now onwards repetition and reproduction become the core artistic methods of Warhol's creative process.
The Silver Factory is soon renowned as a venue for parties, concerts, performances, and film screenings, and up until 1968 looms large in New York's night life and culture. The Factory is both a stage and a way of life, not only for Warhol but for a growing number of regular visitors who all have their own part to play – including such figures as the curator Henry Geldzahler and the professional lighting designer Billy Name.
I always suspected that I was watching television instead of living life"
In 1963 Warhol shoots his first film, Sleep, with a 16-mm Bolex camera, which he also uses for the Screen Tests – 472 in total at the last count. Made between 1964 and 1966, in these four-minute film-portraits of visitors to the Factory, Warhol records the influence of the presence of the film camera on the behavior of his subjects as they endure the unrelenting gaze of the "mechanical eye."
During an exhibition of his Flower paintings in Paris in 1965, Warhol publicly announces that he is to abandon painting in favor of film. That same year a retrospective of his work at the Institute of Contemporary Art in Philadelphia causes such a stir that at the impossibly crowded opening the exhibits have to removed from the walls and taken to safety.
Having changed to an Auricon camera Warhol's film-making becomes that much intenser and he produces films such as Empire and Henry Geldzahler. Warhol shoots at least 160 films between 1963 and 1968.
Warhol is now starting to experiment with different photographic processes. Sometimes he uses the instamatic cameras that are now coming onto the market (1960s), which have the added advantage for loyal users of extra "bonus photos." At other times he works with photobooth photographs. And at the same time he also starts to use these serial strips, reminiscent of film strips, as the basis for his screen-printed portraits.
As well as producing his own creative work, Warhol is also producer for the band Velvet Underground. In 1966 he organizes the multi-media spectacle Exploding Plastic Inevitable and creates installations with his Silver Clouds and Cow Wallpaper at the Leo Castelli Gallery.
In June 1968 Warhol is the victim of a life-threatening attempt on his life in the second Factory by the mentally disturbed Valerie Solanas who had played in his film I, A Man.
Warhol's concern with his own body image and the image he presents of himself are two sides of the same coin. In 1968 Moderna Museet in Stockholm presents Warhol's first major retrospective in Europe which subsequently transfers to the Stedelijk Museum Amsterdam.
Over the years Warhol sits for many shootings by countless photographers – obscure and renowned alike. In 1968 he poses for a series in the New York Times. From the 1970s onwards Warhol accepts bookings as a fashion model. In the late 1970s Vincent Fremont starts to produce a series of innovative TV shows – using an artistic concept by Warhol – focusing on fashion, film, glamour, art, and daily life.
Ever since 1965 Warhol has been taping scenes and conversations with his cassette recorder, which he calls "my wife". Certain books, such as THE Philosophy of Andy Warhol and a. A Novel, are based on tape-recordings. The film magazine inter/VIEW (founded by Warhol in 1969) evolves into a lifestyle magazine that benefits from his interest in recorded conversations. In 1970 Warhol starts filming his Factory Diaries recording a wide diversity of events. In 1972 Warhol's mother dies; the two lived together in Manhattan until shortly before her death.
Polaroid photography perfectly suits Warhol's preference for simple, hands-on techniques for capturing ideas and moments. Since the 1970s he uses Polaroids in his preparations for portrait commissions and for self-portraits. With technical help from MIT (Massachusetts Institute of Technology) he takes this technique to its limits and makes a giant Polaroid photograph of his own face (89 x 63.5 cm, 1979) using a static, room-sized camera in Boston.
Andy Warhol appears with Miles Davis at a fashion show in the Tunnel Club in New York.
Five days later, on 22 February 1987, Warhol dies from complications following a gall bladder operation.
Dying is the most embarrassing thing that can ever happen to you, because someone's got to take care of all your details"