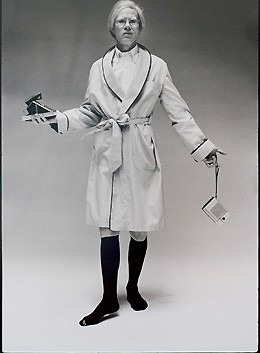 The 20 most notable books on Andy Warhol
The literature on Andy Warhol and his art is by now so extensive that few can find their way through it any longer—be they experts in the field or merely interested readers. Instead of compiling a lengthy, more or less exhaustive list of titles and leaving readers to make what they can of this, we have chosen a different approach: this rigorous selection of 20 titles is intended to provide the reader with an overview of the most important and most interesting books and catalogs devoted to the work of Warhol.
Each title is followed by a short description and evaluation of its contents and distinguishing features. It is our sincere hope that this selection will be a useful tool both for those seeking an introduction and for those wanting to become more closely acquainted with Warhol's work.
1. Rainer Crone, Andy Warhol: A Picture Show by the Artist, The Early Works 1942–1962 (New York: Rizzoli, 1987)
A good overview of Warhol's early work in the 1950s—almost exclusively drawings and collages— with reproductions of commissions Warhol produced for the advertising industry and of a number of autonomous works realized on his own account. In addition, there are facsimiles on colored paper of pages from several of his illustrated artist's books. The author situates the pictures in a wide-ranging art-historical context that touches on the development of American art and literature, theater, the economy, and technology. At the same time he discusses in detail not only Warhol's drawing techniques and style but also the motifs and precedents for his work.
2. Patrick S. Smith, Warhol: Conversations about the Artist, (Ann Arbor: UMI Research Press, 1988)
Forty-five interviews—some of considerable interest— conducted by the author with people who knew Andy Warhol: friends, acquaintances, assistants, gallerists, art critics, Factory members. The period covered extends from the early 1950s to the late 1970s. These conversations contain many illuminating comments regarding the man Andy Warhol, his artistic development, his paintings and films. The author is particularly to be credited for the extensive, reader-friendly index of names, titles of works, and other relevant terms.
3. 'Success is a job in New York …': The Early Art and Business of Andy Warhol, exh. cat. Gray Art Gallery & Study Center, New York, et al. (New York and Pittsburgh: Gray Art Gallery & Study Center and The Carnegie Museum of Art, 1989)
A richly illustrated exhibition catalog providing a considered review of commercial and autonomous drawings and collages from the 1950s. Donna DeSalvo contributes an outstandingly informa-tive introduction to the subject; Ellen Lupton and J. Abbott Miller examine Warhol's work in the con-text of the advertising industry in New York at the time. In an appendix various clients report on their personal experience of the artist. In a particularly notable text, Trevor Fairbrother explores the significance of homosexuality in Warhol's pictorial production.
4. Kynaston McShine (ed.), Andy Warhol: A Retrospective, exh. cat. The Museum of Modern Art, New York, et al. (New York: The Museum of Modern Art, 1989)
With ground-breaking texts and numerous illustrations, this exhibition catalog is one of the most important and searching publications on the art of Andy Warhol. Following an introduction by Kynaston McShine, Robert Rosenblum assesses Warhol's place in the history of art in the twentieth century. Benjamin H.D. Buchloh's brilliant essay explores Warhol's work as a commercial artist in the 1950s and various aspects of art in the early 1960s (painting, seriality, the iconography of the ordinary, and comparable works by other artists). In conclusion, Marco Livingstone contributes an in-depth discussion of Warhol's artistic techniques.
5. Gary Garrels (ed.), The Work of Andy Warhol, Dia Art Foun-dation, Discussions in Contemporary Culture, Number 3 (Seattle: Bay Press, 1989)
A challenging and informative publication with detailed discussions of various art-historical issues relevant to Andy Warhol. Charles F. Stuckey, Nan Rosenthal, Benjamin H.D. Buchloh, Rainer Crone, Trevor Fairbrother, and Simon Watney address a wide range of subjects: Warhol's work in the context of that of his contemporaries, the impact of his training as a graphic artist on his output in the 1950s and '60s, art praxis and its relationship to politics, artistic techniques, Warhol's 'skull' paintings, and his reception after his death.
6. Victor Bockris, Warhol: The Biography (London: Frederick Muller/Century Hutchinson Ltd., 1989)
A meticulous, compelling account of the artist's life. The author was a long-standing friend and member of Warhol's Factory. He recounts in great detail the artist's family history and childhood, his multifarious activities as a commercial artist and in his own right, his reception, his private and professional life, his aesthetic tastes and distastes, his friends, Factory assistants, his lovers. The text is both informative and highly enter-taining, albeit with no pretensions to intellectual analysis.
7. David Bourdon, Warhol (New York: Harry Abrams, Inc., 1989)
On a par with the study by Victor Bockris, this richly illustrated publication is the most comprehensive and gripping biography of Andy Warhol. David Bourdon was a close friend and also worked, among other things, as an art critic. Having meticulously researched Warhol's career and life, he presents the reader with an unusually persuasive account leaving no stone unturned. The text is first rate in both its content and style, and amply interspersed with art-historical comment that would be worthy of any high-level art-historical debate.
8. Stephen Shore and Lynne Tillman, The Velvet Years: Warhol's Factory 1965–67 (London: Pavilion Books Limited, 1995)
There are few such vivid accounts as this of the crucial developments in the Factory in the mid-1960s. Photographer Stephen Shore, a constant visitor at the time, was clearly exceptionally alert to the prevailing atmosphere, the Zeitgeist, and the sheer intensity of that legendary place. His shots show the premises, its contents, Warhol, his assistants, and countless bohemian visitors. Following an introduction by Lynn Tillman, 16 of Warhol's contemporaries briefly relive impressions and experiences from the Factory.
9. Jennifer Doyle, Jonathan Flatley, and José Esteban Muñoz (eds.), Pop Out: Queer Andy (Durham and London: Duke University Press, 1996)
A study of a much under-researched topic and all the more important for that: the significance of Warhol's homosexuality—or queerness—in the production and reception of his pictures and films. His demonstrative sexual flaunting of the normative hegemony of the accepted gender roles of the time was an important, aggressive aspect both of the way he lived his life, the circles he moved in, and of many of his works. Without being a militant pioneer of gay rights, his influence in this area is not to be underestimated. This publication contains remarkable contributions by writers from a range of backgrounds: art history, sociology, psychoanalysis, literature, and film theory.
10. Mark Francis and Margery King (eds.), The Warhol Look: Glamour, Style, Fashion, exh. cat. Whitney Museum of American Art, New York, et. al. (Munich: Schirmer/Mosel, 1997)
Published by The Andy Warhol Museum in Pittsburgh, this catalog presents a memorable overview of the artist's achievements and impact in the realms of advertising, graphic design, fashion, and lifestyle. While the texts by Mark Francis and Margery King, Barry Paris, Richard Martin, Judith Goldman, Peter Wollen, Hilton Als, Glenn O'Brien, Thomas Sokolowski, and Bruce Hainley are both interesting and readable, the catalog's real strength is its numerous illustrations, some published for the first time. The lively, imaginative graphic design of this distinctly glamorous catalog would surely have gladdened Warhol's heart.
11. Colin McCabe with Mark Francis and Peter Wollen (eds.), Who is Andy Warhol? (London and Pittsburgh: British Film Institute and The Andy Warhol Museum, 1997)
Fifteen lectures given in 1995 at the conference organized to mark the opening of The Andy Warhol Museum in Pittsburgh by art historians, writers, archivists, film-makers, literati, and cultural critics. In widely varying assessments of the 'Warhol' phenomenon, the focus is mainly but not only on the artist's elusive persona; his multifaceted production also comes into play. Some of these texts are nothing short of outstanding and of great interest to art lovers and connoisseurs alike.
12. Andy Warhol: Photography, exh. cat. The Andy Warhol Museum, Pittsburgh, and Hamburger Kunsthalle, Hamburg (Thalwil/Zurich and New York: Edition Stemmle, 1999)
By far the most important study of Warhol's photographic output, this generously illustrated publication presents source materials used in his paintings, analyzes his autonomous photographic works, includes reproductions of his many self-portraits, commissioned portraits, and parts of his collection of photographs, and considers the artist's highly successful promotion of his own image. Authors including Christoph Heinrich, Mark Francis, John Smith, Ludger Derenthal, Margery King, Dörte Zbikowski, Hubertus Butin, and Candice Breitz contribute substantial texts that explore all the main aspects of Warhol's photographic output.
13. Andy Warhol: Drawings 1942–1987, exh. cat. The Andy Warhol Museum, Pittsburgh (Munich: Schirmer/Mosel, 2000)
This impressive exhibition catalog is without doubt the most important compendium of the drawings Warhol produced from the 1940s to the 1980s. Following an introduction by Mark Francis, Dieter Koepplin presents a compelling, meticulously researched overview of this most sensitive medium and explores in detail the various functions, techniques, lineatures, motifs, influences, and sources of Warhol's drawings. In addition to this, the catalog also includes reproductions of a number of spectacular works that had not been published hitherto.
14. Georg Frei and Neil Printz (eds.), The Andy Warhol Catalogue Raisonné: Paintings and Sculpture 1961–1963 (vol. 01), 1964–1969 (vol. 02A and 02B) (London and New York: Phaidon, 2002 and 2004)
This catalogue raisonné of all the paintings and sculptures is truly weighty: extremely detailed, heavy, expensive, indispensable. The three volumes that have appeared to date cover the 1960s. This pre-eminent standard work, with first-rate reproductions and very carefully worked texts, has been compiled and edited by Georg Frei of Thomas Ammann Fine Art AG in Zurich and Neil Printz of The Andy Warhol Foundation in New York. Frei and Printz have only included works certified by the Andy Warhol Art Authentication Board.
15. Frayda Feldman and Jörg Schellmann, Andy Warhol Prints: A Catalogue Raisonné 1962–1987, 4th edn (New York: D.A.P./ Distributed Art Publishers, 2003)
A catalogue raisonné will only become an essential standard work if it meets certain academic expectations – as does this one. With their specialist interest in editions, Ronald Feldman Fine Arts, Inc. in New York and Jörg Schellmann's gallery in Munich have come together to present this detailed overview of Warhol's complete body of prints. Well organized with useful texts, outstanding reproductions, and well-founded explanations, this book is highly recommended. Contributions by Arthur C. Danto and Donna DeSalvo add yet another intriguing dimension to these prints by Andy Warhol.
16. Kenneth Goldsmith (ed.), I'll Be Your Mirror: The Selected Andy Warhol Interviews 1962–1987 (New York: Carroll & Graf Publishers, 2004)
A critical selection of the most important interviews conducted by a variety of writers in the 1960s, '70s, and '80s, containing statements that not only set certain benchmarks, but are also central to Warhol's work and constantly cited in other contexts. Each text is usefully introduced by the interviewer; Reva Wolf provides the overall introduction to the book. These interviews are not merely a good read, they also provide a sound basis for a deeper exploration of Warhol's work.
17. Dietmar Elger (ed.), Andy Warhol: Selbstportraits/Self- Portraits, exh. cat. Kunstverein St. Gallen Kunstmuseum (Ostfildern-Ruit: Hatje Cantz Verlag, 2004)
This bilingual catalog is the first monograph devoted to Warhol's self-portraits and images of himself. Warhol persistently and skillfully used these images to promote the cult of his own personality. The extent to which he strategically deployed these works to create his own chosen image is demonstrated and reflected in the nume-rous, diverse examples presented in this publication. Ground-breaking texts by Robert Rosenblum, Keith Hartley, Roland Wäspe, and Dietmar Elger cast much-needed light on this important but hit-herto neglected topic.
18. Andy Warhol: 365 Takes: The Andy Warhol Museum Collection, ed. The Andy Warhol Museum (New York: Harry N. Abrams, Inc., 2004)
A small-format yet extremely voluminous publication that provides an excellent overview of the many singular treasures held in the Andy Warhol Museum in Pittsburgh: 365 reproductions give the reader an impression of the paintings, drawings, prints, collages, film stills, photographs, artist's books, other printed materials, personal letters, items of furniture and clothing, wigs and porn magazines contained in this largest Warhol collection in the world. And it is the very variable quality of the works of art and documents that makes this book so appealing. Each object—some published for the first time—is accompanied by a short text or quote by the artist.
19. Astrid Johanna Ofner (ed.), Andy Warhol: Filmmaker, exh. cat. Viennale – Vienna International Film Festival and Österreichisches Filmmuseum, (Vienna: Viennale, 2005)
An important catalog in two parts: the first part contains thought-provoking texts by Thom Andersen, Klaus Theweleit, Stephen Koch, Jonas Mekas, William E. Jones, and Peter Wollen and conversations with Andy Warhol conducted by Gerard Malanga and Gretchen Berg. The essays address a whole range of issues arising from Warhol's films. The second part lists 32 of his most important films selected by Jonas Mekas, one of the leading figures in American independent cinema. Each film is introduced to the reader either by a critical assessment or by a substantial quote by Warhol himself.
20. Callie Angell, Andy Warhol: Screen Tests, The Films of Andy Warhol, Catalogue Raisonné, Volume 1 (New York: Harry Abrams, Inc., 2006)
This first volume of the catalogue raisonné of Warhol's films is devoted to the legendary Screen Tests made between 1964 and 1966. In effect a 'who's who?' of the cultural avant-garde in New York at the time, these short, black-and-white, silent film-portraits of Warhol's friends, colleagues, and acquaintances—472 in total—are described individually and in detail in words and pictures. As well as providing an informative introduction to the history of the Screen Tests, the author has also researched biographies of the subjects and how they related to Warhol. There is every reason to look forward to the no doubt excellent second volume of this standard work in the making.
The 20 most notable books on Andy Warhol
A bibliographical selection by Hubertus Butin from the exhibition catalogue Other voices, other rooms