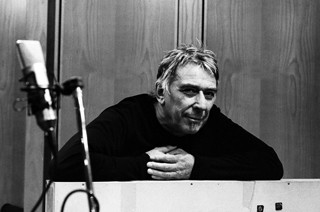 John Davies Cale, born March 9, 1942, is a Welsh musician, songwriter and record producer. He is best known for his work in rock music, particularly as a founding member of the Velvet Underground , and he has worked in a variety of styles over the years.
Questions & Answers
Date: 9 February 2008
Time: at 2–3.30 pm
Place: The Auditorium
Tickets: 80 SEK/60 SEK
Participants: John Cale, The Velvet Underground, Ronald Nameth, film maker, and Eva Meyer-Hermann, curator. Moderator: John Peter Nilsson, Moderna Museet.
Welcome!
John Cale
Cale was born in Garnant in the heavily industrial Amman Valley, and Welsh is his first language. Having discovered a talent for piano, he studied music at Goldsmiths College, the University of London, and travelled to the USA to continue his musical training, thanks to the help and influence of Aaron Copland. Arriving at New York City, he met a number of influential composers. With John Cage and several others, Cale participated in an 18-hour piano-playing marathon that was the first full-length performance of Erik Satie's "Vexations". More significantly, Cale played in La Monte Young's ensemble the Theater of Eternal Music (also known as the Dream Syndicate). The heavily drone-laden music he played there proved to be a big influence in his work with his next group, the Velvet Underground.
In 1965, he and Lou Reed formed Velvet Underground, but left in 1968, due in part to creative disagreements with Reed. Cale appears on the Velvet Underground's first two albums, The Velvet Underground and Nico and White Light/White Heat . He sings on a few songs, plays viola, bass guitar, piano and organ (particularly on "Sister Ray") and co-wrote some of the material, but perhaps his most distinctive contributions are the electrically amplified viola drones and sonic wall of piano which add greatly to the overall atmosphere of the records.
Cale also continued to work as a record producer. In 1974, he joined Island Records, and worked in that capacity with Squeeze, Patti Smith, and Sham 69, among others. He produced a number of important protopunk records, including debuts by Patti Smith, The Stooges and The Modern Lovers.
Moving back to the United Kingdom, Cale made a series of solo albums which moved in a new direction. The tasteful elegance of his earlier records was now replaced by a dark and threatening aura, often carrying a sense of barely-suppressed aggression. This era of Cale's music is perhaps best represented by his somewhat disturbing cover of Elvis Presleys' iconic "Heartbreak Hotel. His often loud, abrasive and confrontational live performances fitted well with the nascent punk rock developing on both sides of the Atlantic Ocean.
In 1982, Cale released the sparse Music For A New Society. Seeming to blend the refined music of his early solo work with the threatening music that came later, it is by any standard a bleak, harrowing record. It's been called "understated, and perhaps a masterpiece." Having married and having his daughter, Cale took a long break from performing, making a return in 1989 with vocal and orchestral settings of poems by Dylan Thomas, most notably, "Do Not Go Gentle Into That Good Night", which he performed on stage in the concert held in Cardiff in 1999 to celebrate the opening of the Welsh Assembly.
In 1990, he collaborated with Brian Eno on an album entitled Wrong Way Up. In 1992, Cale performed vocals on the song "First Evening" on French producer Hector Zazou's album Sahara Blue . In 1994, Cale performed a spoken word duet with Suzanne Vega on the song The Long Voyage on Zazou's album Chansons des mers froides. It was later released as a single (retitled "The Long Voyages" as it featured several remixes by Zazou, Mad Professor, and more). Songs for Drella, a tribute to one-time Velvet Underground manager Andy Warhol, saw him reunited with Lou Reed, a collaboration which eventually led to the brief reunion of the Velvet Underground in 1993 . Cale has also written a number of film soundtracks, often using more classically influenced instrumentation.
Cale's influence on modern music is undeniable. Enjoying long-term critical acclaim and production duties for artists as diverse as Happy Mondays, The Jesus Lizard, Mediaeval Baebes, Siouxsie & The Banshees and even running his own Punk Label during his legendary performances at CBGB's in the pinnacle of that venue's day. And to this day he's still recording and influencing music.
In 2000 he returned to Wales for the film Beautiful Mistake, which saw him collaborating with artists including the Manic Street Preachers' James Dean Bradfield, Catatonia , Gorky's Zygotic Mynci and Super Furry Animals.
With 2003's album Hobosapiens John Cale again returned as a regular recording and live touring artist, this time with music influenced by modern electronica and alternative rock. This extraordinarily well received album was co-produced with Nick Franglen of Lemon Jelly. Hobosapiens was named in numerous Top 10 Albums of 2003 including Uncut and Mojo Magazines!! That record was again followed with 2005's release BlackAcetate, which consolidated John Cale's reputation as a versatile and extraordinarily innovative music auteur. This time, he returned to his Experimental Prog-Rock roots with a surprising Funk and Groove edge to things….citing his production heroes, Dr Dre and Pharrell Williams. Stay tuned as he's back in the studio once again!