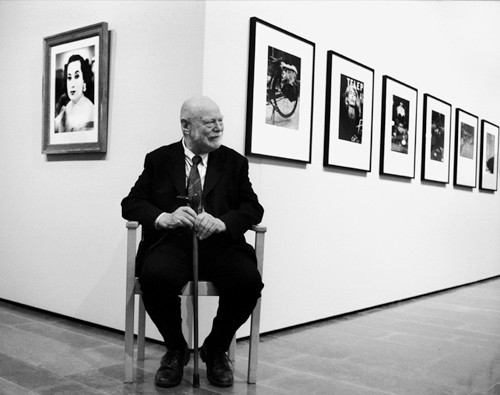 Christer Strömholm Biography
Christer Strömholm is one of the major celebrities of Swedish photography. He was born in Stockholm and converted from graphic art to photography in the late-1940s. He was deeply influenced by the German group Fotoform, which advocated and practised a creative, intimate style of photography. Strömholm's photographs from the early-1950s are stark black-and-white compositions of wall surfaces, shadows and stylised environments.
Later, when he lived in Paris intermittently in the 1950s and '60s, he developed a street-photography style, and it was during this period that he took his familiar portraits of transsexuals in Place Blanche. In the mid-1950s, Strömholm began teaching photography at Kursverksamheten in Stockholm, an activity that expanded into the famous Fotoskolan from which some 1,200 students graduated between 1962 and 1974. His images and approach have been an inspiration to generations of Swedish photographers, but his own breakthrough did not really come until 1986, with the show "9 Seconds of My Life" at Moderna Museet.
"It is the art of SEEING that is the starting point for all creativity, and then, of course, every profession is subject to its specific mathematics and material conditions" Christer Strömholm, from "Opinions about the modern photography", Subjektive Fotografie. Intenational Exhibition of Modern Photography Organised by the Photoraphic Section of the Schule für Kunst und Handwerk, Saarbrücken, 1951, 43.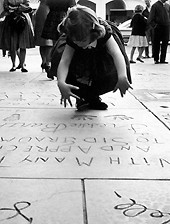 Christer Strömholm, Los Angeles, USA, 1963 © Christer Strömholm/ Bildverksamheten Strömholm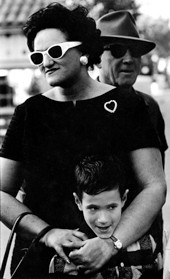 Christer Strömholm, Los Angeles, USA,  1963 © Christer Strömholm/ Bildverksamheten Strömholm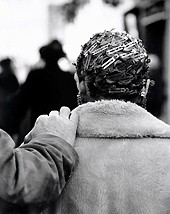 Christer Strömholm, Los Angeles, USA, 1963 © Christer Strömholm/ Bildverksamheten Strömholm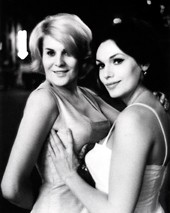 Christer Strömholm, Gina and Nana, Paris, 1960-69 © Christer Strömholm/ Bildverksamheten Strömholm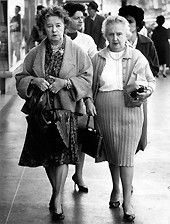 Christer Strömholm, Los Angeles, USA, 1963 © Christer Strömholm/ Bildverksamheten Strömholm
Christer Strömholm Biography
1918
Christer Strömholm was born in Stockholm on 22 July. His father, Fredrik Strömholm, was an army officer, and the family moved between different regiments in Sweden, including Eksjö, Lidingö, Boden and Stockholm. His mother, Lizzie, was from Gothenburg.
1934
His father committed suicide.
1935
Graduated from Enskilda gymnasiet on Nybrogatan in Stockholm, which he attended after leaving Nya Elementar school at Hötorget. In the summer went to Morungen in Germany as an exchange student, to study German.
1936-39
Volunteered in the Spanish Civil War and undertook two assignments as a courier.
1937
Went to Dresden, where he studied art under Professor Waldemar Winkler, but soon left Germany for Prague, before going on to Paris, where he met the Swedish artist Dick Beer who became his mentor. They travelled together in southern France and Christer Strömholm was instructed in art history and artistic techniques. Also studied painting at Académie André Lhote in Paris.
1938
Returned to Sweden and studied painting under Otte Sköld and Isaac Grünewald in Stockholm. Studied art in Florence and Rome.
1939
Went to Monte Carlo, Marseille, Paris and Tunis, but returned to Sweden when the Second World War broke out. Did his military service at the Göta Life Guards armoured company in Stockholm.
1940
Fought for anti-tank units as a volunteer in the Finnish Winter War on the Salla front.
1940-45
Joined the Norwegian resistance against the German occupation. Formed a voluntary ranger corps, "Grupp Conny" together with Conny Andersson, a friend from the anti-tank units in Finland.
1942
Served in the Norwegian resistance as a courier based in Stockholm until 1945.
1944-45
Married to Ellen Bergman (née Lundström).
1945 Decorated with the Norwegian War Medal at a ceremony at the Norwegian Embassy in Stockholm.
1946-51
Married to Dagny Lamm (née Andersson).
1946-56
Settled in Paris and enrolled at the Académie des Beaux-Arts, where he produced a series of artist portraits, among other works. Also studied in Italy at the academies in Florence and Faenza. Assumed the artist pseudonym Christer Christian.
1946-48
Travelled to the Atlas mountains and Carthage in North Africa, on behalf of the Ethnographic Museum in Stockholm.
1947
Attended the school of painting on rue de la Grande Chaumière in Paris during the winter semester. Joakim Strömholm, Christer Strömholm's and Dagny Lamm's son, was born. He started photographing in his teens and is now a professional photographer.
1948
Pursued his art studies at Académie Libre in Paris and later the same year under Professor Lennart Rodhe in Stockholm.
1949-54
Became a member of the German group Fotoform, led by Dr. Otto Steinert in Saarbrücken, Germany. Participated in exhibitions in Europe and the USA with other members of Fotoform. Developed an interest in photography, via graphic art, towards the end of the 1940s.
1951-54
Married to Inga Dyrssen-Ayers (née Svedberg)
1955
Studied oil painting and graphic art under Professor Ottone Rosai at the Academy of Art in Florence.
1956
Filmed the documentary Ansikten i skugga (Faces in Shadow) with Peter Weiss. The film was about the regulars of the old beer houses in Old Town, Stockholm. Christer Strömholm did the photography and captured the guests with a hidden 16 mm camera. Took over teaching photography at an evening school at Kursverksamheten, an adult education institute run by Stockholm University. The class, which was initially intended as a course in photographic design, developed under Christer Strömholm and Tor-Ivan Odulf into a three-year vocational training course.
1956-64
Portrayed the transsexuals in the Place Blanche neighbourhood in Paris.
1957-68
Married to Anna-Clara Krusenberg, who was an air stewardess at SAS and could occasionally bring her husband along on trips around the world for a modest fare.
1958
Worked as a coach tour guide for Scandinavian Touring until 1961. Guided tourists on trips from Malmö, via Paris, to Madrid, Valencia, Barcelona and back. During this time he photographed extensively. Started working more seriously as a photographer and went on several photographic journeys over the subsequent years.
1959
Jakob Strömholm, Christer and Anna-Clara Strömholm's son, was born. He is currently an architect. Travelled to Palma de Mallorca, Spain.
1961
Visited Tokyo.
1962-1972
Was the director of Fotoskolan in Stockholm. The focus of the curriculum was on reportage photography and documentary film. Fotoskolan, which continued to operate two years after Strömholm resigned, graduated 1,228 professional photographers and film-makers from 1962 to 1974.
1963
Went to Hiroshima in Japan, to Calcutta in India, Nairobi in Kenya and Los Angeles, USA.
1965
Visited New York. The exhibition Till minnet av mig själv (In Memory of Myself) was shown at Galerie Observatorium, Stockholm.
1966
Was awarded the Agfa-Gevaert work grant. The exhibition Dödsbilder (Pictures of Death) was shown at Galerie Observatorium.
1967
Published Poste Restante, which was selected by an international jury in 2004 as one of the world's 175 best photographic books.
1968-78
Lived with the artist Angelica Julner.
1970-78
Returned again to Paris when Fotoskolan closed, and settled there. Divided his time between Paris and his house, a former ruin, in Fox-Amphoux, Provence.
1976-77
Worked on a series of large-format colour polaroid pictures.
1978
The exhibition Privata bilder (Private Pictures) opened at Galleri Camera Obscura in Stockholm's Old Town. This was the first retrospective show of his work. Met the actress Ingalill Rydberg, with whom he lived until his death, first as her partner for nine years, and then as a neighbour and close friend.
1979
Awarded the "Great Photography Prize" by FOTO magazine, in the category subjective photography.
1981
Had a stroke, from which he recovered gradually.
1982
Awarded a guaranteed income for visual artists by the government. The exhibition Privata bilder II (Private Pictures II), a sequel to the successful first exhibition on that theme, opened at Galleri Camera Obscura.
1986
The retrospective 9 sekunder av mitt liv, fotografier 1939-86 (9 Seconds of My Life, Photography 1939-86) opened at Moderna Museet, Stockholm. Some 40,000 people saw the exhibition.
1993
The government appointed him to a professorship in Photography.
1993-1997
Worked on the book Kloka ord (Wise Words), a collection of aphorisms and work notes.
1998
Winner of the 1997 International Hasselblad Award. The exhibition Christer Strömholm. 1997 Hasselblad Award Winner opened at Hasselblad Center, Gothenburg.
2002
Christer Strömholm died on 11 January. The exhibition Christer Strömholm 1918-2002. On verra bien opened at Färgfabriken in Stockholm, before touring Sweden, Germany and France.