20.9 2011
Malmö-based artist Oskar Mörnerud awarded the 2011 Fredrik Roos Art Prize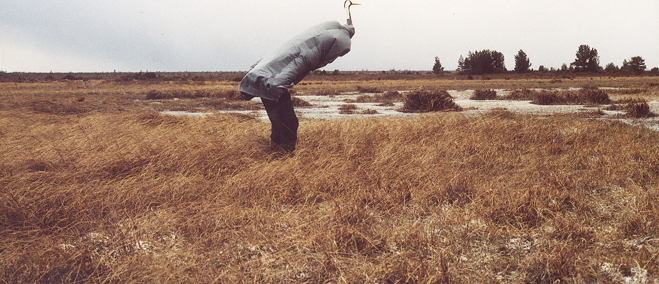 Oskar Mörnerud, Observationer , 2003 © Foto: Bo Mörnerud
The Fredrik Roos Art Prize is a new art prize that will be granted annually to young Nordic artists who are primarily active in painting and sculpture. The award sum of SEK 250,000 makes this one of the largest art prizes in Sweden. The 2011 Fredrik Roos Scholarship winner is Oskar Mörnerud.
Oskar Mörnerud (1976) grew up on the island of Öland, where he became interested in birds as a child and was profoundly influenced by the open landscape. Early on in his artistic career, birds began to feature in his works, where he experiments with various forms of communication.
Oskar Mörnerud creates sculptures and installations but is perhaps best known for his paintings, which are often based on photos, illustrations and newspaper cuttings. His interest in biology, religion, communication and popular science guides him in the production of his small, meticulously executed paintings, which together form narratives with multi-layered meanings in a landscape of arranged settings.
The award ceremony will take place on 16 November at Moderna Museet Malmö, in connection with the opening of an exhibition of Oskar Mörnerud in the new gallery. The exhibition will feature a completely new work by Oskar Mörnerud consisting of several small paintings on paper, together forming a new totality and a larger picture. The exhibition ends on 22 January, 2012.
Oskar Mörnerud studied at the Royal Institute of Fine Art in Stockholm (1998-2004), and now lives and works in Malmö.
Published 20 September 2011 · Updated 20 September 2011