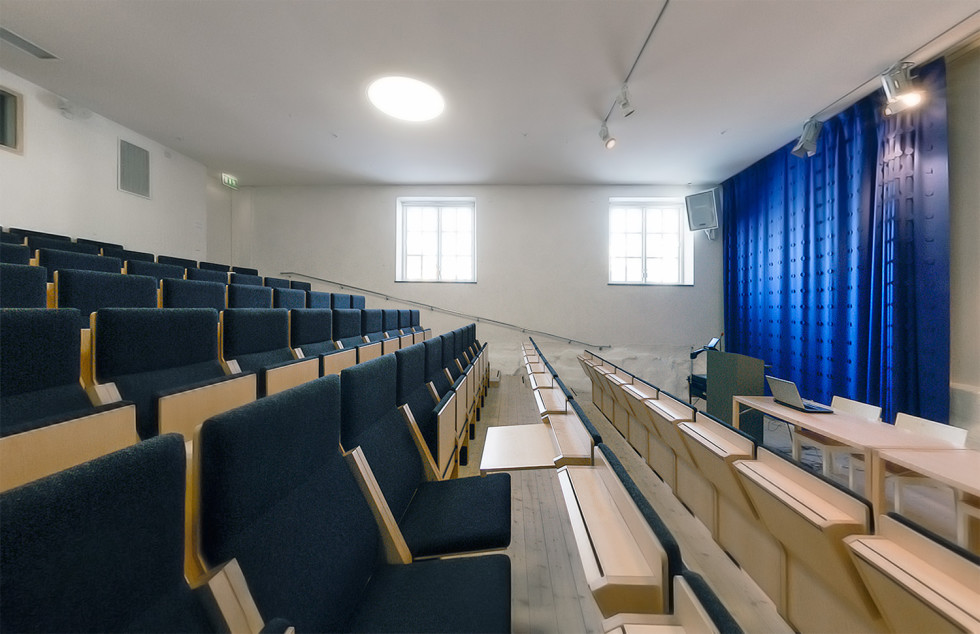 Rent Aula Arkdes for your conference or lecture
The whitewashed walls, blond wood interiors and windows overlooking the garden give Aula Arkdes a bright, peaceful mood. The venue is ideal for your press conference, workshop, lecture or other events requiring a small stage and sloped floor seating.
Aula Arkdes is not bookable after August 27 2023.
Aula Arkdes has 108 seats on the sloping floor. All seats have a writing surface
Aula Arkdes is on floor 4, adjacent to the Arkdes exhibitions. The building was designed by Fredrik Blom and was built in 1851–53.
Take a look at Aula Arkdes
Rates
Whole day (8.30–18.00): SEK 18,000
Morning (8.30–12 noon): SEK 10,000
Afternoon (13.00–18.00) SEK 12,000
Additional cost per hour after 18.00: SEK 1,000
Rents are exempt from VAT.
A surcharge will be added for technical staff and additional equipment.
Additional charge for security staff for events taking place outside opening hours.
Dimensions
Width: 10.0 m
Depth (to first row of seating): 2.5 m
Ceiling height: min. 3.6 m
Capacity: 108 people.
Published 18 June 2015 · Updated 19 April 2023