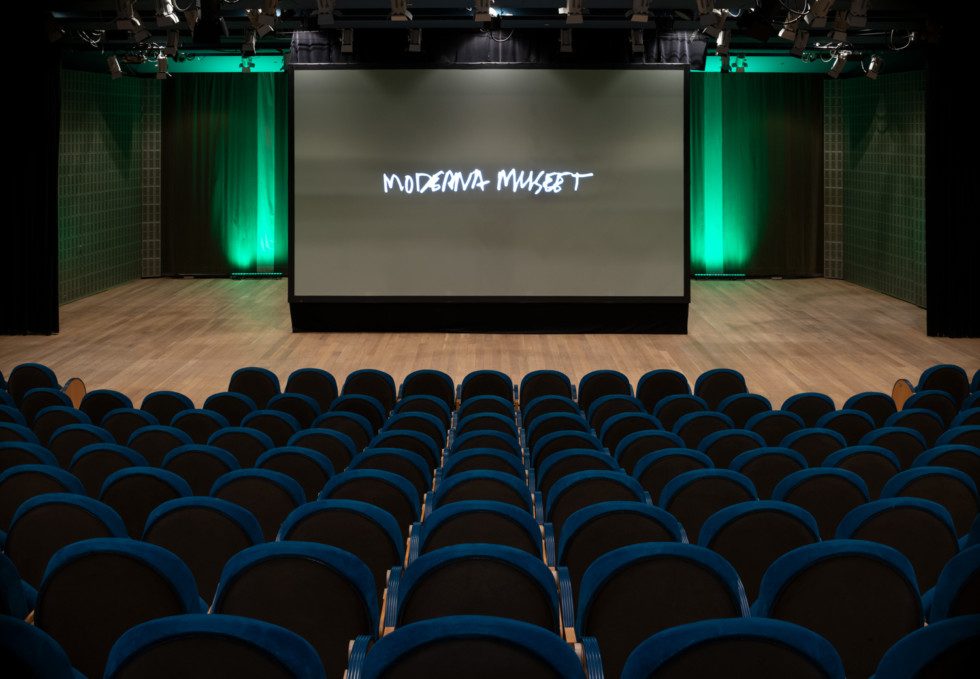 A perfect venue for your conference, event, or shareholders' meeting
Welcome to our largest space! Ideal for live shows, shareholders' meetings, film screenings and memorable conferences and events. With its flexible, large stage, the Auditorium has endless potential. The adjoining foyer offers an inviting area for registering guests, coffee breaks or a buffet lunch.
The Auditorium has 294 seats with writing tablets, and a total capacity of 300. The sloped-floor seating is suitable for large conferences, events or shareholders' meetings. Facilities for video recording, live broadcasting and other studio equipment are available.
The stage measures more than 180 sq m and can be adapted to your particular needs. It has easy access for loading and removal of large objects, and a dressing room with facilities directly adjacent to the stage.
The Auditorium has the latest conference technology.
Take a look at the Auditorium
360-degree view from the stage
360-degree view from the back row /entrancee
Take a look at the foyer outside the Auditorium
The Auditorium foyer 360-degree view 1
The Auditorium foyer 360-degree view 2
Rates
Whole day (8.30–18.00): SEK 50,000
Morning (8.30–12 noon): SEK 35,000
Afternoon (13.00–18.00) SEK 40,000
Additional cost per hour after 6 pm: SEK 5,000
Rents are exempt from VAT.
Additional charge for security staff for events taking place outside opening hours.
Dimensions
Width: 16.3 m
Depth (to first row of seating): 11.3 m
Distance from moveable screen (to first row of seating): 3.3 m
Distance from rear projection screen (to first row of seating): 5.2 m
Ceiling height: 4.7 m
Capacity: 300 people.
Technical specifications for the Auditorium
Sound system
Mixer console: Allen & Heath SQ6
Wireless Microphones model: Shure ULXD, 8 channels, 6 channels head/hand
Headsets model: VT800, x 6
Hand held Microphone: Beta 58, x 2
Speakers lectern: including Swan neck Microphone, x 1
Public Announcement system
Lacoustic MTD112, x 2
Lacoustic SB18, x 2
Amplifier LA4, x 2
Surround Sub System
Yamaha DXS 12mK11, x 2
Yamaha DXS 18, x 1
Yamaha CXS 15xLF, x 1
Extra sound equipment
4 Channel Head/hand
PA: Lacoustic 108P, x 2
Lighting Console and Rigg
Lighting console: ETC Congo Kid
Lighting rig contains: Conventional lighting Lamps fixtures 650W 1000W Fresnels used for front of stage.
Extra: lighting fixtures include Par cans 1000W ETC profile spots 550W and led lighting fixtures which can be used for colour scheme design at the rear and surrounding walls of the auditorium.
Video Photo
Video mixing console: Analog Way PLS-300 " DVI, 2 SDI, 4VGA, Native 1920X1080, DVI and SDI with transition to HDMI compatibility units.
Extra: support for PIP, MatrisMode enabling dual outputs.
Black magic Atem mini pro controller complete with various feed units.
Front projection: Christie Roadster HD 14KM, x 1
Back Projection: Christie Roadster HD 14KM, x 1
Christie HD8Kc,  x 1
Control room: 2 x HDMI distribution units For Extern Computers inclusive of AV over IP NDI and Dante protocol Patch system
Computers
MAC-mini with keynote, x 1
MacBook Pro with keynote, x 2
PC Dell with PPT, x 4
MacBook Pro Playout computer with Playback Pro & QLab, x 1
Other
Program: VMix, OBS, Playback Pro, QLab, DAW for sound recording, Starleaf etc.
Professional Camera: Panasonic AG-AC160AEJ,  2
Stage Podiums: 2x1m, x 15
Truss system with various manfroto tripods Ballet towers
Published 18 June 2015 · Updated 7 February 2023