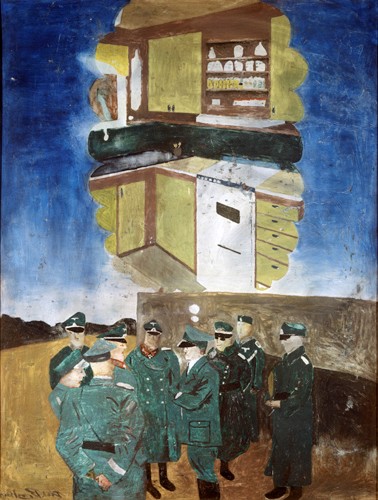 Few Swedish 20th century artists have the same capacity as Dick Bengtsson (1936-1989) to evoke a sense of vibrancy and urgency, and to constantly arouse the feeling that they are saying something crucial. Despite the accessibility of his paintings, they refuse to be deciphered. They often portray buildings; these are no idyllic abodes, however, but authoritarian, impenetrable entities.
One of the more surprising features of Dick Bengtsson's oeuvre is his use of swastikas. Without comment they appear as though glued onto the paintings. What did he mean? In view of the dystopian landscapes, and especially, perhaps, in view of his own "destruction" of the works which gave them a raw, scarred surface, we discern a deep distrust against idylls, good intentions and salvation.
The last years of Dick Bengtsson´s life were characterised by self-destruction. Moreover, an unknown number of his works were destroyed in a fire at his home in Voxna in 1982. He refused, or was unable, to conform to the artist role. For many years, he painted alongside a job at the post office, and he never had a studio but painted most of his works at home on the kitchen floor. This way of painting and his approach to art in general prompted critics to interpret his art as ironically intellectual, and his work does undeniably incorporate a sharp critique against faith in artistic freedom and autonomy. At the same time, his work is profoundly emotional.
Dick Bengtsson's method of painting is idiosyncratic in itself. The motifs, which he often found in newspapers or encyclopaedias, were painstakingly traced onto millimetre-squared paper, and he went over the painted surfaces with an iron to achieve an "antique" patina. Finally, he varnished the surfaces to give them a shiny finish.
The Moderna Museet exhibition, curated by Mårten Castenfors, features some 50 works by Dick Bengtsson, mainly from his most brilliant period, the 1960s and '70s, including his most famous pieces, Hatt & Mössfabrik (Hat and Cap Factory,1969), Richard in Paris (1970) and Demonstrationståget (The Protest March, 1972). In addition to his paintings, his remarkable installation Möbelrälsen (The Furniture Rail) will be displayed in the foyer. With this broad presentation Moderna Museet introduces its audience to one of the most interesting oeuvres of Swedish 20th century art.